How to Migrate Emails from Comcast to Thunderbird Account – Step by Step
When we talk about Comcast, it is not only an email program, but it also provides multiple services with its ISP package. It also offers various useful features, but there are certain limitations when users access it on the browser. Thus, users start to migrate emails from Comcast to Thunderbird account to fix this error.
Mozilla Thunderbird is a secure and fully-featured desktop email program which helps you to handle your emails productively. It offers some great features like spam filtering, custom folders, etc. So, if you decide to add xfinity mailbox to Thunderbird account, then this article is the perfect answer for you.
In next section of the blog, we will understand the reasons why users want to switch from Comcast to Thunderbird account.
Why There is a Need to Configure Comcast Emails to Mozilla Thunderbird?
The reasons to preform this conversion are mentioned below:
Thunderbird's inbox filter enable users to automatically sort inbox messages into messages. In Comcast you have to perform this task manually.
The Comcast email, uses the POP3 protocol, because of which users can only access their email items from their local machine.
Thunderbird offers various add-ons to simplify the email migration tasks.
It helps users avoid email scams, as its AI automatically classify the data.
Its quick search option enables users to find all the required messages efficiently.
These are some of the advantages of using the Thunderbird email application. We have probably covered all the possible reasons users want to migrate emails from Comcast to Thunderbird account. Now, let's look at the solution to accomplish this task
How to Add Xfinity Mailbox to Thunderbird Account For Free?
The manual procedure to transfer Comcast emails is quite complicated and if you are a technical geek, go for it. But in case you skip any of the steps, you will not be able to send or receive emails. If you want to migrate Comcast to Thunderbird account securely, then go with the automated solution mentioned in the next section of the blog.
So, here we are explaining some key points of manual approach follow it:
| Settings | INCOMING MAIL SERVER | OUTGOING MAIL SERVER |
| --- | --- | --- |
| Hostname | imap.comcast.net | smtp.comcast.net |
| Username | Email | Email |
| Password | Your Email Password | Your Email Password |
Make sure to follow the exact information as shown in the above table. If you skip any of the steps while configuring Comcast Emails to your Mozilla Thunderbird account, you may end up with nothing.
Effortlessly Migrate Emails from Comcast to Thunderbird Account
In these section, we will check for the automated solution that is Comcast Email Backup Tool. The software is specifically designed to add xfinity Mailbox to Thunderbird account without any difficulty. The software allows to direct import Comcast emails to Mozilla client. Also, a demo edition of the software is available download it on Windows OS to move further.
Download the wizard and go through the steps mentioned below:
1) Run the software on your computer

2) Now you to click on the 'Open' button from the top of the screen

3) The 'Email Accounts' option would be there. Select that and then go ahead with selecting 'Add Account'

4) Then, provide the email id and password of your Comcast email and go below to hit on 'Advanced Settings'.

5) Then, enter the IMAP server over there and Tap on 'Add' to proceed
6) The tool will start browsing the files.
7) Then you require to click on 'Export' from the top of the screen. Choose 'Thunderbird' from the given options of available email services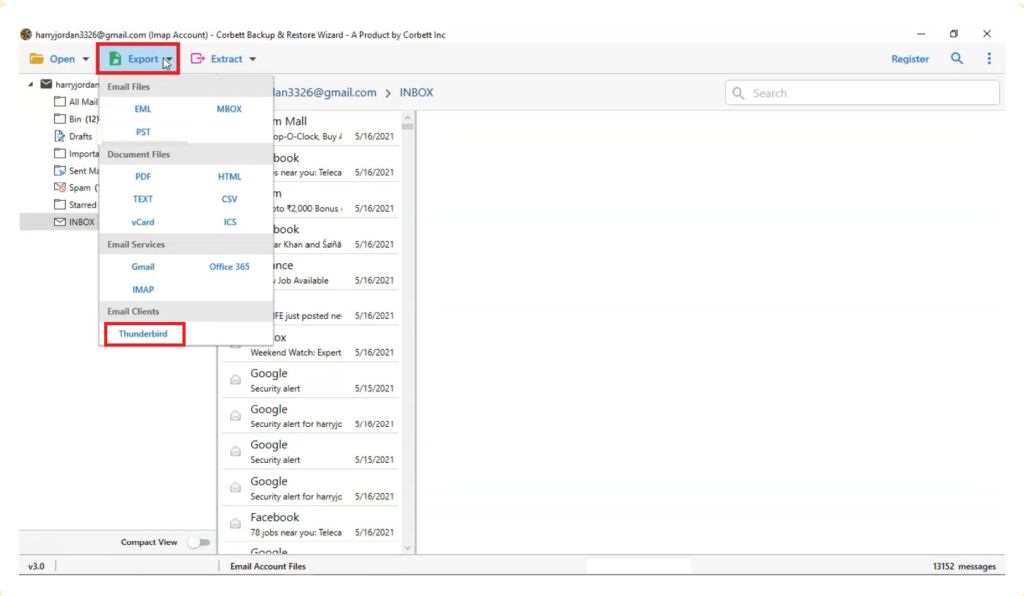 Flowless Features of Automated Wizard
Well, the software has some great features that influence users to go for the same for the conversion process. Here is a look at some characteristics of this tool:
You can migrate unlimited data from Comcast to Thunderbird email
There's no requirement of having any other external application for completing the process
Data integrity is intact when you go for converting emails from Xfinity to Thunderbird
The best part is that wizard it offers multiple advance filters to sort the data files.
Author's Suggestion
Once you read the above blog post, it must have become clear to you how you can  migrate emails from Comcast to Thunderbird account using the manual and paid solution. The mentioned software is  verified by an IT admins and you can use this wizard without any hassle and worry about viruses and security.
Similar Read: