Complete Guide to Convert MBOX to HTML Document File
HTML stands for HyperText Markup Language, which is used to construct and design web pages, as well as read documents, images, text, content, and the body of the document. Many users want to convert MBOX to HTML for their own reasons.
On the website, It is one of the most widely used markup languages for documents that are intended to be viewed and developed. It's used to make a web page's structure. HTML uses a variety of tags to display text, graphics, tables, order and unorder lists, and other elements.
HTML is a platform-independent language, which means it can be created on any computer, including Windows, Linux, and Macintosh. Many users desire to convert MBOX to HTML File format because of the flexibility of HTML files.
Let's have a look at why MBOX files are being converted to HTML file formats.
What are the Benefits of Converting MBOX to HTML?
The purpose of converting MBOX files to HTML file types is mostly determined by the user's intent. Every user has their own reasons for exporting MBOX files into HTML Files. Some of the main technical reasons we mentioned below.
In any system, HTML files can be simply modified and accessed.

In comparison to other file formats, it is also quite light.

Editing HTML is easy with Notepad, Notepad ++, Sublime Text, and so on.

Any browser and operating system can open it without any limitations.

The HTML file can be viewed without additional software

.
The Most Effective Method to Convert MBOX to HTML in Windows
If you need to convert MBOX files to HTML, this Experienced MBOX Converter technique can assist you in completing the MBOX to HTML conversion with all of your Mailbox data intact.
Before Mailbox to HTML conversion, download this MBOX to HTML Converter tool to begin bulk conversion of MBOX files to HTML files with various benefits and advantages.
How to Convert a Large Number of MBOX Messages to an HTML File
1. Select the Open option to start the tool. To convert MBOX to HTML File.q

2. From the drop-down menu, select MBOX Files from the Email Data Files option.

3. Then, under the tool's preview window, browse for the. mbox files on your system and upload them.

4. Then, from the drop-down menu on the ribbon bar, choose Export options. From the drop-down menu, select HTML.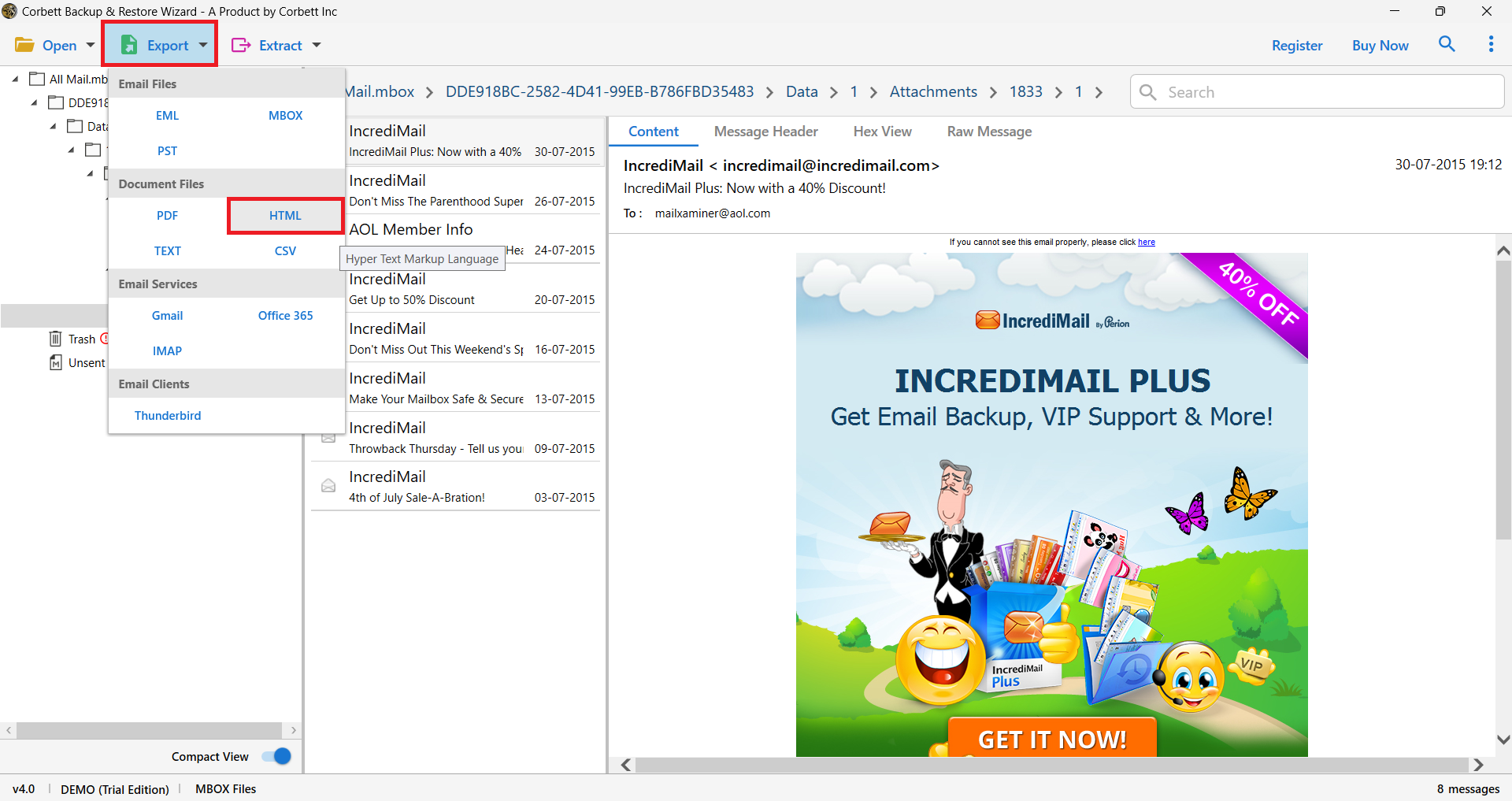 5. Finally, under the HTML Export Options list, click Save to begin the conversion process.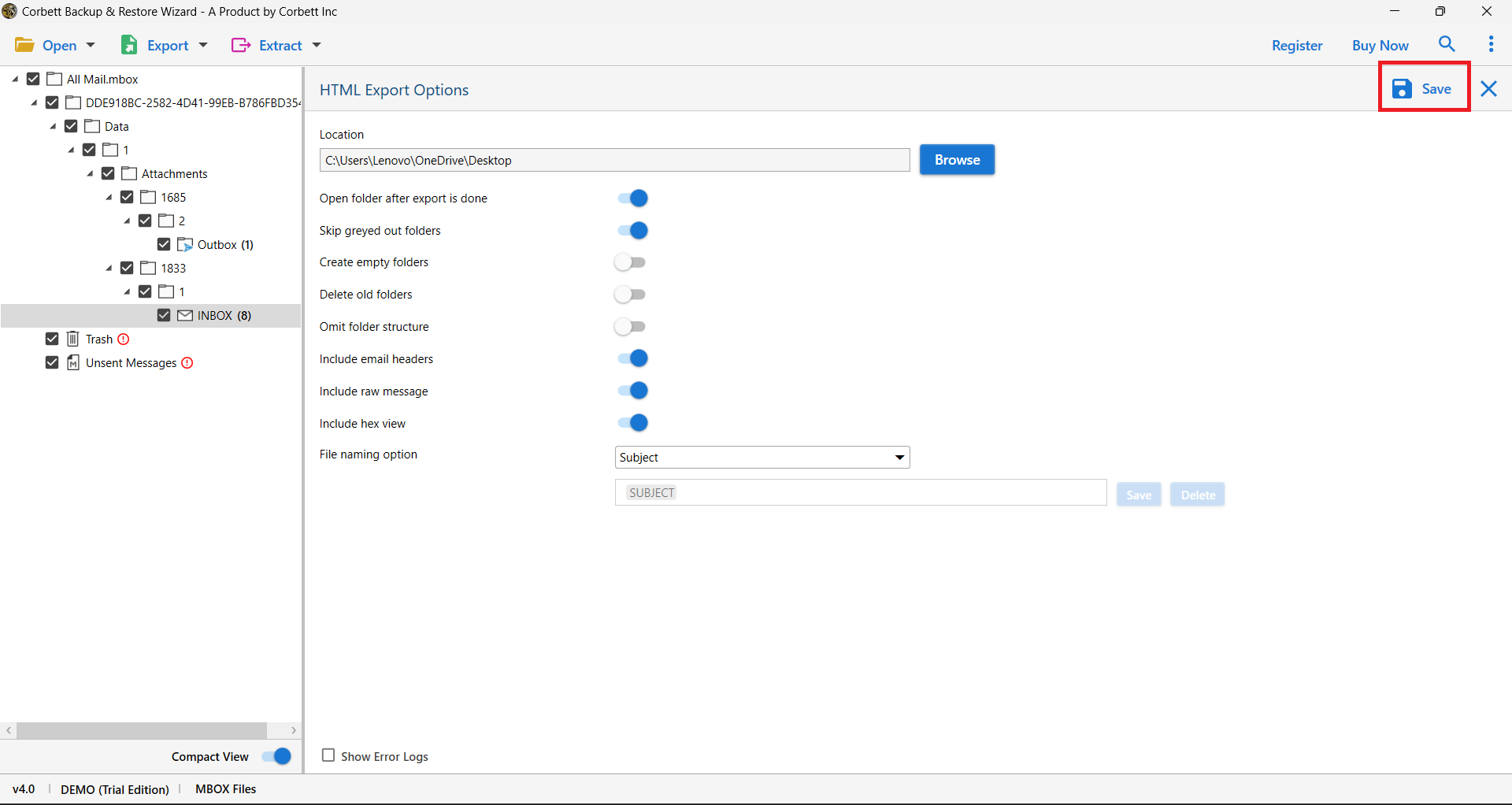 The MBOX to HTML Converter Tool's Main Benefits
Select any final location in your system to save the converted MBOX to HTML files from the Browse Destination Path menu.
Include Email Headers: If you check this box, the email header will be included in your converted HTML files.
File Naming Options: Before commencing the conversion, rename the converted HTML files. This utility also has various default choices for saving the folder, such as Subject, From-Subject, From-Date-Subject, and so on.
Before commencing the conversion process, you can use this tool to remove the folder structure from your converted HTML Files.
Include Raw Message: If you enable this option, the raw message will be included in your MBOX to HTML file conversion.
Include Hex View: You can include or exclude the hex view option in your convert MBOX to HTML file depending on your needs.
Note: The tool will only work when you've enabled all of the Email Header, Raw Message, and Hex View options. The software divides your Convert MBOX to HTML Files into pieces for each of the three parts. This can be seen in the image below. How does the tool manage to cram all of the options into a single HTML document?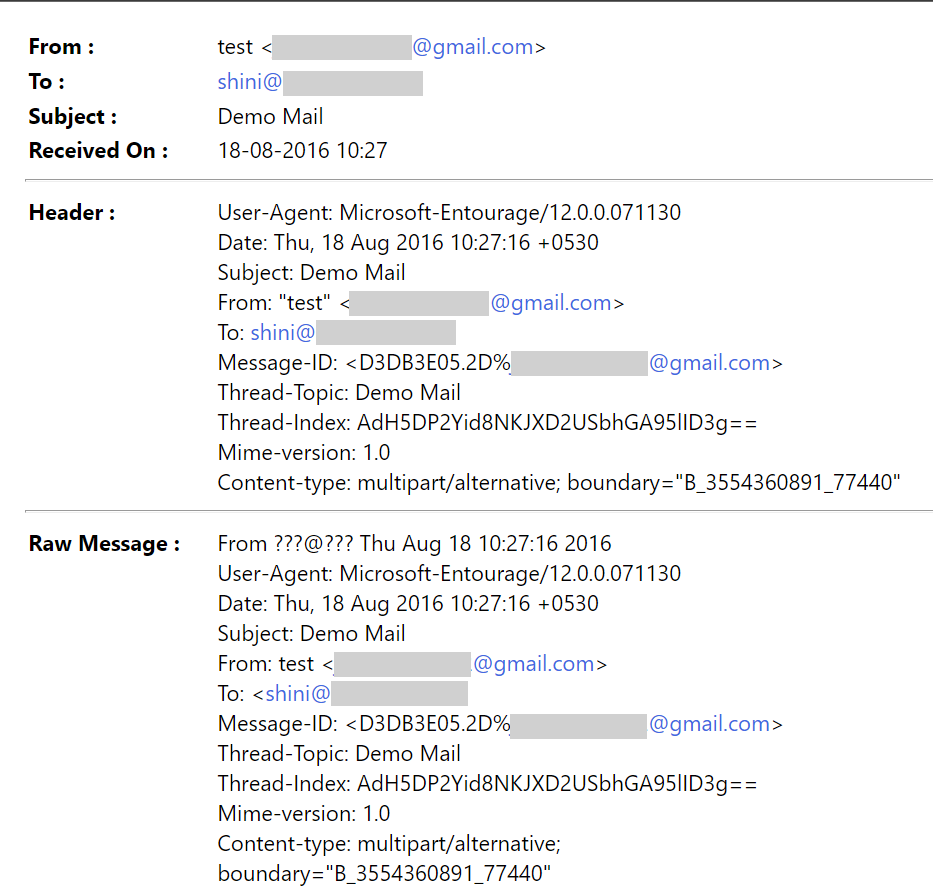 Users' Frequently Asked Questions
Options for Advanced HTML Conversion
Only this tool has been created with all types of users in mind. They can be technical, non-technical, expert, specialized, Forensic, or a variety of other things. Entire users who want to convert MBOX to HTML with all mailbox data would benefit from this solution.
Additionally, this software does more than simply convert your MBOX file to an HTML file. However, it also allows you to include all of the preview settings in your HTML files so that they can be used afterward.
Not only does this MBOX to HTML Converter include preview choices, but it also allows you to Open a Folder after the export is complete, skip greyed-out folders, create empty folders, and delete old folders, and so on. All of these options will be available to you prior to beginning the MBOX to HTML conversion.
Read More Related Topics:
Author's Recommendation
This powerful MBOX to HTML Converter wizard allows you to convert large batches of mailbox files and folders without any file size restrictions. Furthermore, only this tool's powerful algorithms allow you to preview emails in numerous modes.