Export eM Client to Outlook with all Data Fields | Know Complete Procedure
One of the questions received by our technical support team is how to direct export eM Client to Outlook PST without dependency. For clearance, If someone has multiple configured profiles in the eM client and wants to migrate them in PST format with all data elements. This process is made possible with Corbett Email Converter Tool.
This quick guide will describe the entire procedure to migrate eM Client to Outlook desktop all editions. Users can easily save their time and efforts by importing batch data files in MS Outlook. So, let's start the process.
Why do Users Migrate eM Client to Outlook for PC?
We decided to mention a real-time scenario that clarifies why we need to export eM Client to Outlook.
I started using the demo edition of eM Client, and I have thousands of emails stored in my inbox account. As my demo edition of eM Client will expire soon, I was looking to convert them to PST format to access them on my Outlook desktop easily.
Jason James
Like this, a lot of users have multiple queries regarding this migration. Most users claim that they face unwanted errors and synchronizing errors. Thus to overcome this, users can migrate eM Client to Outlook for pc effortlessly.
eM Client to PST Converter – A Quick Solution
The eM Client to PST Converter Tool is one of the best software that can efficiently meet the requirements of all users. In addition, if you want to migrate specific emails from thousands of stored emails, you can do it with the help of an automated solution.
We know that every piece of data and money is essential for everyone. That's the way we have to include a demo edition of the wizard. The trial version of the toolkit allows migrating ten email data files from eM Client to Outlook. Later on, the user can activate the licensed key for unlimited data migration.
Instructions and Working Procedure of eM Client to Outlook Migration Toolkit
1) Once the application is downloaded, install and run it, then click on the Open button.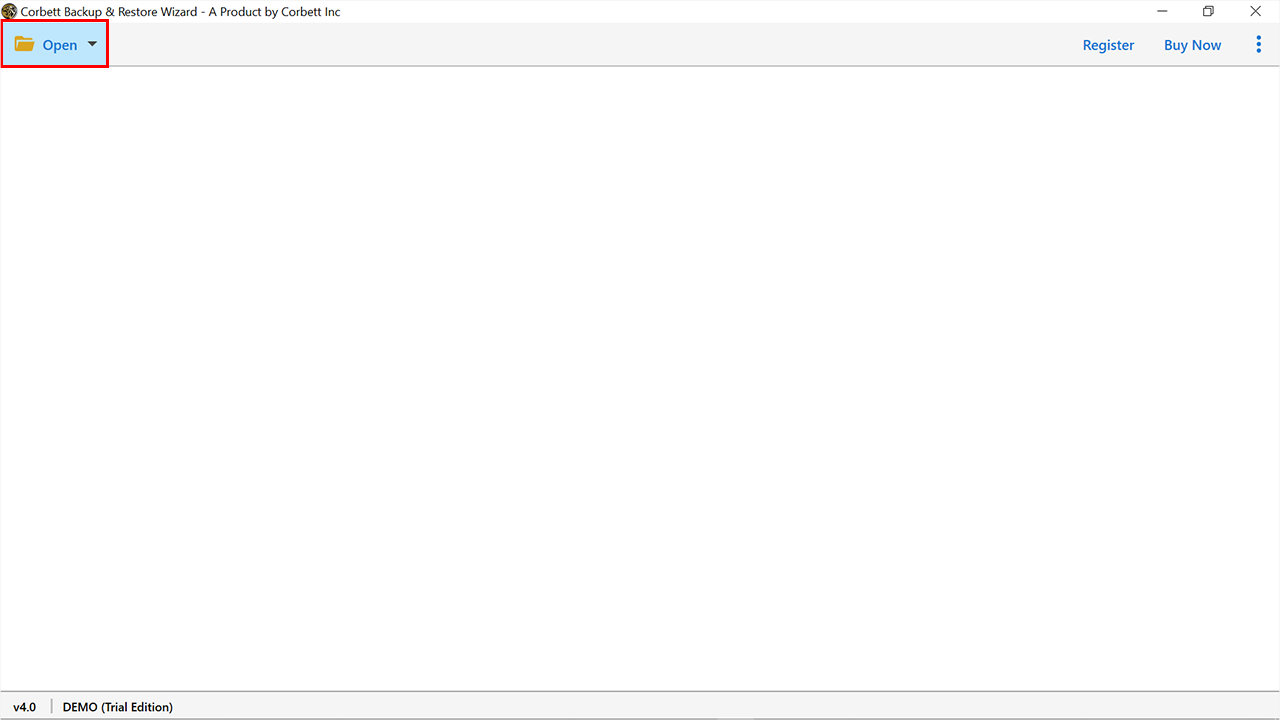 2) Select the Desktop Email Application from the list and click on eM Client. The software will show all configured profiles. Select them to continue.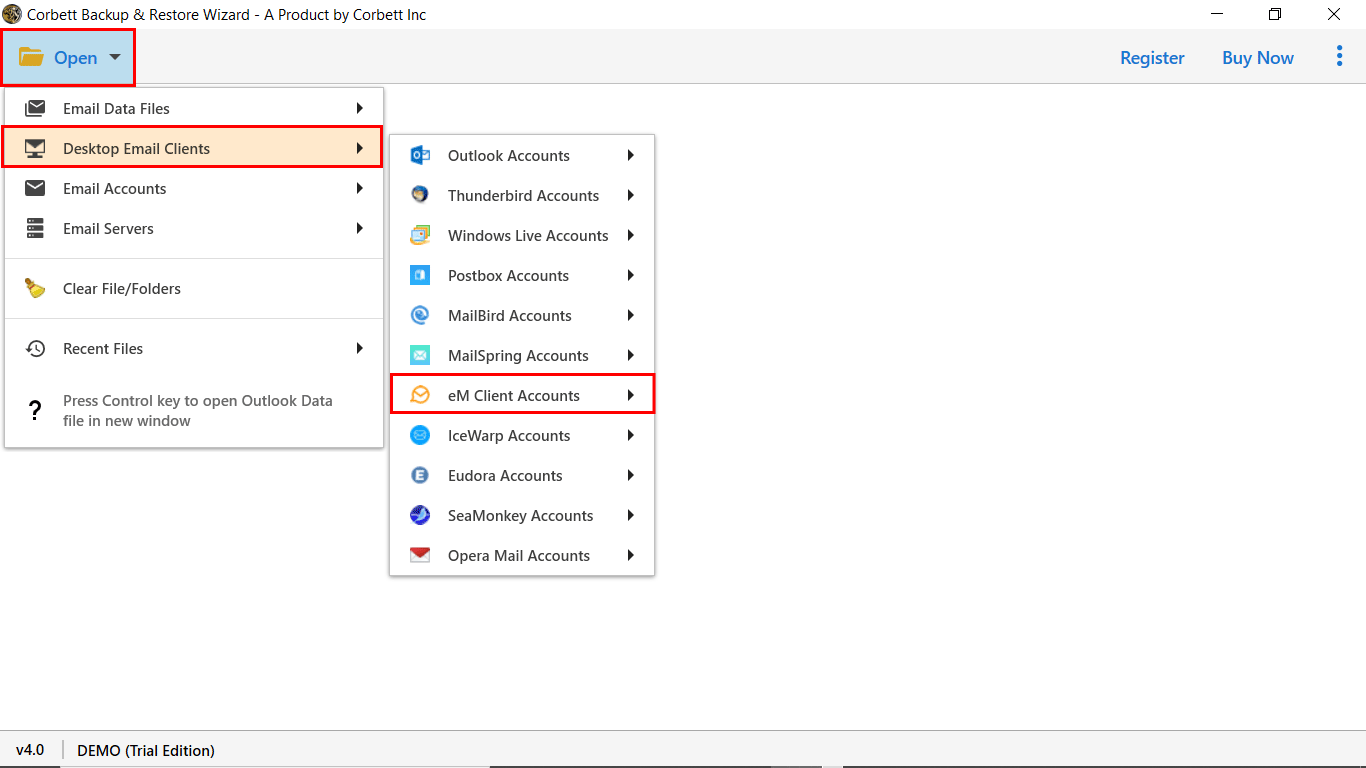 3) Once you select the data file from the source location. The software will display all the files with attributes.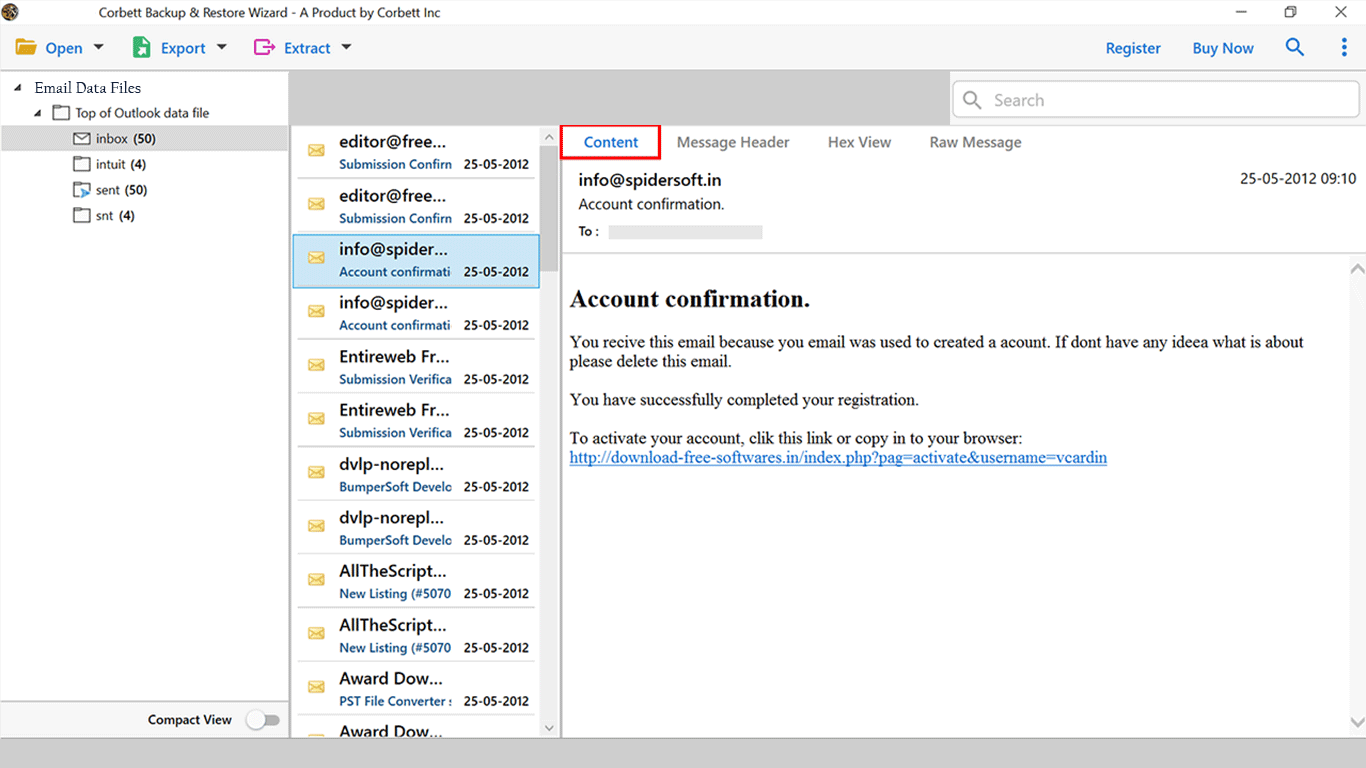 4) The next step is to click on the Export button listed on the ribbon bar and select PST format from the list.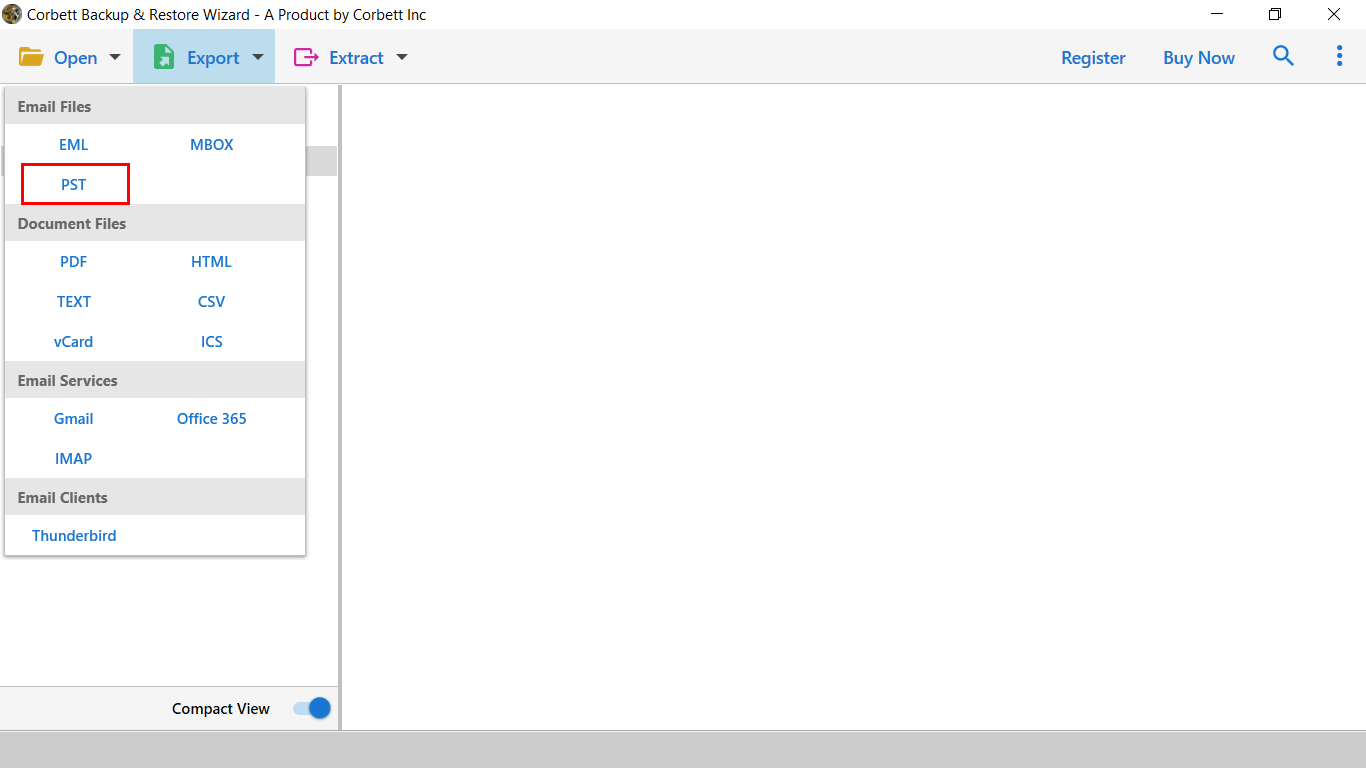 5) In the following windows, users can apply the data filters are per their need and finally click on the Save button.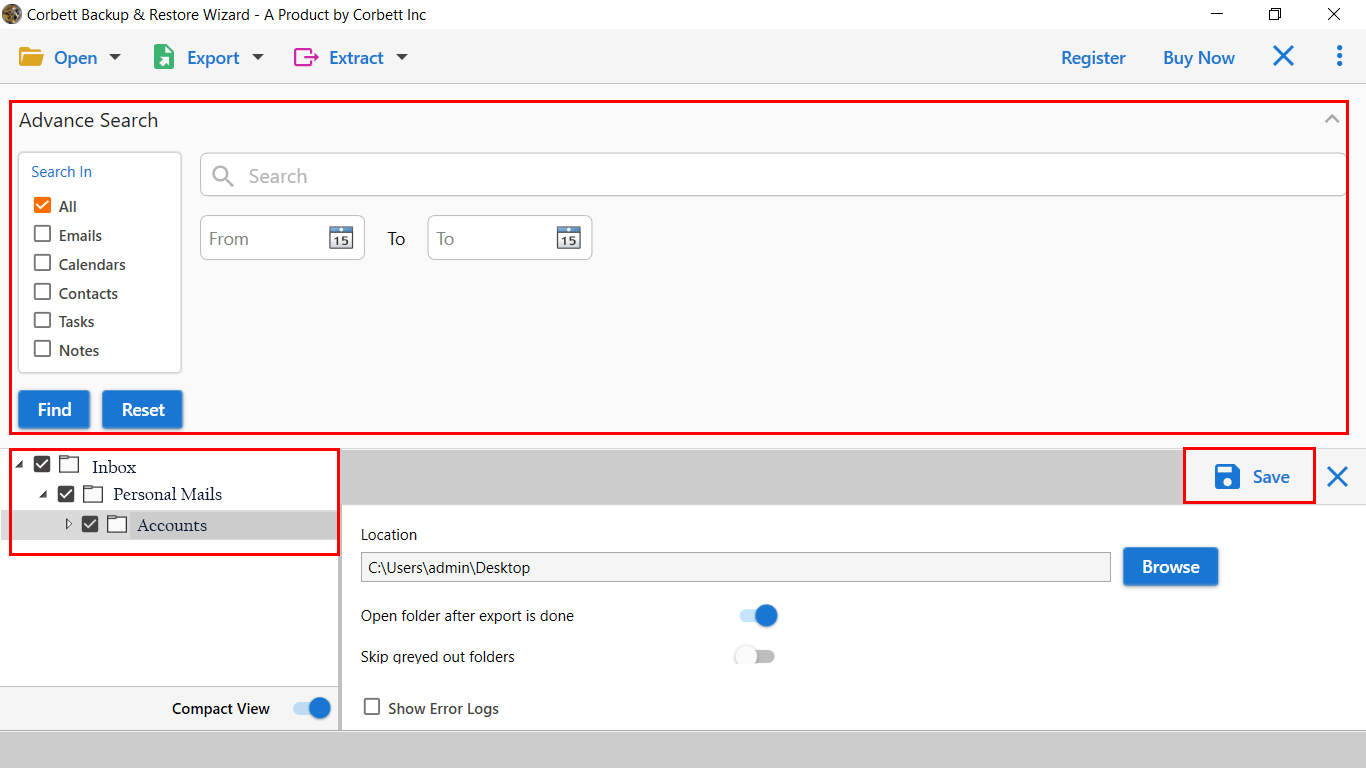 Video Tutorial to Migrate eM Client to Outlook PST Format:
The eM Client to PST converter starts the process. It will only take a few minutes. When the process gets done, you will get a success notification. In the next step, we will check the manual procedure to export eM Client to Outlook.
Manually Export eM Client to Outlook Account
One can efficiently migrate eM Client to Outlook Desktop by using an automated solution. But if you want to perform this task manually, let me warn you that eM Client doesn't offer any direct option to import data in Outlook.
Step 1: Extract Email Data File from eM Client
Carry out the number of steps listed below:
1) First, users have to open the eM Client Application on their desktop.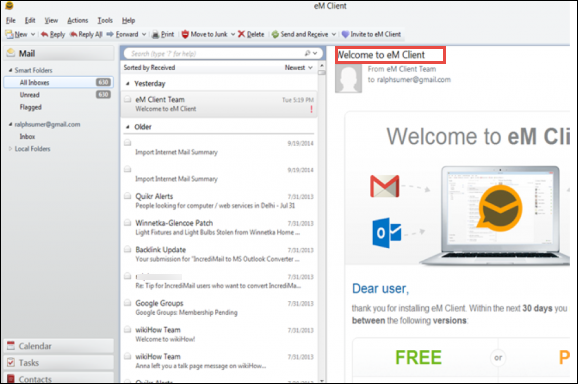 2) Navigate to the File tab.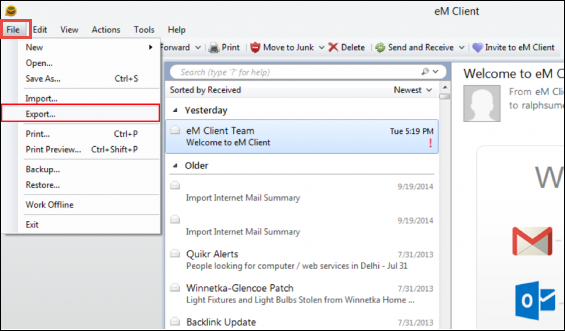 3) Select the "Export Option" and select "Export to an EML File" from the list.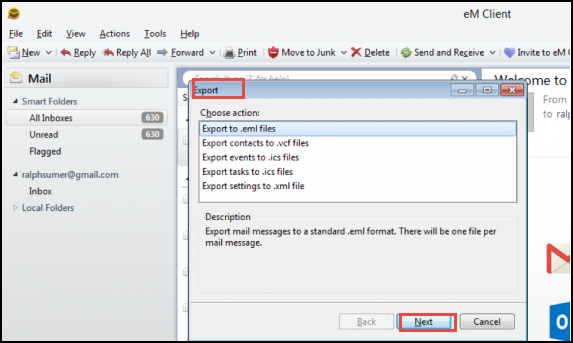 4) Now, select the folders that you want to migrate.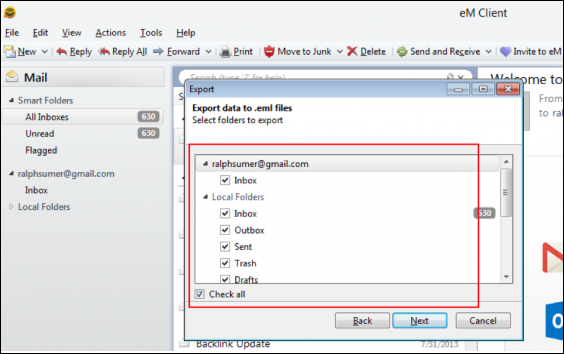 5) Browse the designation to save the output and click on the Finish button.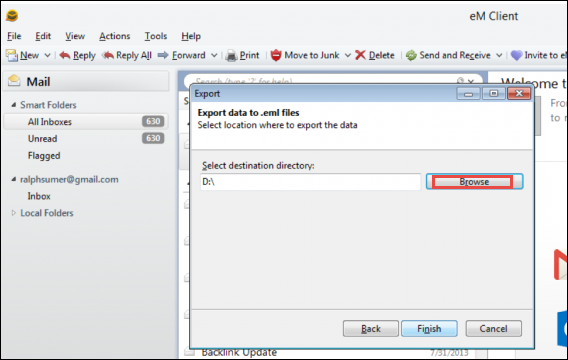 After following the steps mentioned above user can get eM Client files to the local computer. But what next? There is no direct option provided to export eM Client to Outlook. The only solution left is to use eM Client to PST converter. If you want to read more about eM Client to Gmail/G Suite then read this article.
So There You Have It
The above blog explains one of the simplest ways to export eM Client to Outlook for pc. We have described both the ways to execute this migration process. Yet the manual solution fails. If you want a quick and trustful solution, you can go with the eM Client to PST converter. In case of any doubt, users can contact our support team available 24*7 for your convenience.