Migrate eM Client to Gmail/G Suite Account | Everything You Need to Know
Are you trying to figure out an easy way to migrate eM Client to Gmail account? Are you hoping to accomplish this task in a few seconds without any fear of data loss? Then your search has over, read the article below to know a step-wise workaround to import eM Client emails to G Suite or Google Mail account.
Nowadays, the data migration process from a desktop application to cloud platforms is quite common. Additionally, Gmail has a significant share of users in terms of email usage, and it is a free source. There are multiple reasons for this migration. We mention some of them for a better understanding.
Instant Solution: Try Corbett Email Converter Software, one of the best solutions that offer a wide range of advanced features. Download the demo edition of automated wizard to know more.
Why Users Wants to Import eM Client emails to G Suite or Google Mail Account?
Could Support: The eM client is a desktop-based application while Gmail or G suite are cloud applications, making it a prime choice for the users.
Installation and Configuration: There is no need to install any application to access the Gmail account. Also, it offers 15 GB of cloud storage for emails, contacts, and calendars. In contrast, you must configure and install an email application to work with an eM client.
Compatibility: Google mail can easily be accessible on all internal enabled platforms such as mobile phones, tablets, laptops, etc.
Security: In terms of data security, the G Suite account stays on the top with the support of Google AI. Gmail and Google Workspace are both designed to prevent data from viruses. Also, there is a dedicated support team available to assist you with every problem.
So, here are some of the benefits that a Gmail account offers compared to an eM Client account. While comparing both platforms, it is an excellent decision to Migrate eM Client to Gmail account. Now, the question arises of how users can achieve this migration, let's find.
How to Direct Transfer eM Client to Gmail Account? 
Corbett eM Client to Gmail Migration Software is a solution for all your problems. This advanced application lets users migrate eM clients to over 100 applications, including Gmail and G Suite.
Also, the toolkit provides you the freedom to import selected emails from the mailbox by applying advanced data filters. Additionally, a quick search option lets users find email messages in depth.
This program also preserves all the meta elements throughout the migration process. Also, users can migrate any size of eM Client data file to a Gmail account without any failure.
Instructions to Use Automated Approach
Download the solution with the mentioned link and continue the process.
1) Start the email application and click on "Open Tab."
2) From the Dropdown list click on select on Email Desktop Application >> eM Client >> Select Configured Profile.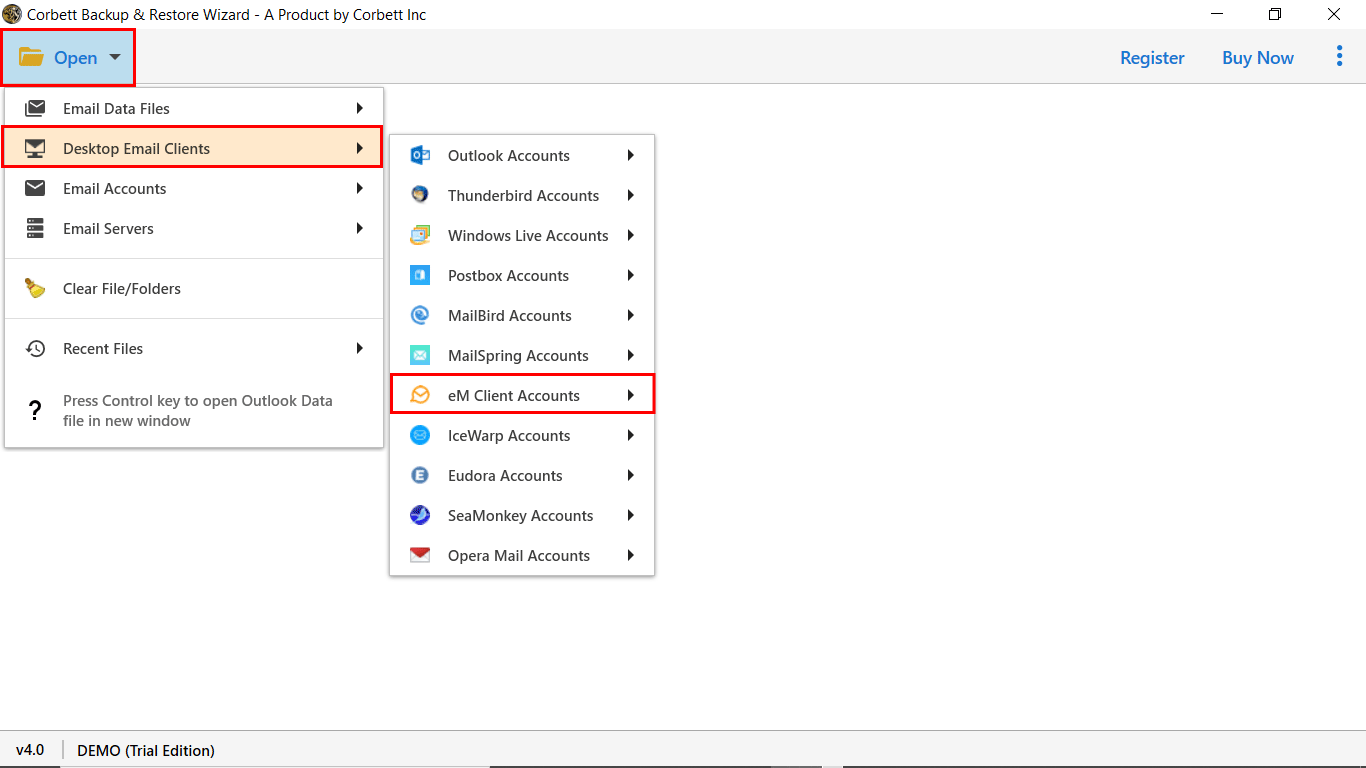 3) Next, the software will scan and display all the stored data files.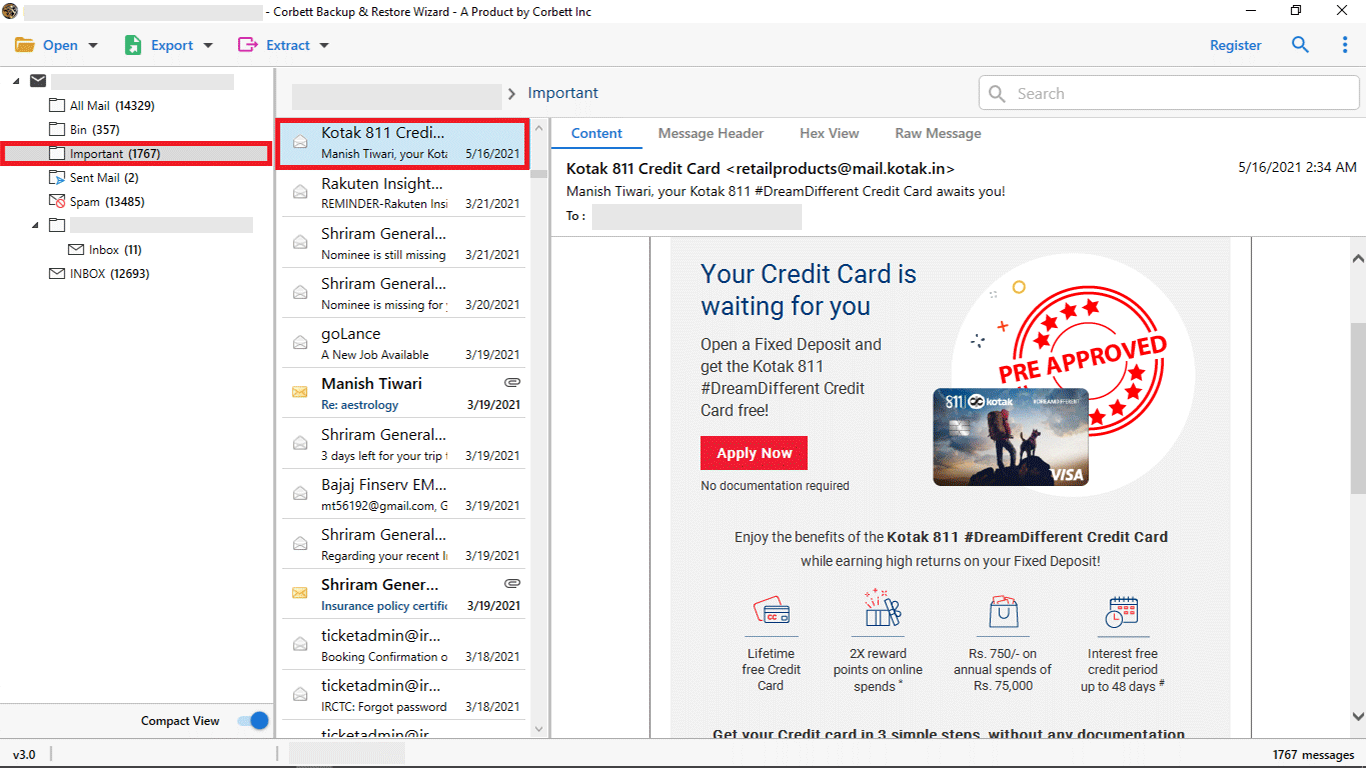 4) Afterward, Click on the Export button and select the Gmail Option.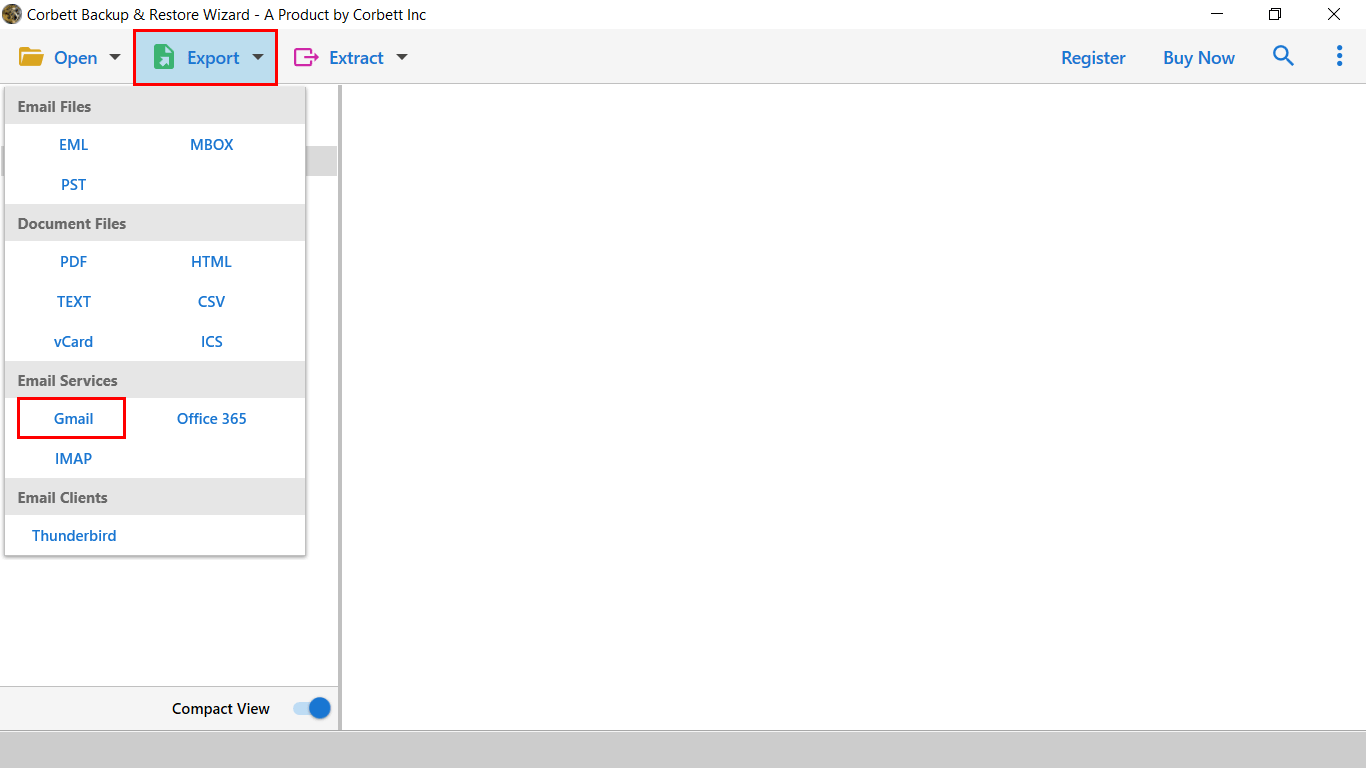 4.1) If you want to Migrate eM Client data in a G Suite Account, Click on the IMAP Option.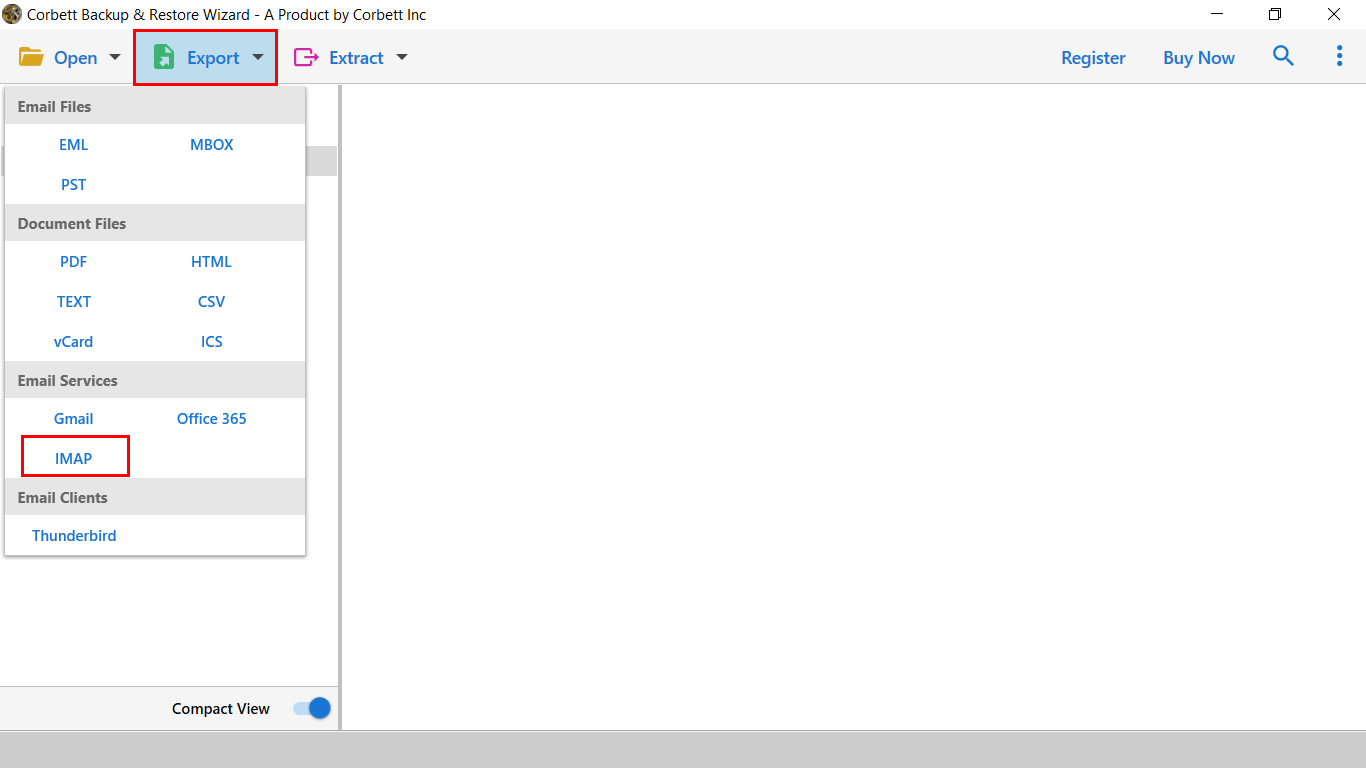 5) In the next Window, Apply the Data Filters and Click on the Save button to start the migration process.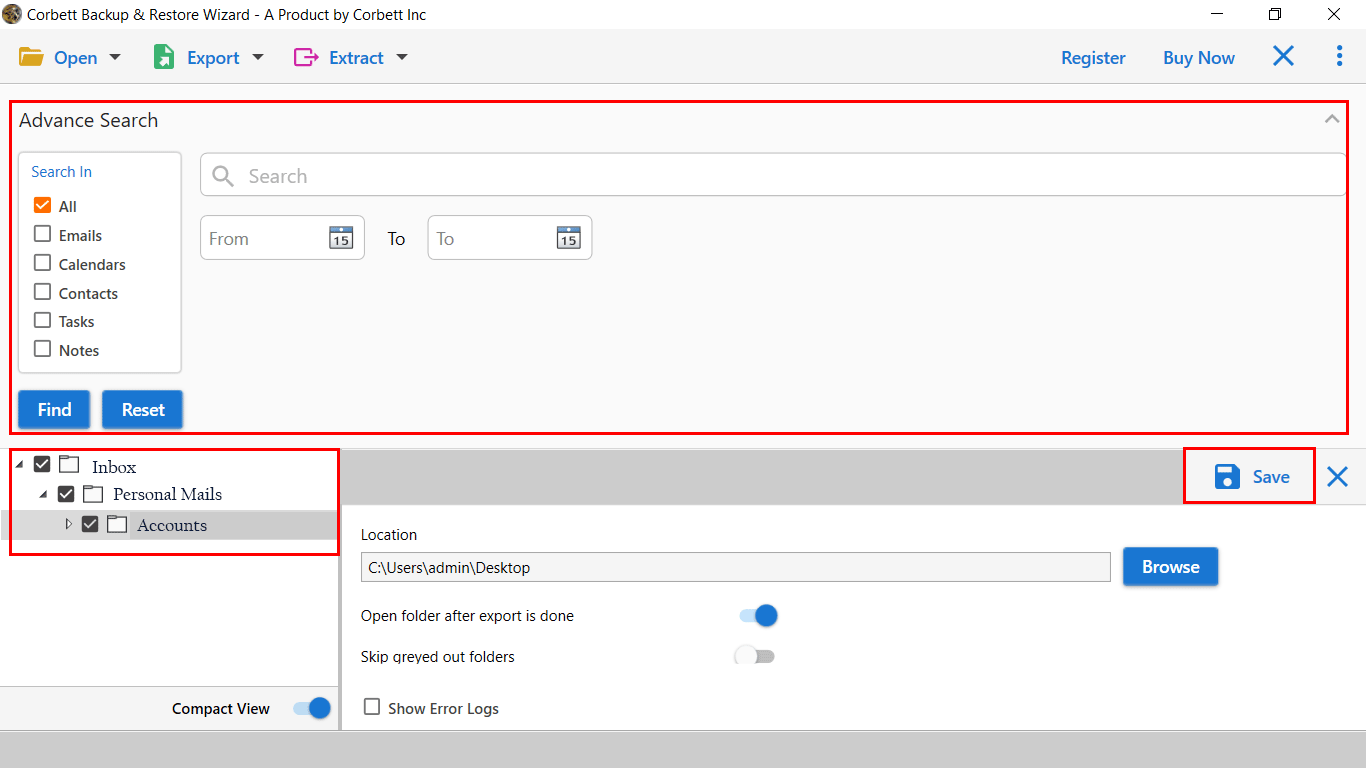 That's all about the automated procedure to import eM Client emails to G Suite account. Also, there is video tutorial available to assist you.
Benefits of Using Automated Tool
Migrate eM Client to Gmail Account in Bulk with All Data Attributes
The application has a simple and easy-to-use interface. So that you can quickly get the job done.
Separate Option to Extract eM Client Email Addresses, Attachments, phone numbers, etc.
Import eM Client emails to G Suite account without losing any data file or information.
The software has a dedicated preview panel to view all email data with advanced filters.
Users can quickly check the email header properties, including Hex and Raw data values.
The automated wizard works on all editions of Windows (32 & 64 bit).
So There You Have It
Users can easily migrate eM Client to Gmail account directly by following the above blog post. We have listed a step-wise workaround that all users can efficiently perform. Also, the mentioned toolkit is a beneficial solution that offers precise and accurate results. It's recommended to download the software to know more toolkit functionalities.