Extract Email Addresses from Postbox – Expert Recommended Guide
Are you trying to find the best method for solely extract email addresses from Postbox email account? The best and most secure method to carry out the procedure will be provided to you here, so you don't need to worry about a solution.
You or any other user may be searching for a method to simply extract email addresses from the Postbox account for a variety of reasons.
It's simple to extract one or two email addresses from a user account. But when we need to retrieve a large number of email addresses from the Postbox account, the real trouble starts.
How Can Email Addresses Be Extracted From A Postbox Account Emails?
It is not difficult to extract email addresses from the Postbox account. Copying and Pasting each email address from the email into a notepad or another location will allow you to extract IDs from emails.
The biggest issue arises when we need to simultaneously extract email addresses or bulk email ids from many Postbox accounts.
Why is it Impossible to Manually Extract Email Addresses from Postbox?
You can choose to proceed manually if you simply want to extract a certain number of emails from a certain set of emails. This is nothing more than a copy-and-paste technique.
However, you may also extract email addresses from Postbox and customized email addresses from Postbox emails if you wish to extract email addresses in mass.
Customized Email Extraction in this Context Means:
Obtain email addresses from the targeted emails, such as (Only extract Bank email addresses)
The alternative is to merely extract particular from and to date received email ids ( 25-05-2022 to 25-10-2022 email ids)
Takeout only received email addresses from Postbox and saved them as TXT files.
Email addresses from the Subject, Message Body, and Message Header sections must only be saved.
Only email addresses from attachments were required.
In a manual manner, none of the previously indicated things were successful. Additionally, carrying out all of the aforementioned tasks by hand takes time and requires attention to detail to prevent errors.
How Can I Directly Extraction Email Addresses from Postbox Emails?
Corbett Software Email Addresses Extractor Software is the only safe and secure way to directly extract email addresses from Postbox emails. You may quickly and simply retrieve email addresses from Postbox emails with this application, depending on your needs.
The benefit of employing an automated tool that has been pre-programmed is that you may customize its use to meet your needs. For example, you may apply filters to only receive the info you need right now.
To satisfy all of your works and requirements. Use this CorbettSoftware tool, which was created specifically to meet consumer's needs. Particularly, our developers concentrate mostly on Application programming interfaces that are self-explanatory and easy to use. so that the procedure may be carried out without error by any non-technical person with ease.
How to Extract Postbox Email Addresses in Bulk: A Step-by-Step Guide
Start the Extract Email Addresses from Postbox emails procedure by installing the tool on your computer. All versions of Windows are totally compatible with this application.
1. Click the Open button on the first tool's greeting box after you install it and launch it on your operating system.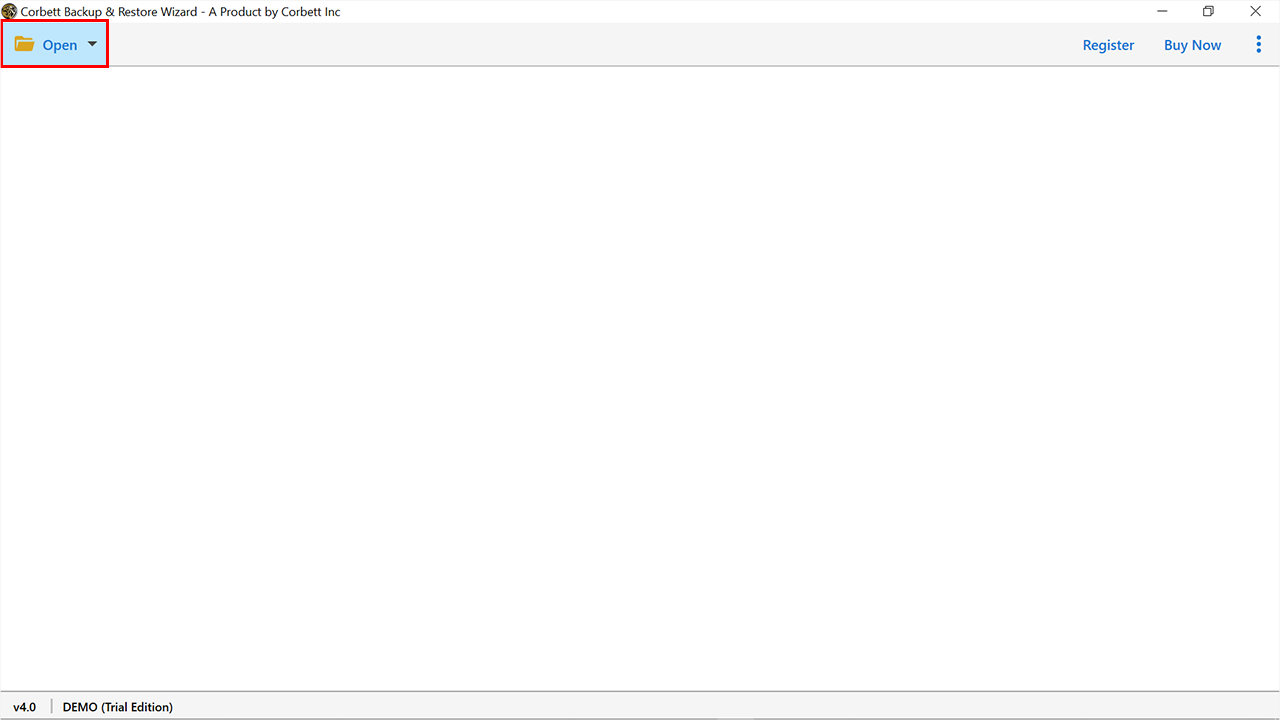 2. Then, a list of alternatives appears, from which you may pick Desktop Email Client and select the Postbox account from the list.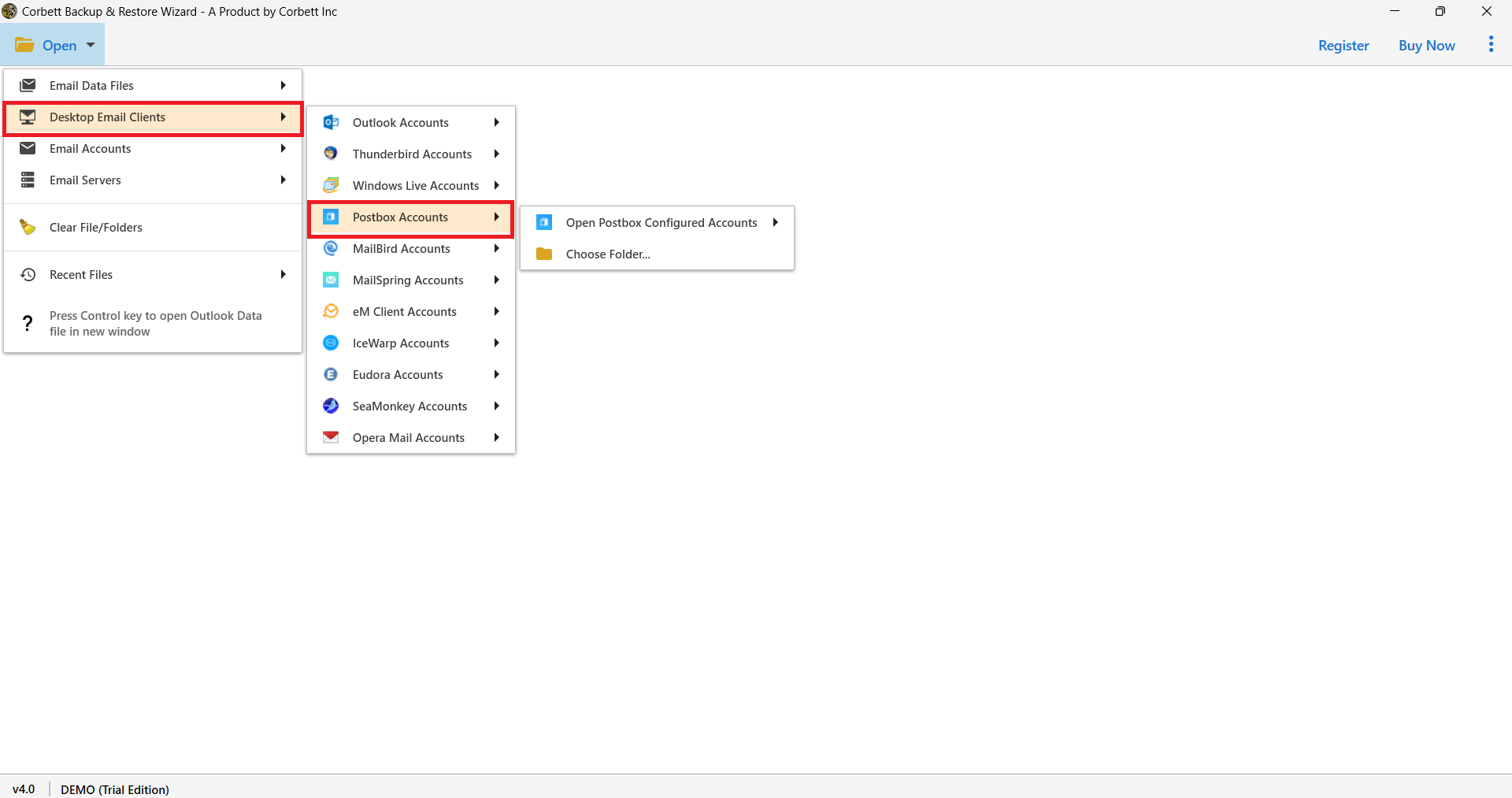 3. If Postbox is already installed on your computer, the utility will open that account by default, but you may also select specific Postbox folders based on your requirements.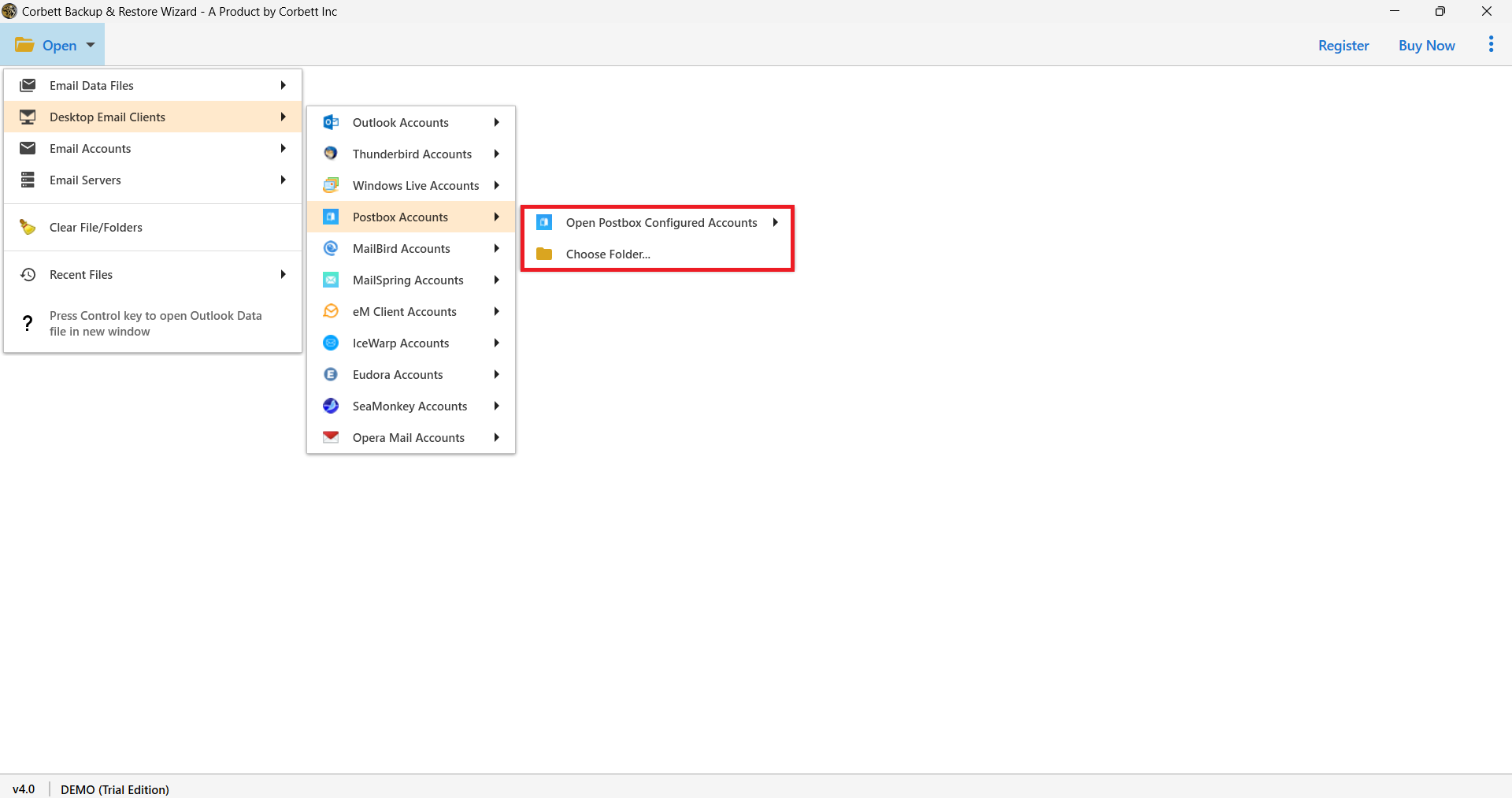 4. The application then begins completely uploading all of the files and folder information from your Postbox account that is presented in the tool's interface.
5. On the right-side preview panel, you may see a preview of the emails.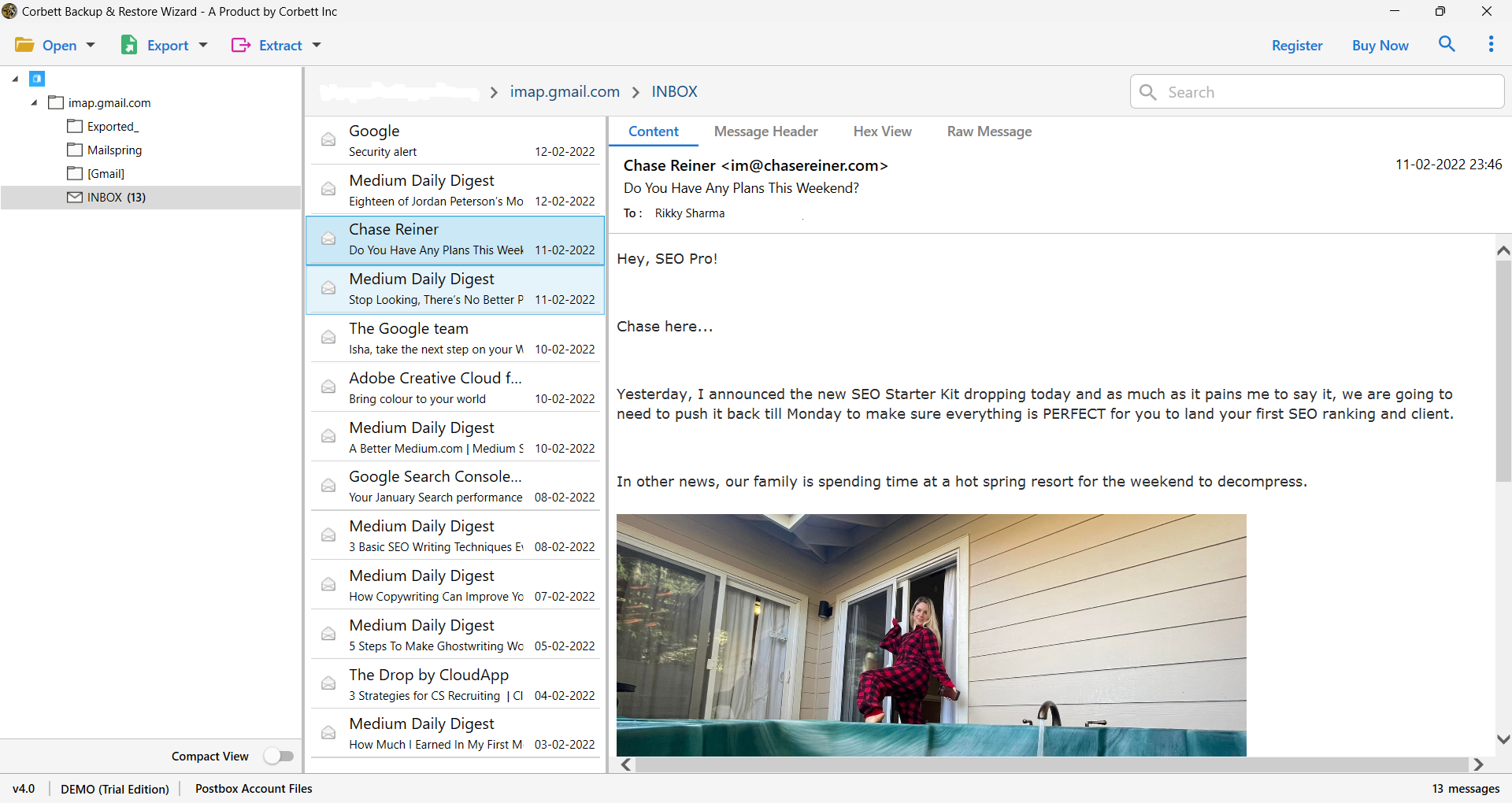 6. Now click Email Addresses and choose the Extract option from the ribbon bar.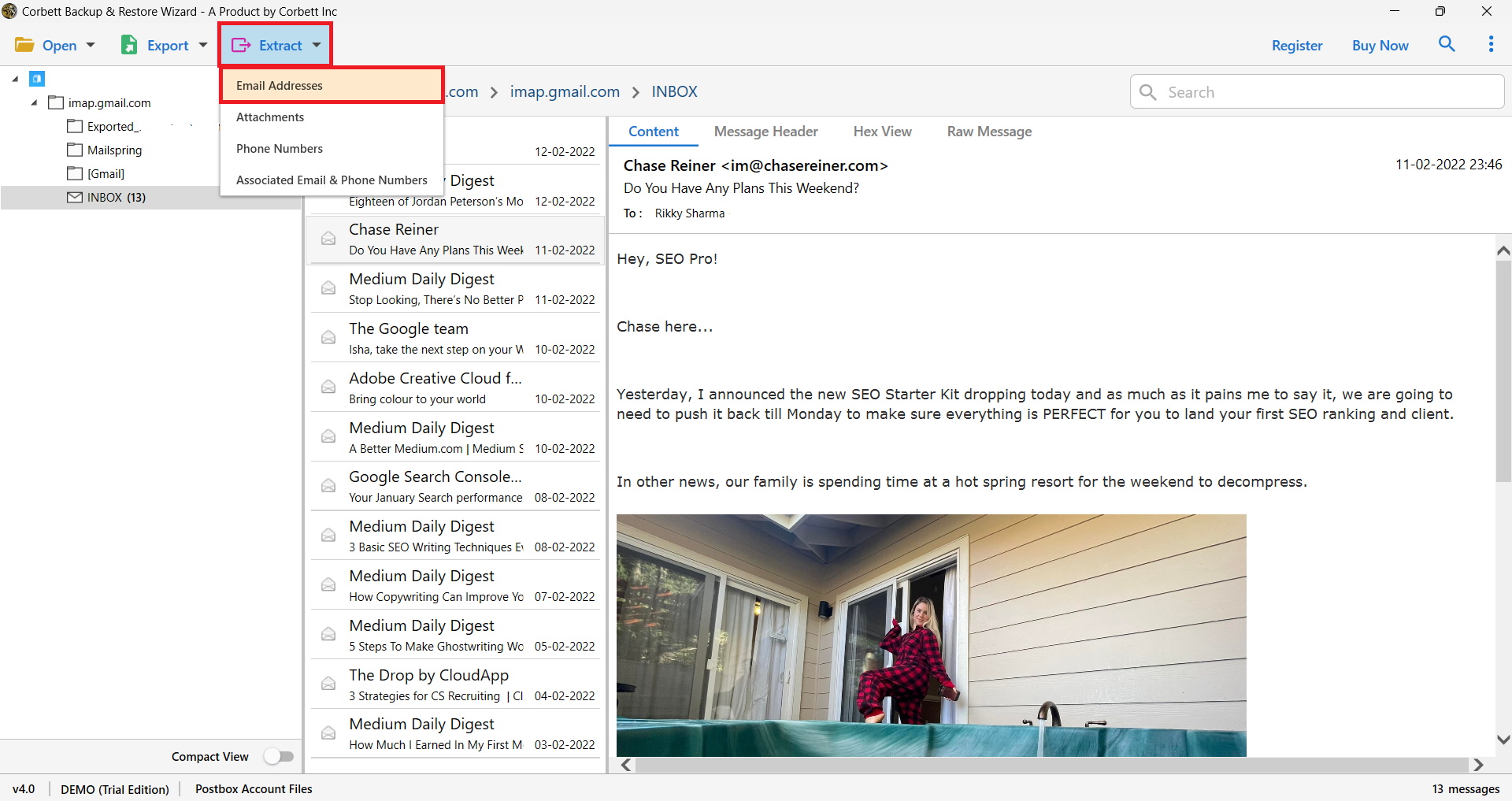 7. The application will launch the Extract Email Addresses window, where you may enable or disable advanced settings. Click the Save button to start the process after selecting the choices that best suit your needs.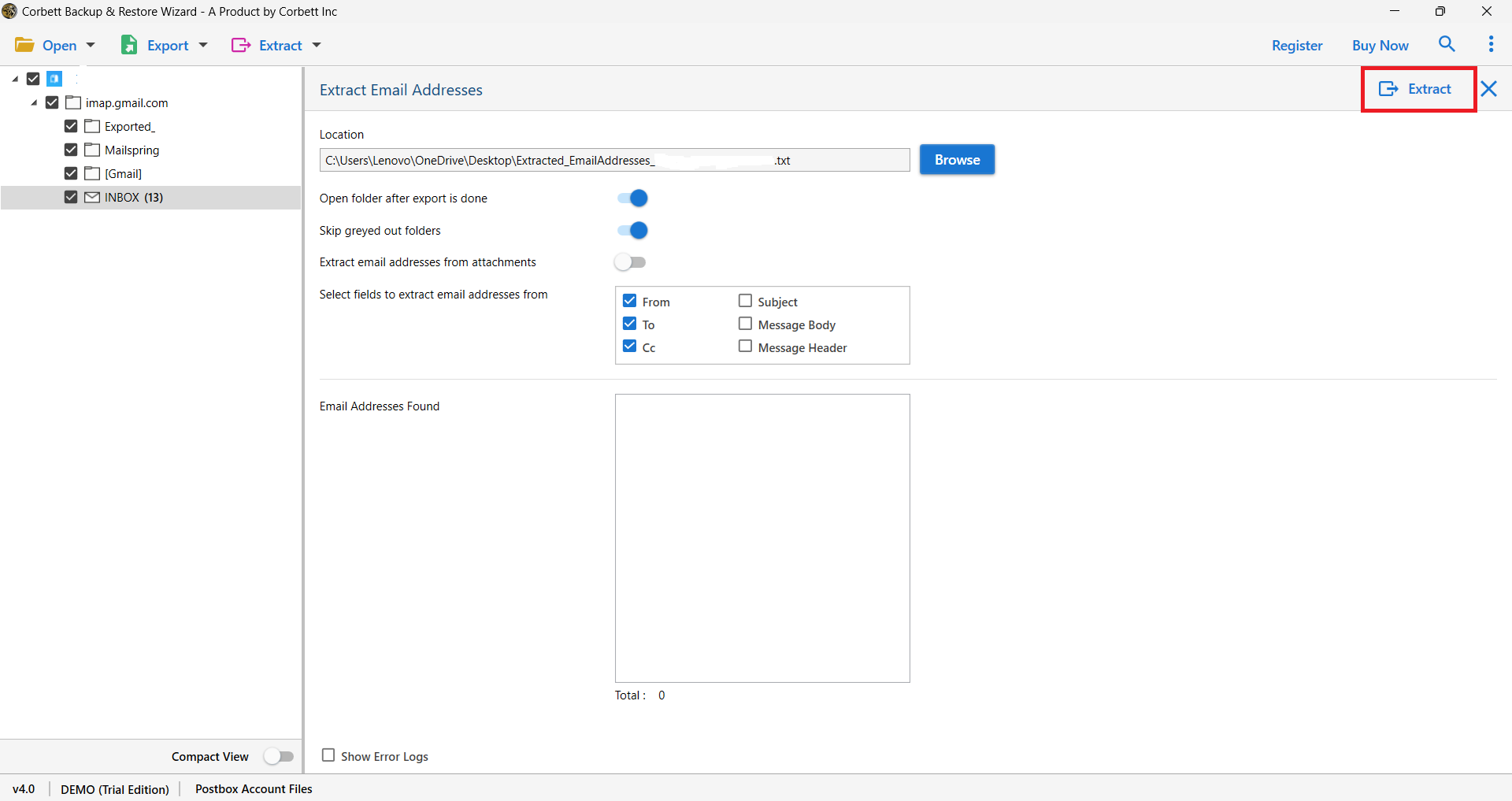 The application immediately begins extracting all of the Postbox email addresses. In bulk as soon as you click the Save button. Additionally, it will save your extracted email addresses in the appropriate folder as TXT files. The tool solution is the most fastest way to extract email addresses from Postbox account emails within a few seconds.
Why Should I Use This Tool to Extract Postbox Email Address?
Freedom to Save Extracted Email Addresses in Any Preferred Place: Using this tool, you have the option of saving the extracted email addresses from your Postbox emails in any desired location.
Simple Method to Extract Email Addresses in Bulk from Postbox Email Attachments: With the help of this application, you can also retrieve email addresses in bulk from attachments. Because of this, you can also simply find the attached email addresses.
Easy Email ID Extraction from the Selected Sections: You can extract only the elements you need by using an automated program. Therefore, it is unnecessary to remove pointless email addresses. just in case you don't need it. You may quickly obtain the email addresses from the. Cc, To, From, Subject Body, Message Body, and Message Header sections by using this option.
The main feature of this application is that it displays entire email ids before saving them in a TXT file format.
Preview Extracted Postbox Email Ids Before Saving: So, before storing them, you may view every extracted email address.
Users may easily extract the email ids depending on the date range by selecting only the dates from and to Postbox emails. Many users who intended to extract just pertinent sending and receiving email id times may find this option useful.
Extraction Process Safe and Secure Utility: This tool is fully safe and secure from any damaging virus assaults and data loss. Consequently, you don't need to be concerned about the security or safety of your data.
Author's Recommendation
In this article, we outlined the ideal method for quickly extracting email addresses from Postbox emails. You may quickly and easily retrieve bulk email ids with this program. Additionally, there is no need for any time-consuming manual processes. This is the only way that easier your work. and effortlessly extract email addresses from Postbox emails in a single go.