Best 2 Strategy to Import EML to Thunderbird With Complete Attachments
If you are looking for a solution to bulk Import EML to Thunderbird account. Then this blog post will help you to complete the process of importing EML Mail to the Thunderbird account.
Mozilla Thunderbird is an open-source email client that can be easily accessed. In many organizations and businesses, Thunderbird is used to send and receive emails. Because Thunderbird is a free email client that can easily be installed on your Windows OS.
Why Import EML File to Mozilla Thunderbird?
Unlikely Mozilla Thunderbird is not a paid email client. Any individual, an organization, or business person, can use Thunderbird to send and receive emails.
Because of the free email clients services plenty of users prefer Thunderbird more than Office 365, Gmail, G Suite, and other email clients.
Mozilla Thunderbird is well known for its advanced features that only Thunderbird can provide like Junk filtering, Message Management, Add-ons, and themes.
To make use of its features, many users migrated their other email client data to Mozilla Thunderbird. To migrate data in Mozilla Thunderbird, Users need to export their data to an EML file, so that the migration process of importing EML to Thunderbird can be faster.
In this blog, we will guide you on How to export EML to Thunderbird by using the manual method and the Automatic Method. Both the methods can be used to export the .eml files directly.
How to Import EML File to Thunderbird Using Manual Method?
To manually import EML mail to Thunderbird you have multiple ways. All the direct options to migrate EML to Thunderbird we will explain here step by step. Start the process by following the points given below.
Method 1: Import Single EML to Thunderbird Using Drag and Drop Option
This method is one of the easiest ways to import a single EML to Thunderbird. You only need to drag and drop the EML file into Thunderbird folders. Follow the given steps to import EML to Thunderbird.
Open Mozilla Thunderbird
Click Local Folders
Right-click on the Local Folder option and click the New Folder choice
Provide the folder a name and select Ok
After that, select the newly created folder
Choose EML files that you wanted to import into Thunderbird
Then, start dragging choose EML files and drop them into the newly created folder
Method 2: Import EML Mail to Thunderbird Using the Import Messages Option
To use this method, you need to install an add-on in your Thunderbird. We will be using the ImportExportTools NG add-on which is a free add-on. To perform this Import EML to Thunderbird method first install the add-on and then start the process as mentioned below.
Before, starting let's quickly understand how to install an add-on in your Thunderbird account.
Start Thunderbird > Click Menu > Add-ons and Themes > Search ImportExportTools NG
Click Add to Thunderbird > Restart Thunderbird > Select Local Folder
Right-click on the local folder > Select New Folder > Provide Folder Name > Select Enter
Right-click on the newly created folder > Select ImportExportTools NG
Choose import message > select EML Files > Select Open to start the process.
Method 3: Import EML Messages to Thunderbird Using Import All Messages from a Directory Option
Use the ImportExportTools NG add-on in Thunderbird to use this method. Install the add-on in case you don't have it, after installing start the process step by step.
Open Thunderbird > Select Local Folders > Right-click on the local folders > Select New Folder
Folder name > Enter > Right-click on newly folder > Click ImportExportTools NG
Click Import all messages from a directory > Select directory option > Choose Saved EML file folder
Click Select folder > start the process
Import EML Files to Thunderbird Using an Expert Solution
We described all the available manual methods to import EML messages into Thunderbird. But manual method involves a bulk of risks which we discuss later. Many of you thinking why we need an automatic solution when we have 3 manual ways to import EML to Thunderbird directly without any help.
Then in many cases, the manual method didn't work well as compared to the automatic solution. This Best EML Converter Tool provides you security and safety of your EML files which a manual method doesn't provide you.
You have a complete data guarantee plus virus-free import EML to the Thunderbird process. However, when we have a large number of EML data, we all have some insecurities that this tool can remove.
Start the process by following the provided steps:
Steps to Start the Process in a Single go
Start the process by downloading the tool into your Windows operating system. After installation goes ahead with the steps we mentioned below.
1. Firstly, Start the process by selecting the Open option in the first window.

2. Secondly, select Email Data Files and click EML Files from the drop-down options.

3. Thirdly, This toolkit provides you with twofold options to import EML files into the tool. You can choose folders or choose files from your system.

4. After selecting the option, browse the saved EML files from your system. Then tool starts uploading EML files into the tool's panel.

5. Preview EML Files by selecting them one by one and viewing them in provided modes.

6. Then select the Export option and click Thunderbird from the given list.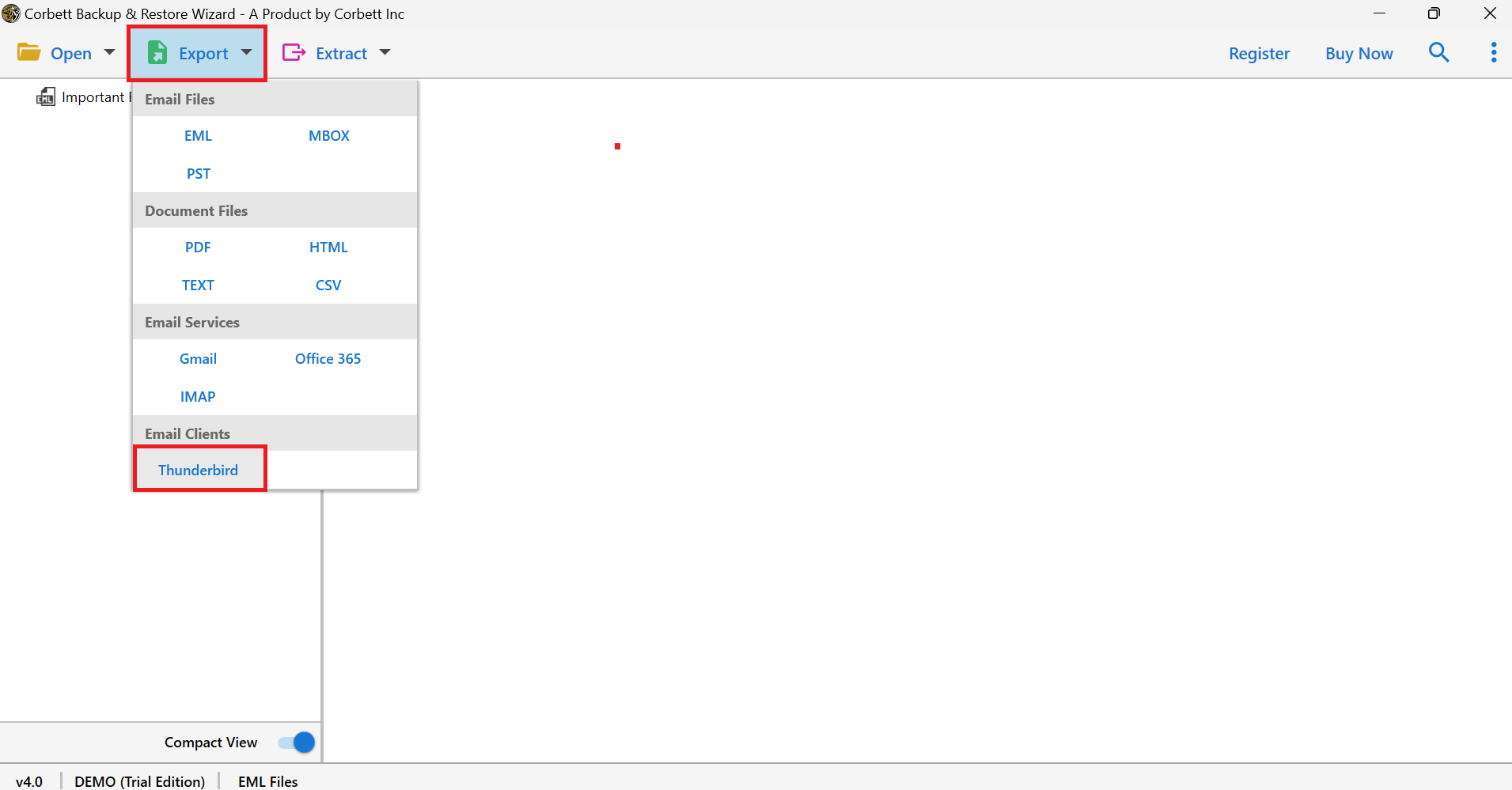 7. In the end, enable the Thunderbird Export options and click the Save option to start the import process.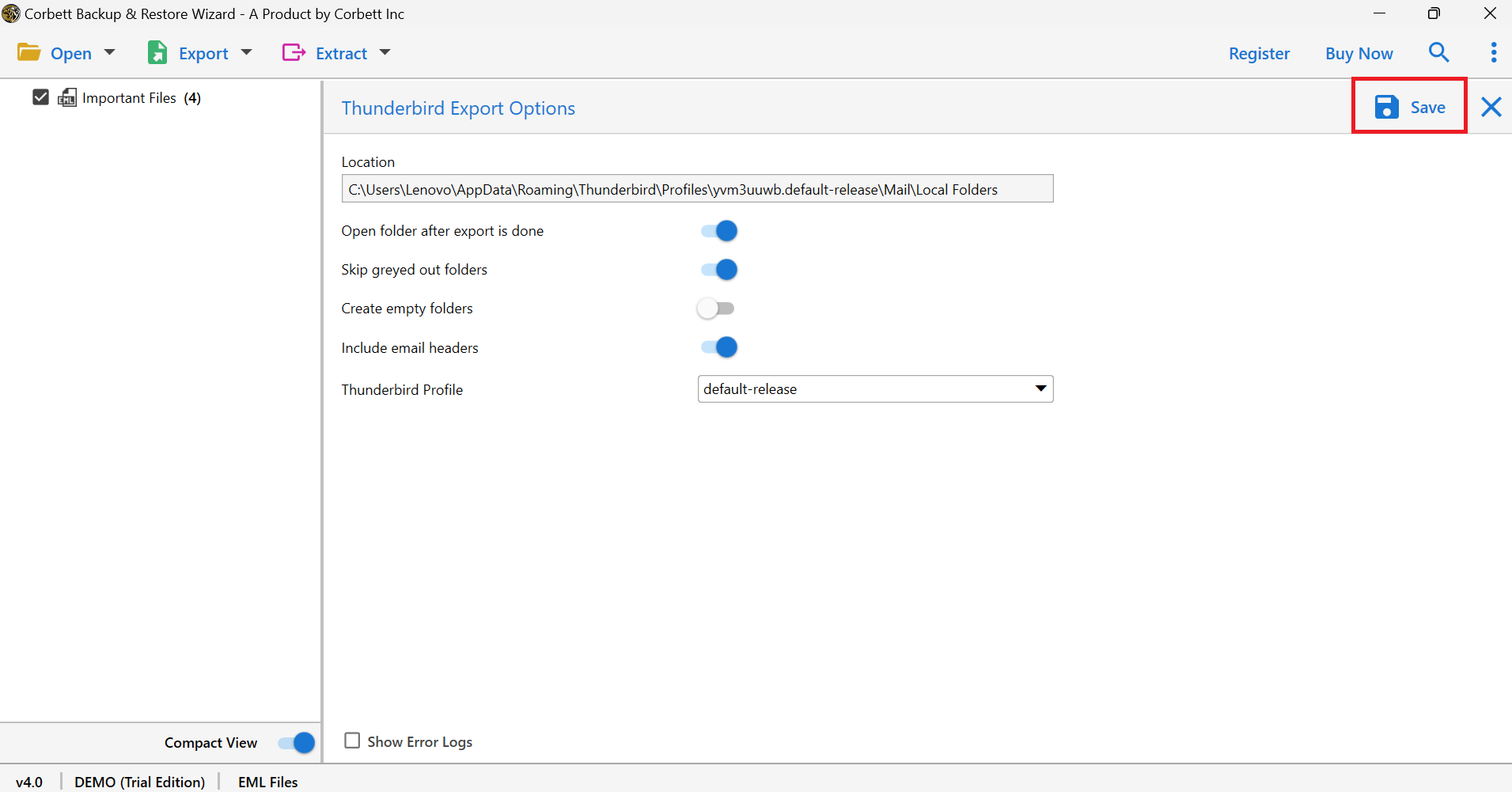 Benefits of Using an Automatic Solution
This tool enables you to import only selective EML files and folders to Thunderbird.
You can extract Email addresses, Email attachments, Contact photos, and so on email items from EML files.
Import Bulk EML messages into Thunderbird with complete attachments.
Provided advanced email search option to specify an eml by adding filters like Subject, From, To, Name, and other filters.
Include and exclude Email headers from your EML messages.
Provide multiple Email preview options like Content, Message Header, Hex View, and Raw Message.
Use this tool multiple times after purchasing the full edition.
Import Multiple PST, MBOX, and files into Thunderbird without any worry.
Why Choose Automatic Solution Not Manual?
As we discuss earlier that users face limitations using manual solutions and some of the restrictions. Here, We will describe it here.
In the manual method, you enable to import single EML messages into Thunderbird.
Those you were unable to install the add-on into Thunderbird.
In previews, Thunderbird versions add-ons didn't work.
Importing EML to Thunderbird, eml files containing email headers.
The manual method required time and patience.
Accidental shut-down causes permanent data loss
Download Free EML to Thunderbird Demo Version
You can download the free EML Converter Wizard to understand the tool's working. In the demo version, you will get your all questions answered without asking anyone. However, We strongly recommend you to at least download the free demo version in your Windows all operating system. The demo edition Import the first 10 files and folders to Thunderbird.
Author's Suggestion
In this blog, we describe all the manual and automatic solutions to import EML to Thunderbird. Users can choose any of the methods to start the import of EML messages to the Thunderbird process.