How to Migrate iPage Emails to Thunderbird? Get Verified Solution
As you may know, iPage is one of the most well-known web hosting companies in the world. When it came to the features of iPage email, the majority of people were able to take advantage of them. People have been considering to migrate iPage emails to Thunderbird account due to technological advancements.
Mozilla Thunderbird is one of the most widely used email programs, with many businesses using it as their primary email client. If you're one of the users looking for a simple approach to move your iPage emails to Thunderbird, you should read this article attentively.
We know there aren't a lot of solutions available on the web, so we're going to give you a step-by-step guide. Before we proceed to the solutions, understand some of the major causes why users need to shift to Thunderbird as soon as possible:
Why users Want to Export iPage Emails to Thunderbird?
Mozilla is known for its best mailing platform services i.e. Thunderbird. It offers sophisticated service, and build up better reputation in the market. Additionally, Thunderbird offers various Add-ons with a customizable interface. All such advance functionalities  leads the migration process from iPage to Thunderbird account.
Furthermore, if we compare both the platforms then, Thunderbird holds a bigger position because of its greater flexibility. Also, users can manage their multiple accounts at once using the Thunderbird application.
How to Transfer Emails from iPage to Thunderbird Account? Let's Check
If the necessary tools are not accessible, exporting from one email provider to another might be a time-consuming process. Thus, to avoid any data failure or data corruption one can go with Corbett IMAP Migration Tool that is known for it's safe and secure data migration process.
The best aspect is that you can use this program regardless of which operating system you use this application works on all editions of Windows OS. Moreover, the graphical interface of the tool is simple and clean, it can be used by operate by both technical and non-technical users. With so many great features and qualities, it's time to export iPage emails to Thunderbird in the most effective way possible.
Steps to Migrate Emails from iPage to Thunderbird Account
You just need to follow the steps below and implement all of them carefully to complete the process:
1. Select the Open option in the top left corner of your tool's screen

2. Select Email Account and then the tool shows the options where you need to hit Add account

3. Fill out the credentials of your iPage account such as email id and password. Then, hit Advanced settings

4. After setting up the account, select the Export option and choose Thunderbird from the drop-down options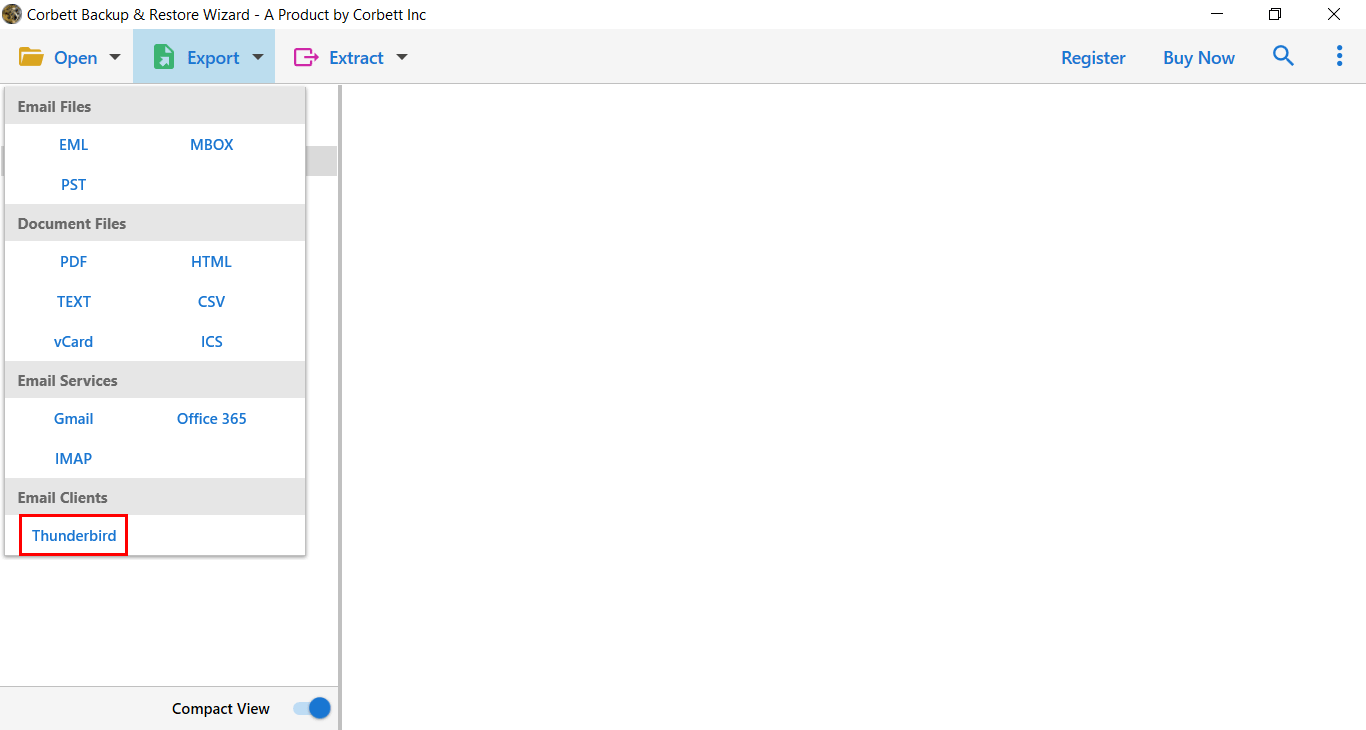 5. To start the process hit Save and view the live migration process
Feature Highlights of This Utility
No matter what service or tool you choose to migrate iPage emails to Thunderbird, it must be beneficial. Whenever you opt for something, make sure you understand all its benefits. Below are some of the most important advantages of using automated solution.
Security: It is extremely important to consider security when you move from one email service to another. You should choose the tool, which won't affect the security of your email if you run an organization and maintain all data in your emails. Security and data protection are the key features of this migration software. To secure your data use the Thunderbird Backup Tool.
Migrate Selectively: There are lots of tools that enable you to perform the process but not selective migration. Only this tool will help you migrate iPage emails to Thunderbird selectively, in case you were wondering how to do so.
Quick and Easy: Even if you are not familiar with technical details, The support team will assist you by simplifying the process for you.
The original document remains unchanged: There is a lot of risks involved when converting a document. However, using this software will avoid data modifications, which usually occur during migrations.
Conclusion
Complete the step-by-step process to export iPage emails to Thunderbird account. In this blog, we describe each step on how to migrate emails from iPage to Thunderbird in batch. Using the mentioned solution is a best solution as it assure users to 100% safe and secure data migration.