How to Import Yahoo Mail to Gmail Account in Batch?
There are various aspects behind why users want to import Yahoo mail to Gmail accounts. Although, it's pretty slow and take time to synchronize your email files. Not only this, It also shows inappropriate ads which have no relevance at all.
All such drawbacks and limited features of Yahoo mail led users to switch their mailing platform. Still, Yahoo Mail has not come up with advanced features like cloud storage, apps, documents, etc. which are commonly available in all email clients.
If you also got tired with slow functionality of Yahoo Mail, the keep continue with the blog. In upcoming section of the blog, we will look at the perfect solution to export Yahoo mail to Gmail account.
Reason to Transfer Emails from Yahoo to Gmail Account
People are attracted to the Gmail application due to its various advanced features. The data transfer from Yahoo Mail to Gmail provides users with free services like Google Drive, Google Docs, Sheets, Slides, etc.
While Yahoo Mail does not provide all those features, that can be why users are looking for a way to migrate Yahoo emails to Gmail accounts.
How to Import Yahoo Mail to Gmail? Let's Find
Follow the steps mentioned below to transfer emails from Yahoo to Gmail Account manually.
Open the Gmail account using the credentials.
On the right side of the Gmail account, go to the gear icon and from the drop-down options, choose Settings.
Click on the Accounts and Import tab and then click on Import mail and contacts.
A pop-up window will appear, where it asks What account do you want to import from? Here, you need to enter a Yahoo mail id and then click on the Continue button.
It is to be noted that you need to click on Agree in order to confirm Shuttle Cloud's Migration request for the mail. This service will export from Yahoo mails to Gmail.
An Import options window pops up where you need to select the import options for Yahoo mail id. You need to select Import contacts, Import mail, and Import new mail for the next 30 days. Once it's done, then you can click on Start import.
Limitations of Using Manual Procedure
The process manual process to import Yahoo mail to Gmail account may take several hours to days depending upon the amount of data. Also, the manual method is limited up to the inbox emails.
It's a lengthy or time-consuming process, it requires a technically sound expert to operate the function as it becomes a challenging task for the user.
Best Method to Migrate Yahoo Emails to Gmail Account
The Corbett provides a professional and reliable automated solution i.e, Yahoo Mail Migration Tool. It is the most preferred solution to accomplish the process. It allows to transfer all the data files without any hassle. Also, it provides multiple benefits during the data migration process.
Also, a video solution is available to import Yahoo Mail to Gmail account. Users can easily watch the video to get detailed working of software.
Instructions to Transfer Emails from Yahoo to Gmail Account
Click on the download button to continue with the working of software. Users don't have to pay any amount on installation of wizard.
Download & Run this software on your computer.
Now click on Email Account and then Add Account. After that provide your Yahoo Mail account credentials.
Now the software will analyze your account and generate a preview of data files stored in it.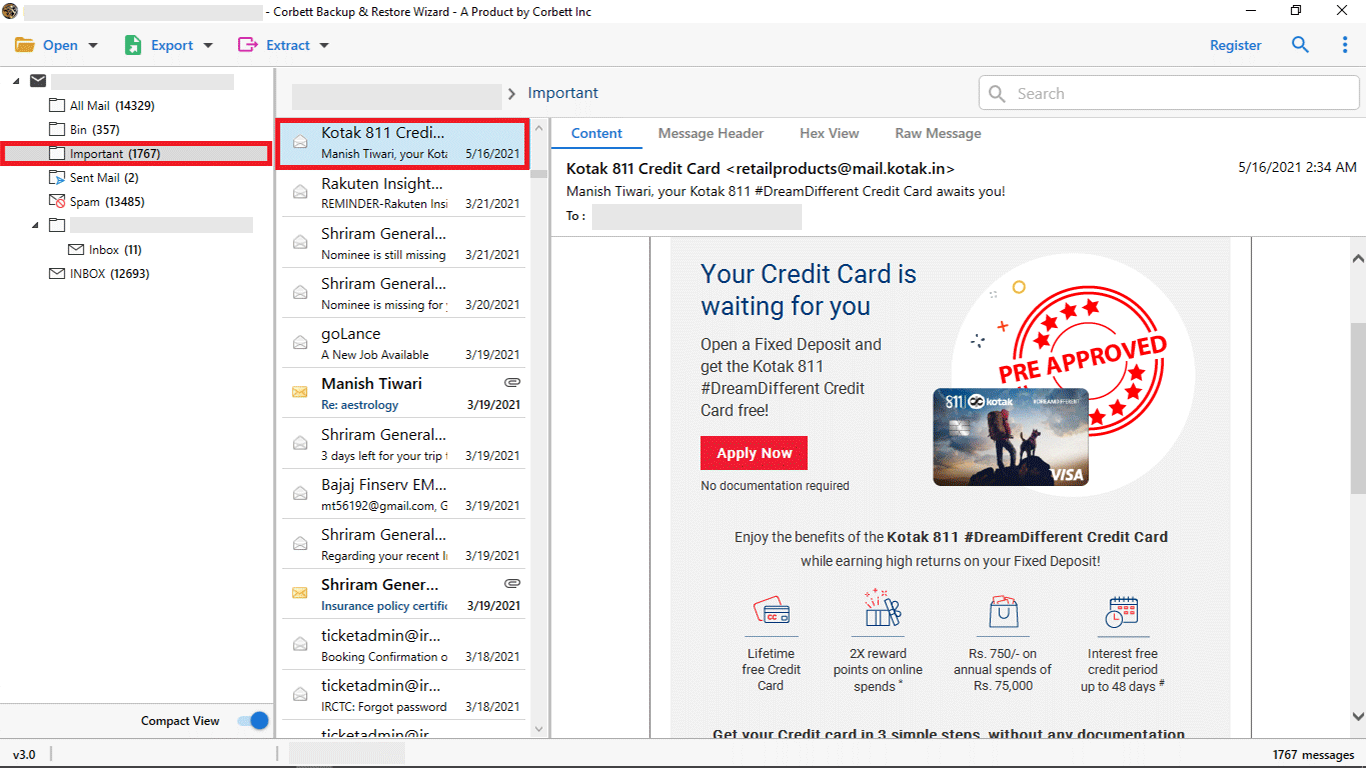 Now click on Export button and click on Gmail option. Users can apply the data filters as per requirement and click on "save" button. The software will take a few moments to import Yahoo mail to Gmail account without any failure.
Prime Features of Automated Solution
Let's take a quick look at  prime features of Yahoo to Gmail Migration Tool:
It allows you to batch transfer emails from Yahoo to Gmail account.
Autofill account Port Number and Port Server.
Filter Yahoo Mail messages by date, subject, To/From, etc.
Migrate Yahoo Mail to Gmail with all data properties.
Convert into various file formats like PDF, CSV, HTML, Text, etc.
Conclusion
In the above blog, we have discussed the procedure to import Yahoo mail to Gmail account manually and using the best-automated procedure. The manual procedure to transfer emails from Yahoo to Gmail account is  lengthy and time-consuming. So, we recommend you to go with the automated solution that offers safe and secure platform for good.
Similar Read: