Print All Shaw Webmail Emails to Multiple Formats- Verified Solution
As we all are familiar with the popularity of Shaw emails, there are a lot of users who are still using it as their default email client. Whenever anyone sends you a new email message, it drops in your inbox folder and it stays there only unless you remove them. But in many cases, you might come across a high risk of data loss and you might miss out on some crucial emails. You will have to know how to print emails from Shaw Webmail to multiple formats.
It might not be possible to print all the emails at a time and if you are thinking of doing it one by one, it will eat up your entire time. Hence, all you can do is get them exported into PDF format. This blog will help you get through the process of converting Shaw emails to PDF format, and then you need to print them.
Users Query!
Some of the user's queries are taken from the forums website. We will mention all the user's query in below.
"Hi, My name is Peter recently my manager told me to print some important emails from Shaw Webmail. I already searched all the web to get the most relevant solution to print Shaw emails on my computer. But there is no manual way to print them in a bulk form. Please guide me to resolve my issue as soon as possible"
"I'm Acadia, I am a CA and newly I face some issues on "how to print an email from Shaw webmail". As a CA I have so many important emails related to my business. Recently I need to print emails in multiple forms and as per my research, there is no manual method to do. It is urgent to print my Shaw emails directly within a limited time. Please lead me to the best solution in a single go."
"As a Businessperson, I have tons of important emails and currently I need to print my Shaw emails. Due to some government use but I don't know how to print Shaw emails directly. In case, I need the most recommended solution on "how do I print an email from Shaw webmail" by Professionals to print my Shaw emails in a PDF form. With full security of my email files within a few minutes"
Reasons to Print Shaw Emails on Your Computer
Are you one of those productive users who never want to miss any of their data? Well, who likes to lose access to their important emails. When it comes to saving and securing your important emails, you can do it by printing them. Let us take a look at why users should print Shaw mail.
Print Emails from Shaw Webmail on Your Computer process completed, You can also read related blog on
In case you will ever be asked in the future to present your emails in the form of documents, you can efficiently show them if they are printed. If you are done with printing your Shaw emails into a PDF form, you would not require any email client to access the emails. You can open the document irrespective of the system you use or the place you are.
How to Print Emails from Shaw Webmail?
If you are looking for ways and want to know how to store Shaw webmail mailbox data to multiple formats? then let us introduce you an automated solution because there is no manual method available to print Shaw emails . Users can perform this activity by using the Advanced Email Backup Wizard developed by Corbett. It becomes an easy way to print  Shaw Webmail emails to PDF format. After the conversion, you will get an option to print.
Steps to Print Emails from Shaw Webmail
let us get to understand the steps given below to properly complete the process of converting Shaw webmail to PDF:
 1: Download and Install this software
 2: After that, you will have to Launch and open the tool on your system
 3: From the top left corner, tap on the 'Open' button available there. After that, you will come across some options on your screen

 4: Hit 'Email Accounts' and then go ahead. Now, you will be required to hit 'Add Account' from the options you can find on the screen

 5: Enter your Shaw 'email id' and 'password'.
 6: Then, give the IMAP server in the space and then proceed.
 7: Software start browsing the data from shaw webmail
 8: After proceeding, you will have to choose the file format from the given options. Tap on 'Export' and then click on 'PDF'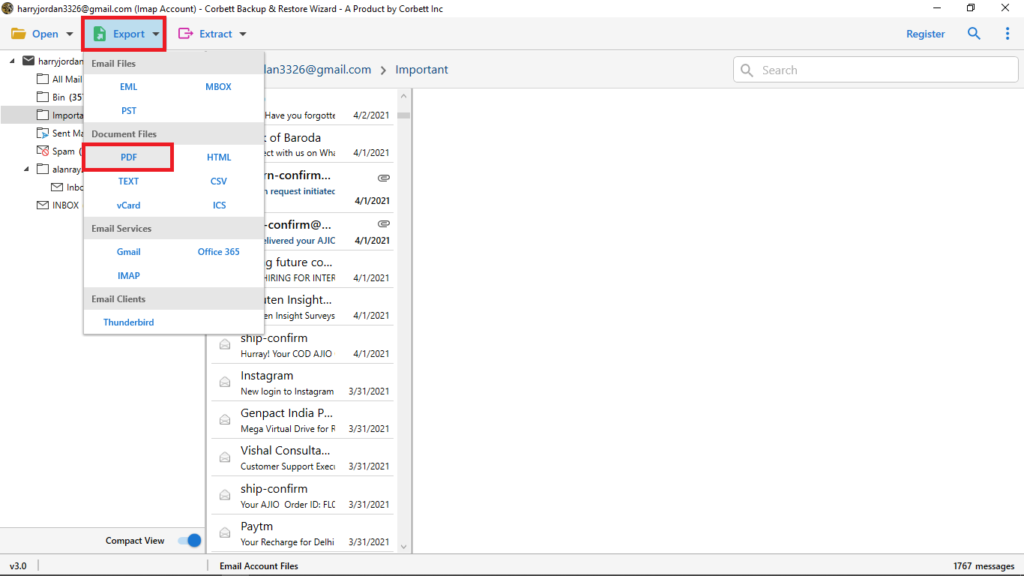 That's it! By following all the steps properly, all your efforts for printing the emails will come to an end. So if you are wondering how to print emails from Shaw webmail, you should give it a try to this method.
Author's Suggestion
These were the steps that you need to implement when it comes to exporting emails from Shaw to multiple mailing platforms. It has become a necessity and with the right tool, makes the process of printing Shaw webmail easier for you.