How to Convert Eudora Emails to Outlook Step by Step With Complete Guide
Are you having trouble transferring your emails from Eudora to Outlook?
You can't rely on Eudora or Outlook to move your email messages, as you've undoubtedly already realized. Eudora does not have an export option, and the Outlook 2013 import tool does not support Eudora. True, Outlook 2010 and earlier versions include an import feature, but if you've used it, you know how bad the results are.
But don't be concerned! There is a nice solution.
We'll advise you about a converting tool that's ideal for your needs in a minute. It's a low-cost technology that was created with this sort of email conversion difficulty in mind. Most people agree that it saves a lot of time, but in the spirit of being fair, we'd also want to tell you about a free way to convert your files.
If you're on a budget, the free method is ideal. If you value your time and reliable outcomes, the alternative option is preferable. Continue reading to find out which option is best for you.
A Manual Procedure to Convert Eudora to Outlook!
You can now convert Eudora emails to Outlook PST format using a manual technique if you wish to switch your Eudora mailboxes to Outlook. To import Eudora to Outlook, just follow the instructions outlined below.
1. Open your Microsoft Outlook application.
2. Go to File >> Open & Export >> Import/Export.
3. Choose Import Internet Mail and Addresses from the Import and Export Wizard panel that appears.
4. From the box where it asks to Select the Internet Mail application to import from, select Eudora (Pro & Light) 2.x, 3.x, 4.x.
5. Select both of the available options, Import Mails and Import Address Book, and then click the Next button.
Automatically Convert Eudora Emails to Outlook 2016/2013/2010
If you don't want to go through the time-consuming and perhaps risky procedure of transferring Eudora mailboxes to Outlook, another option is to use IMAP Migration Tool. It allows users to easily convert emails from Eudora to Outlook. It is the most popular method for users to transfer their Eudora emails and contacts to Outlook without losing any data.
The software features a simple and user-friendly interface for transferring Eudora emails to Outlook in a matter of seconds. Overall, importing Eudora to Outlook without technical expertise is a simple and reliable approach. We recommend that you use this automatic solution to make the converting process go as smoothly as possible.
5 Easy Steps to Export Eudora Mailboxes to Outlook
Follow the easy steps below to export Eudora MBOX to Outlook PST format in the easiest way possible: –
1. As seen in the image, download the utility and choose the Open option.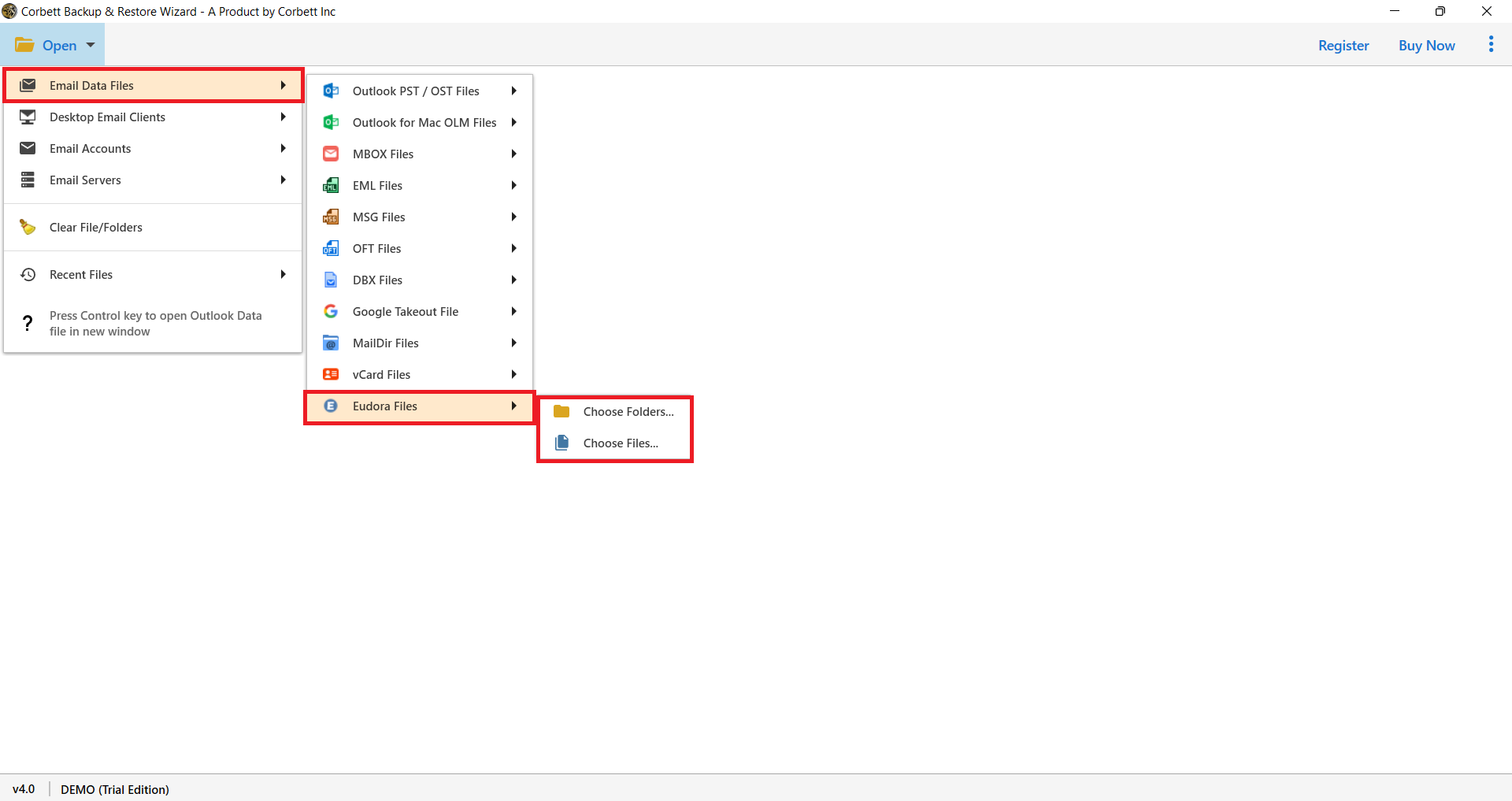 2. Depending on your needs, the tool gives you two choices.
(A) Select Email Data Files and then Eudora Files as the first choice. To choose files and directories from the system, you have two options.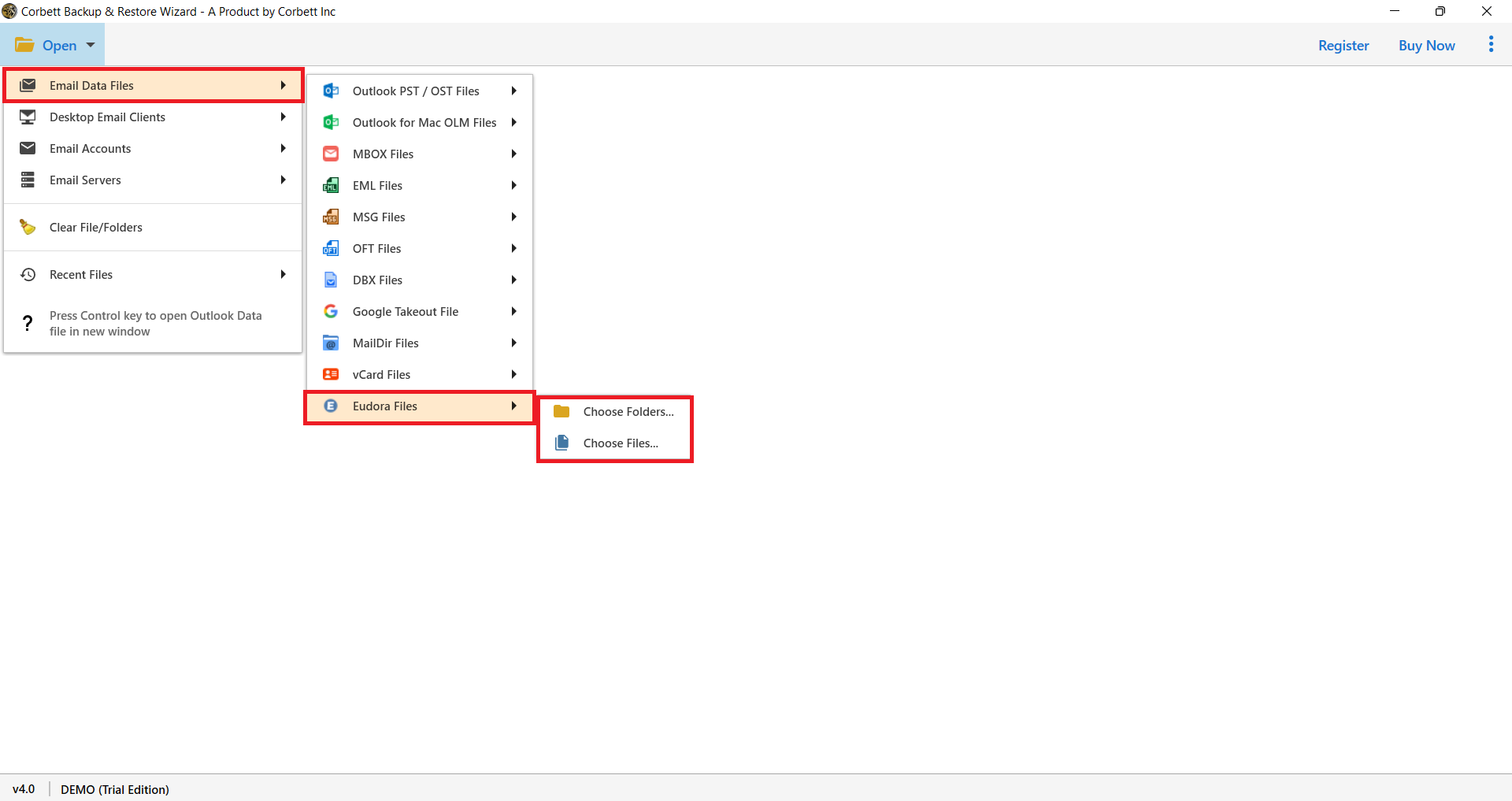 (B) The second option is to go to Desktop Email Clients, then to Eudora Accounts, and then to Open Eudora Configured Account.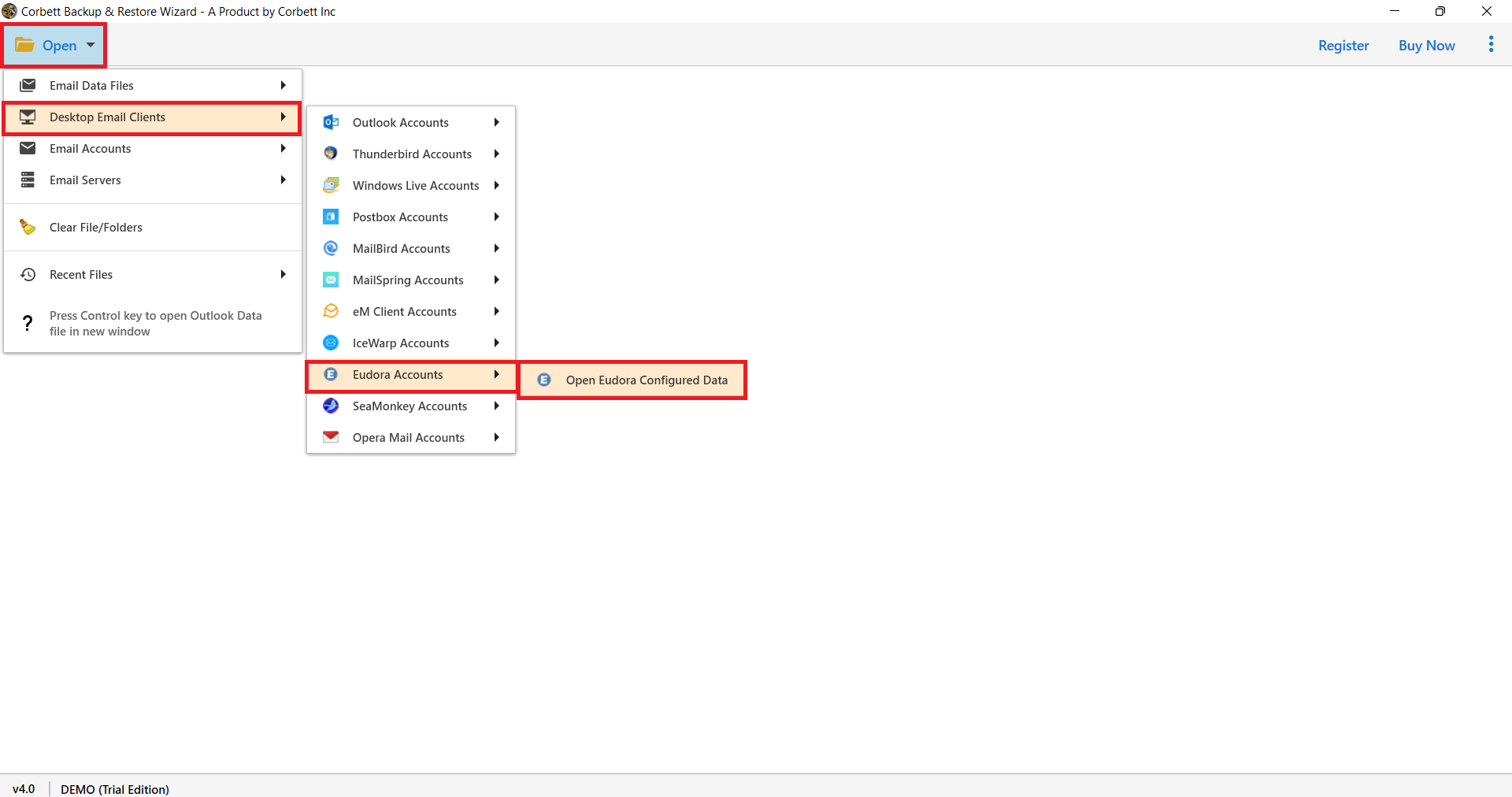 3. Your Eudora account's files and folders began to be uploaded by the utility.
4. Select IMAP from the Export menu at the top of the bar.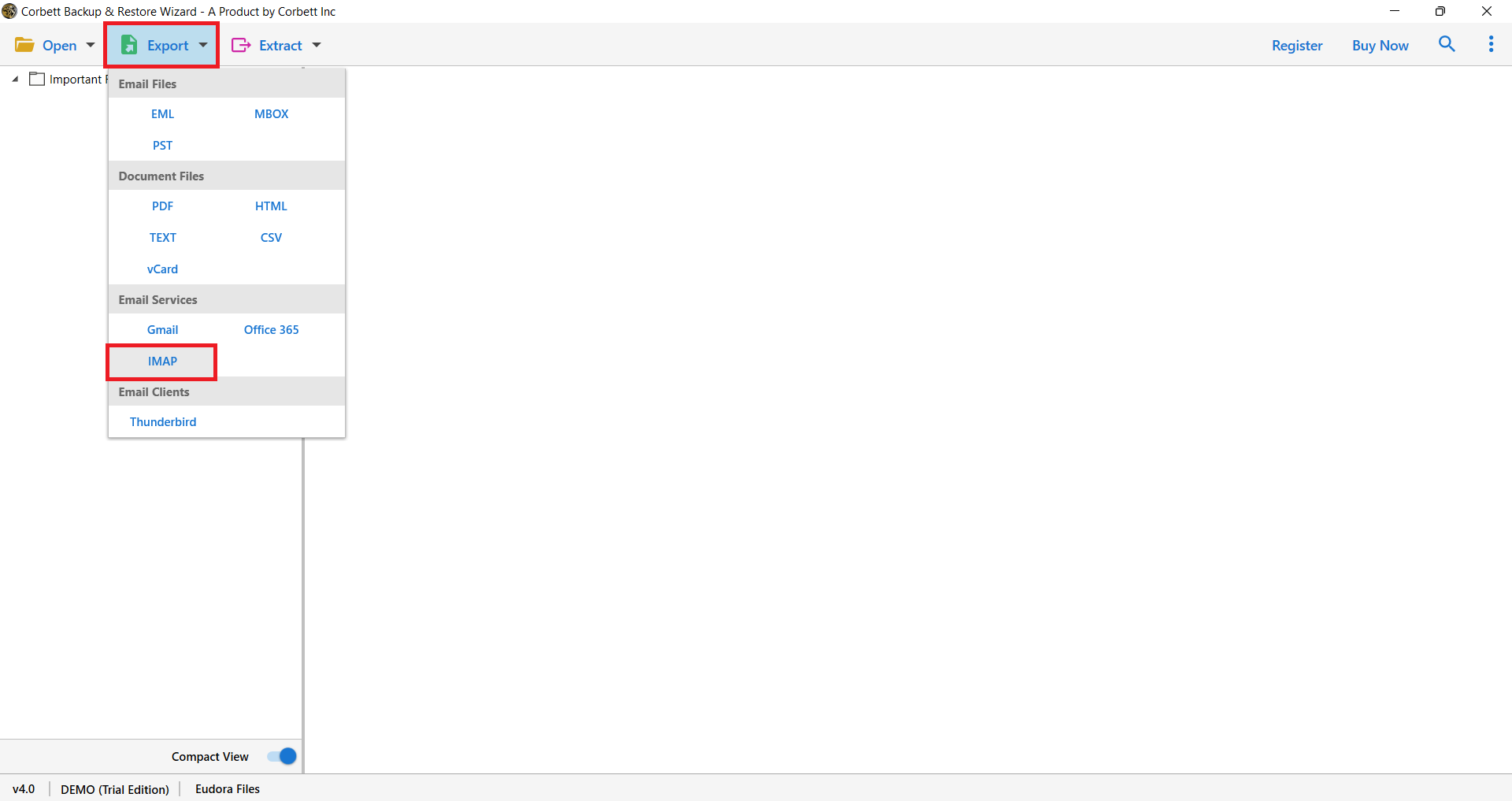 5. The tool opens the IMAP Export Options screen, where you must enable the options that apply to your needs. To begin, enter your Outlook email address and password, then click Save.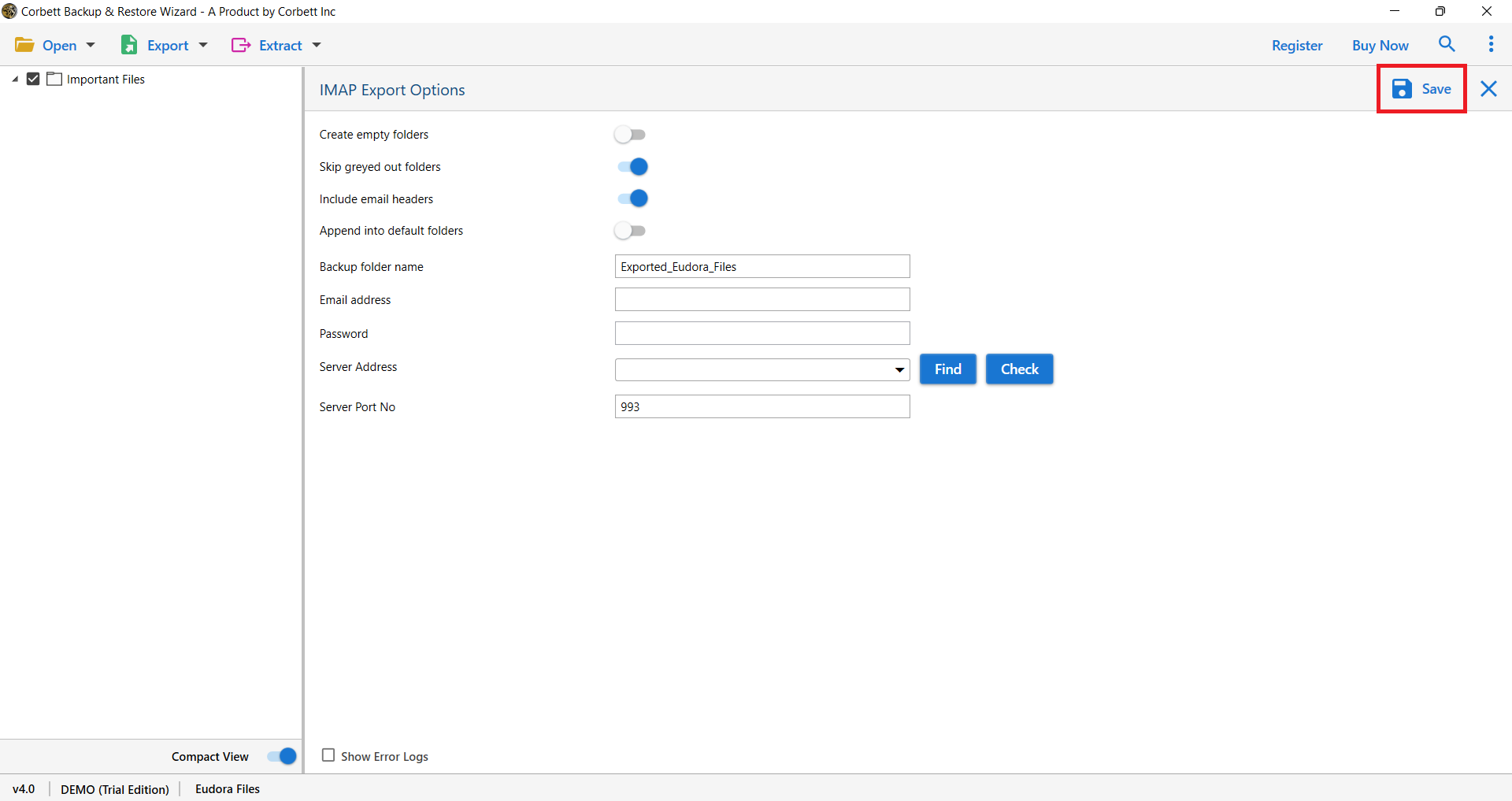 Following that, the tool displays a process success notification. To examine the exported Eudora data in Outlook, simply launch Outlook from the tool.
Benefits of this Experts Recommended Utility 
That concludes our discussion.
You just have five easy steps instead of the difficult ones (when utilizing the automated technique). We assure you that the results will be satisfying:
During the conversion, no data is lost.
It restores your Outlook mailbox folder tree without requiring any manual intervention.
It appropriately transfers the state of your emails to Outlook (such as unread, responded to, forwarded, and marked).
You can also use our Professional tool to export your messages straight to Office 365—or to Microsoft Exchange—if necessary.
We've tried to make the entire procedure as simple as possible. This tool gives context-sensitive help on each wizard screen, and
the procedure appears to be less difficult with the help of this blog. As a result, it's simple to pick up—even for newcomers.
There's also no need to install Outlook. MBOX Converter, Windows Explorer, and Windows Live Mail are not required.
If you need to migrate a large number of user accounts, purchase the full edition to export Unlimited emails to Outlook.
If you want to know How PST Files can be converted into Outlook manually then read this blog to
Import PST to Outlook
.
Would You Rather Try Before You Buy?
There's no need to buy if you're not ready. Download it for free for our free trial and start using it right now.
You don't need to sign up to download the application, and you can use it in trial mode for as long as you like. Give it a try. Try it out for yourself and see how simple it is to use. We want you to have complete confidence that this product is entirely compatible with your computer and that it will perform as expected.
Conclusion
If you need a quick and dependable Eudora to Outlook converter, you can count on Corbett. Get your license today and start migrating your email, or try it out in trial mode for free and see the difference for yourself.
Thousands of satisfied customers in more than 100 countries have used this product. Businesses of various sizes, government institutions, top colleges, and a big number of students and home users are among them.
They're devoted users since this software makes completing significant migration tasks so straightforward. But you'll have to put it to the test to see how simple it is.
Try it out right now. It's time to finish your conversion properly.