How to Export Email Addresses from Windows Live Mail – Complete user Guide
If you're one of the users looking for the best ways to export email addresses from Windows Live Mail, this is the proper place for you. There are numerous reasons why people look for this approach. We have an automated solution for users because there are no manual solutions available.
It's tough to obtain email addresses from Windows Live Mail. You must first open each email and then copy and paste the email address from the emails. Directly extracting bulk email addresses from emails is not possible. To complete this task, users must select an automated solution.
More Read: What is the Best Way to Extract Email Addresses from G Suite Account User.
Reasons to Extract Email Addresses from the Windows Live Mail?
Extraction of e-mail addresses from Windows Live Mail is useful for a variety of reasons. Everyone has their own reasons for keeping track of their sender and receiver addresses.
But what if a user has a large number of emails and wants to preserve their email addresses in bulk? There is no method to save the bulk email id addresses from an email manually.
Users must choose an automated approach to do this task without losing any data. After the extraction, the tool gives you a 100 percent correct result.
Extract and Save Bulk Email Addresses from the WLM Account
Email Address Extractor by CorbettSoftware allows you to extract the sender's and receiver's addresses from emails. This software is simple to use and does not require any technical knowledge. The tool's graphical interface enables users to complete the process without assistance.
The user can complete the extraction process by following the simple step-by-step terminology and procedures. It has a preview section before beginning the extraction process. The founded email addresses can be simply viewed by users from the emails.
Working Steps to Extract Email Addresses from the Windows Live Mail
Install the utility in your Windows operating system by downloading and installing it.
1: Go to the top left corner of your Tool's screen and select Open.

2: Go to Email Accounts and Add Account.

3: In the tool, set up your Windows Live Mail account and transfer your WLV data.

4: Choose Extract and then Email Addresses.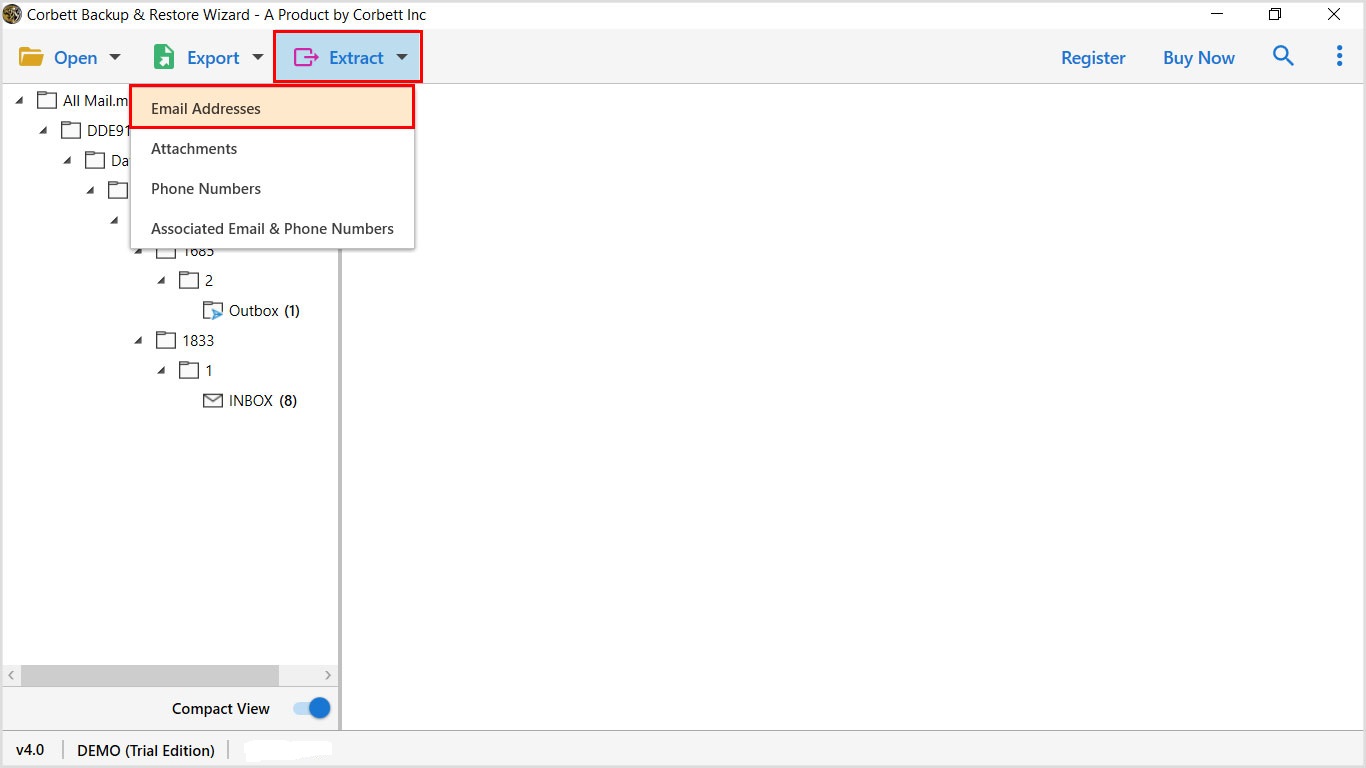 5: To begin the extraction process, click Extract.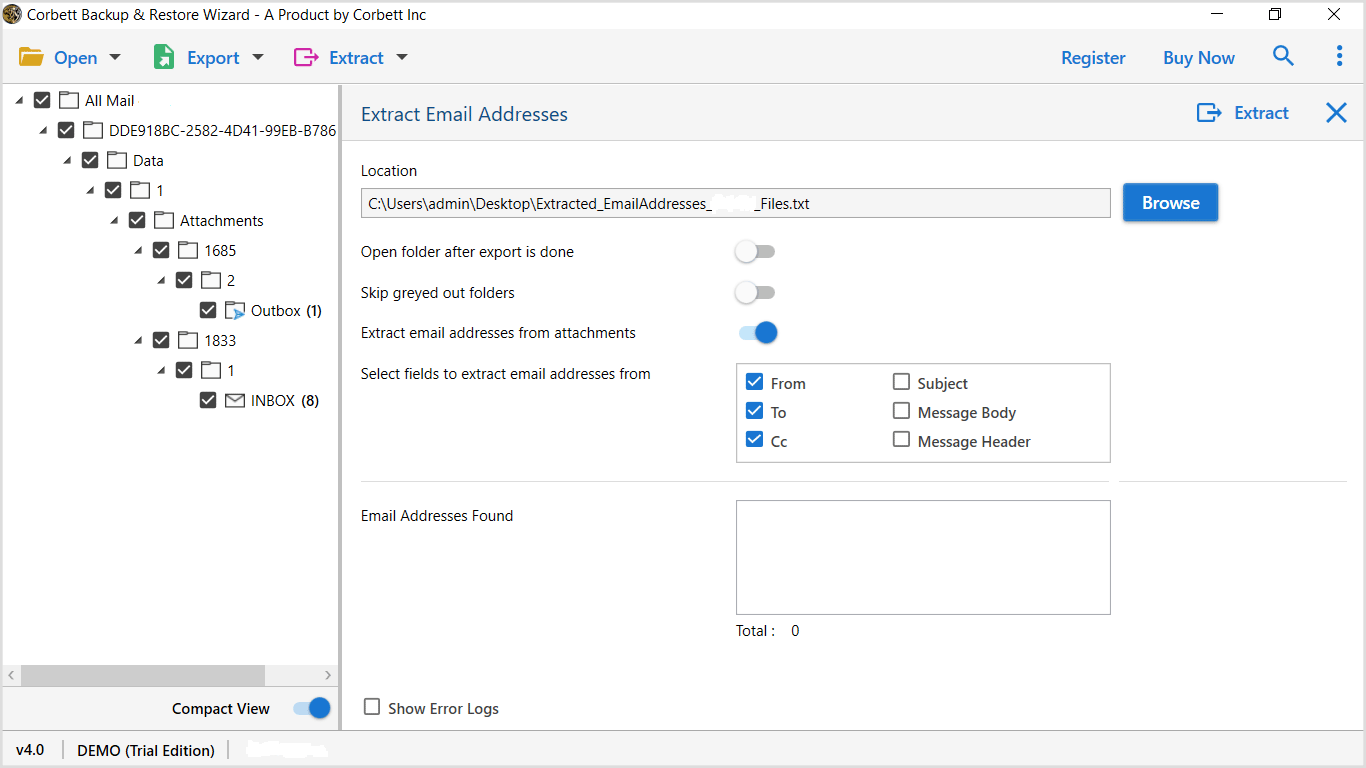 Complete the instructions for extracting e-mail addresses from Windows Live Mail step by step. With the help of this software, you can effortlessly complete your work with just one click.
The Email Address Extractor Tool's Most Important Features
Only this tool can give you an unlimited number of functions as well as email address extraction.
In the process of extracting email addresses, the tool provides you with a number of alternatives, including:
Select the Desired Location: The software includes a feature that allows you to browse locations. By visiting the location, you can preserve precise email addresses from Windows Live Mail on your PC.
After the export has been completed, users can enable the option to view the folder. The exported file will be opened automatically after the process is completed.
Extract Email Addresses from Attachments: You may extract email addresses from attachments with this tool. This is an Advance feature for a user.
Choose the fields from which to extract email addresses: Email addresses can be extracted from the following fields: To, Cc, From, Subject, Message Body, and Message Header.
Found Email Addresses: Before beginning the extraction process, the tool allows users to view the Windows Live Mail-founded email addresses.
Conclusion
We covered all of the methods for directly extracting email addresses from Windows Live Mail in this blog. On the other hand, Only this automatic tool can give you the highest data integrity and security results.