Export SeaMonkey Emails to Outlook Account Using a Trusted Solution
Emails are an important part of everyone's life, whether they are individuals or businesses, in this current era of digitization. For improved communication, several companies throughout the world want to migrate to alternative emailing systems. This article also discusses how to convert emails from SeaMonkey to Microsoft Outlook. Read this post to know more about how to export SeaMonkey mail to Outlook.
Because of its outstanding ability to handle mails, SeaMonkey has a significant user base across the world. It's a free and open-source internet suite with advanced features including multiple email accounts, spam detection, message filters, HTML message support, contacts, and more.
However, it falls short of MS Outlook in terms of security, versatility, and advanced email management. As a result, businesses and even non-technical people desire to migrate from SeaMonkey to Outlook.
SeaMonkey to Outlook Transfer Tool can be found here
The data on which the conversion is performed is the most fundamental necessity for any email transfer procedure. Unfortunately, there are no native export options for SeaMonkey. PST, on the other hand, is the database file in Outlook. As a result, immediately exporting SeaMonkey mail to Outlook becomes difficult.
Among the different online tools, one should rely on a utility that protects the integrity of your data – which should be the first priority. Corbett IMAP Migration Tool is one such application that allows you to accurately export SeaMonkey profiles to Outlook 2019, 2016, 2013, 2010, and other versions.
This tool works on a data level, allowing you to import SeaMonkey emails into Outlook by converting them to PST files. SeaMonkey MBOX files can be converted not only from your local system but can also automatically find the default profile location for SeaMonkey emails as well.
Step-by-Step Instructions with Screenshots for Exporting SeaMonkey to Outlook
First of all, download, install and run the setup file of SeaMonkey to Outlook transfer application.
1. Start the process by selecting the Open option from the first tool's window

2. Then click Desktop Email Clients and choose SeaMonkey Account.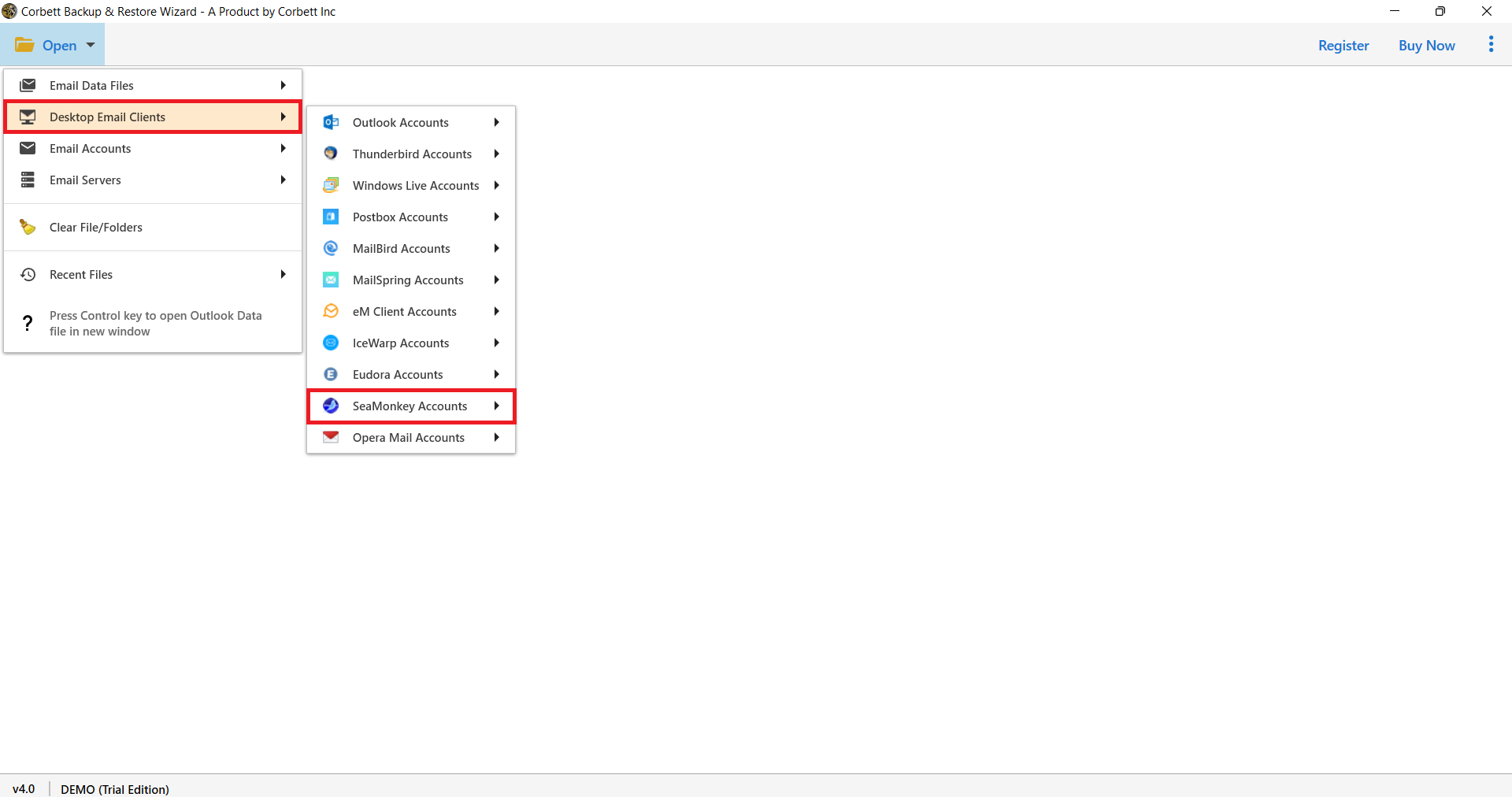 3. You will get two options to configure the SeaMonkey account or Choose Folder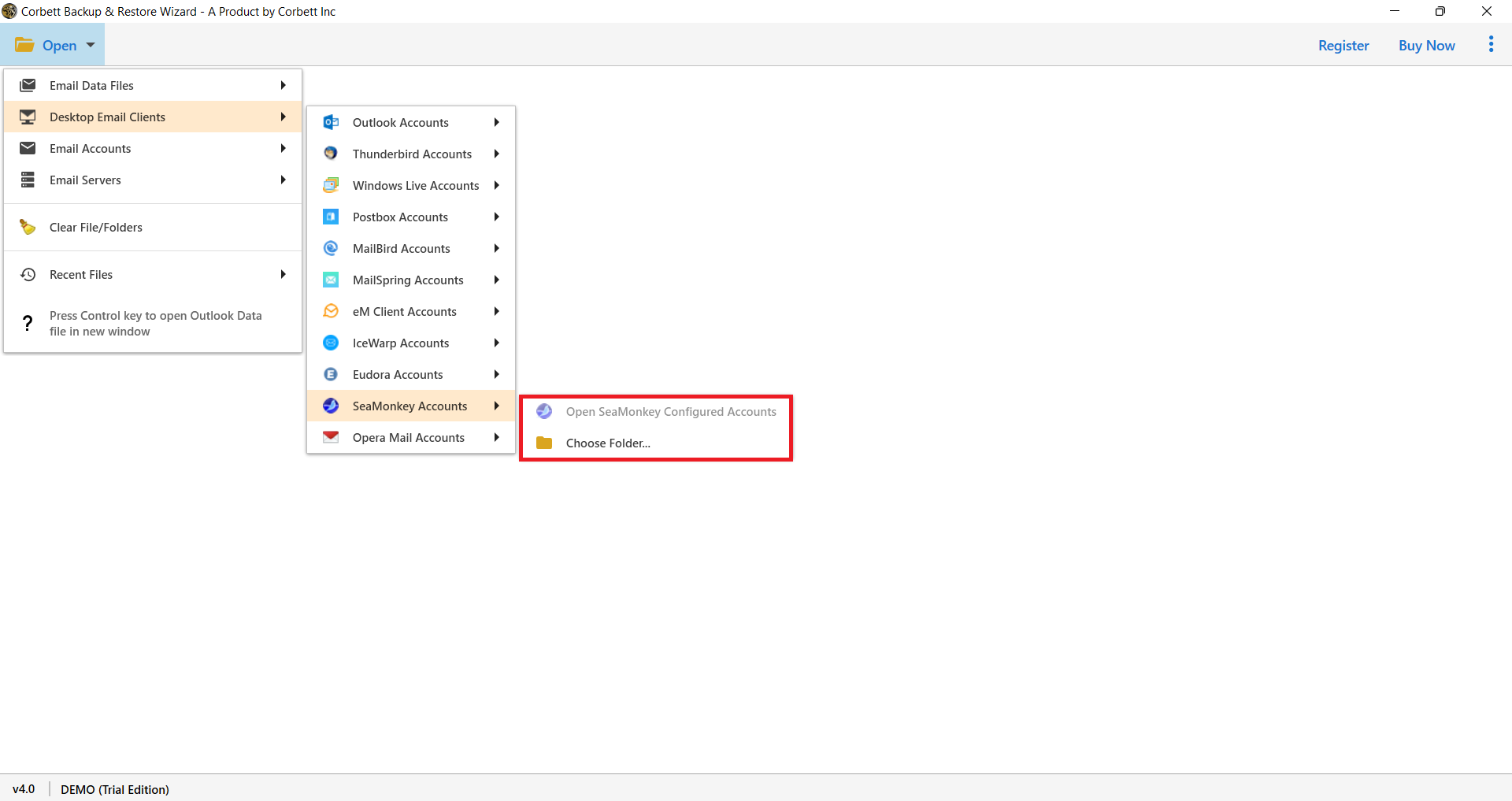 4. Preview SeaMonkey emails into multiple options. And Select the Export option and click IMAP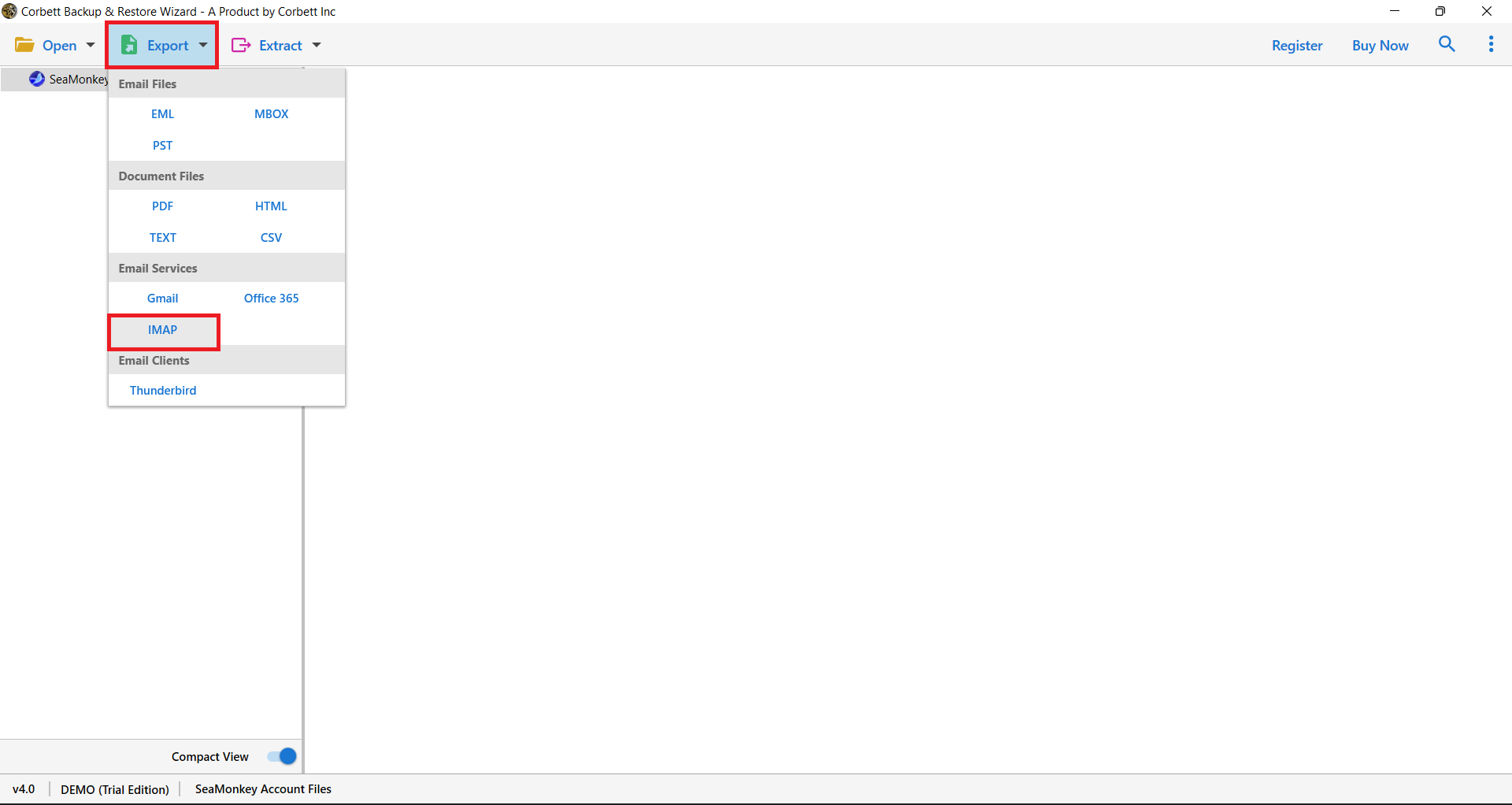 5. Finally select Save to start the migration of SeaMonkey emails to Outlook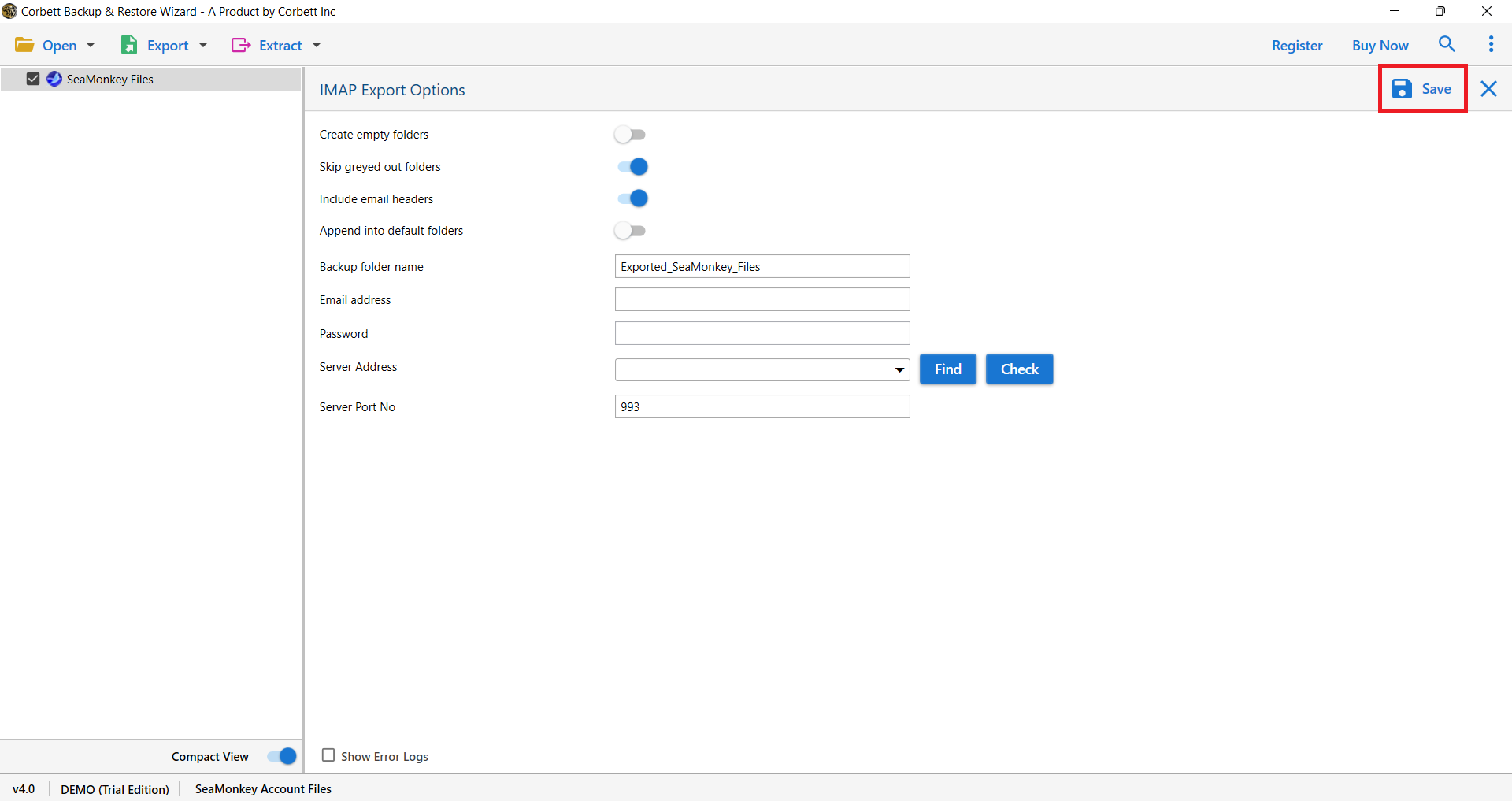 Exporting Data for Conversion from SeaMonkey to Outlook
Any email migration procedure necessitates the collection of data on which the conversion is to be performed. Knowing SeaMonkey's storage location shows the various file types it employs to save all of its mailbox contents. Our file of interest, the MBOX file, which holds emails and attachments, is among them. You can identify its location in Windows by following the instructions below:
Start the SeaMonkey email client.
Choose the email folder in your inbox.
Select View this Account's Settings from the drop-down menu.
Go to Server Settings and then copy the file path for Local Directory.
Copy the location and paste it into the File Explorer navigation bar.

Frequently Asked Questions
Ques 1: Is it possible to export SeaMonkey mail straight to an Outlook profile?
Ans:
No, there isn't a way to manually import SeaMonkey emails into Outlook. However, you can accomplish this process with the help of the Corbett
MBOX to PST Converter
.
Ques 2: How can I import emails converted from SeaMonkey to Outlook PST into MS Outlook?
Ans:
You can do this by using the Import/Export feature in the Outlook application.
Ques 3: I have about 100 old SeaMonkey email messages that I backed up before uninstalling SeaMonkey last year. Is it possible to open these data files in Outlook without using SeaMonkey?
Ans: Yes, you can use the suggested software's Select Folder option. You may manually choose the SeaMonkey emails in your database to import into Outlook using this method.
Ques 4: Is it required to remember the location of the SeaMonkey profile for the SeaMonkey to Outlook conversion?
Ans: No, this software also features an auto-detect feature. You can use this to convert the data from your configured SeaMonkey mailbox to MS Outlook.
Conclusion
Use the above-mentioned method to convert SeaMonkey emails to Outlook without losing the original layout. This well-explained solution will undoubtedly answer all of your questions about converting SeaMonkey to Outlook PST.