Export Thunderbird Emails to PDF Format with Attachments
If you are recently searching for a solution related to thunderbird to pdf converter or How to Export Thunderbird Emails to PDF in batches then you are landed on the correct blog. Because in this blog you will find out the most relevant method to Save emails from thunderbird to PDF format without any hassle.
Mozilla Thunderbird is a popular electronic mail client. It's the most extensively used desktop email client after MS Outlook. It's free and open-source software that uses the MBOX file format to save all its mailbox particulars.
Occasionally people need to save their thunderbird data to pdf format on a hard drive. It's helpful in several ways similar to easy regulation of data. And the most extensively used PDF format is the stylish document do so. It indeed comes helpful in legal cases and is free from any modifications when accessed in different systems. Therefore, approaches to convert Thunderbird to PDF format are the need of the hour.
Reasons for Exporting Emails from Thunderbird to PDF
PDF is considered to be the safest and most secured file format and it incorporates other advantages as well. That's the main reason why most users go for performing Thunderbird to the PDF conversion process. Other reasons include:
With the help of the PDF format, users have an opportunity to publish anything and no formatting is required. The best part is that they will get the same format as it is in the original document.
Being platform-independent files, they give mobility and anyone can use them anywhere. It does not take technicalities to access these files.
One more reason why users need thunderbird to pdf converter to export bulk Thunderbird emails is that you get password protection which restricts unauthorized access to the files.
These files can be accessed anywhere and hence it acts as the most supportive format whenever it comes to presenting essential proofs.
Best Methods to Convert Thunderbird Emails to PDF
Both the solutions have their own pros and cons to converting thunderbird to pdf with the manual procedure or with thunderbird to PDF converter. Use them accordingly to complete the process.
Method 1: – Convert Thunderbird Emails to PDF Manually for Free
The free manual method is not recommended to convert Thunderbird emails to PDF format in batch. If you want to export thunderbird to pdf then you have to prefer recommended solution. Because manually saving thunderbird emails take a lot of time to save one by one with the help of the Thunderbird Add-on tool. There is no guarantee of safe converting thunderbird emails so use it at your own risk.
 1: Go to the Menu bar and tap on 'Tools'. After that, choose 'Add-on' from the list which is shown there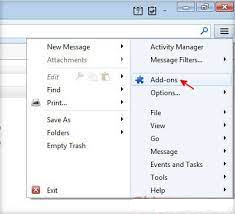 2: After that, Thunderbird Add-ons Manager will open and download Import/Export Tool NG by searching in the search bar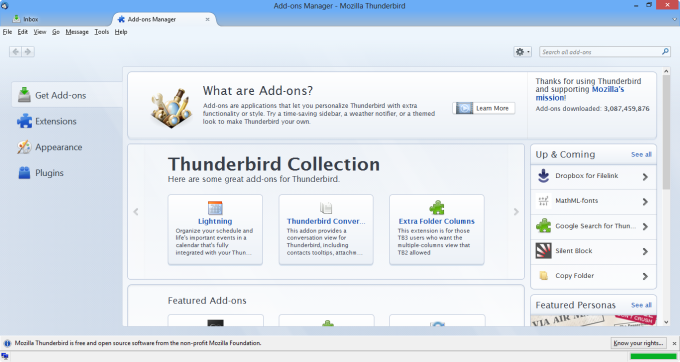 3: You will find a new tab popping up and you need to tap on 'Settings.' Then, you have to install Add-on from the file or by direct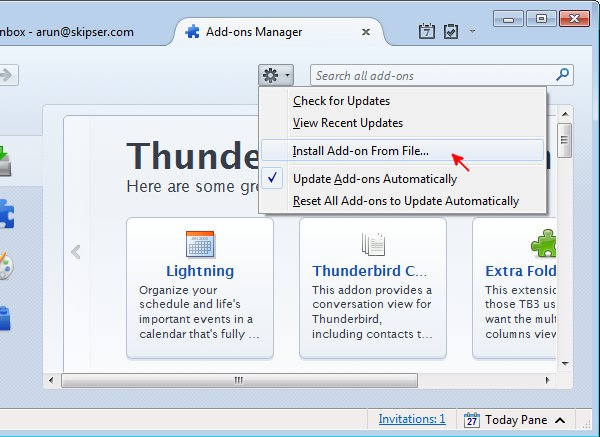 4: Add Thunderbird ImportExport Tools NG. In the tool Installation, click on the 'Add to Thunderbird' button.

 5: With this, you are continuing with the process by selecting Add option

6: Tap on the 'Restart Now' button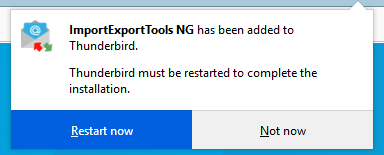 7: After that, you need to select all the Thunderbird messages, which you want to export in PDF format.
8: Hit 'Save selected messages' and then go for 'PDF format to bulk export Thunderbird email as PDF'
 9: Click on 'OK' when you see the warning dialog box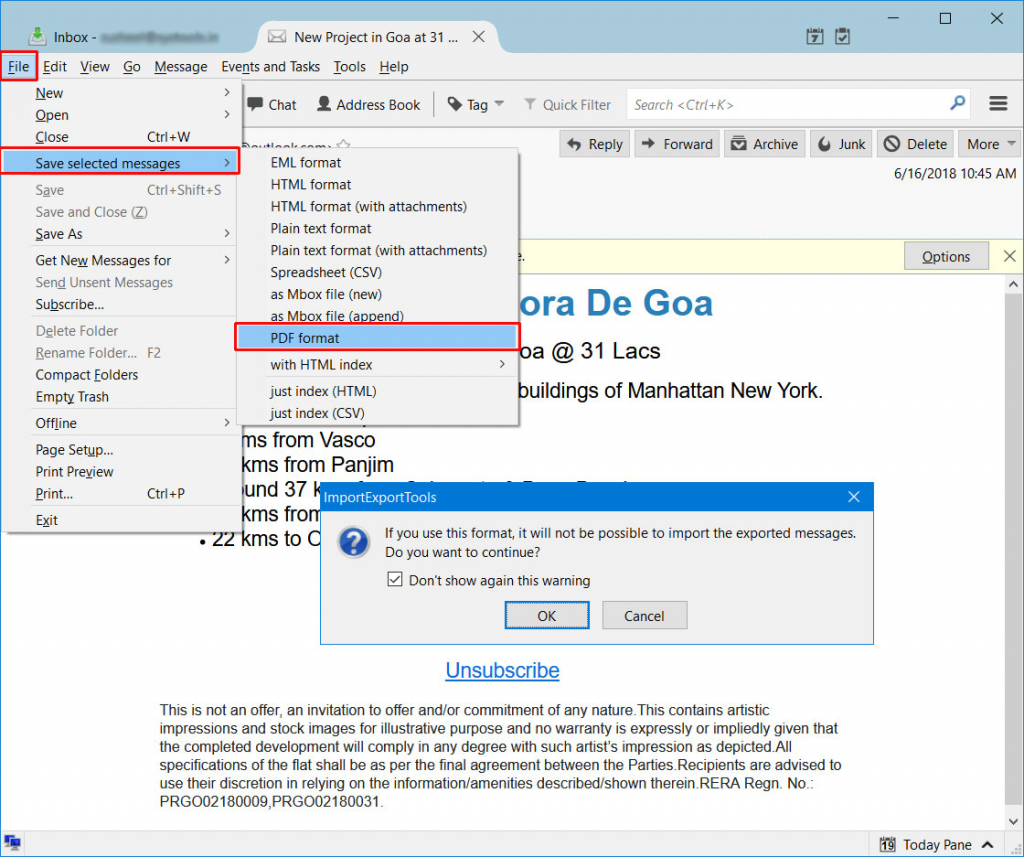 10: Check where you want to store the PDF files
 11: Wait for some time and then go on with exporting the Thunderbird folder to PDF format
Limitations with Manually Save Emails from Thunderbird
Thunderbird Shows some dialogue boxes which contain the limitations of manually exporting thunderbird emails to Portable Document File format.
If you use PDF format, it will not be possible to import the exported messages.
In a Manual way, the attachments are not saved.  If you want to save the attachments, Choose a different format.
Manually exporting emails from Thunderbird to PDF. You didn't get the Message headers along with the message body.
Without Import/ Export Tools NG Add-ons you can't save thunderbird emails into PDF files.
There is no safety in the transferring process of emails from Thunderbird to PDF.
There are end number of reasons why not to choose a manual method. Let's take a quick look at how Thunderbird to PDF converter performs this conversion process.
Method 2: -Export Thunderbird Emails to PDF – Recommended
As we all are aware that performing a manual method comes with several restrictions, and hence we need to focus on the automated approach first. The complexities of conversion are made easier by one expert solution known as Corbett MBOX to PDF Converter. Using this professional tool, users complete the process easier and that is why it has become one of their preferred choices for them. Let's understand the step-by-step working procedure of Thunderbird to PDF Converter Tool.
Working Steps to Save Thunderbird Emails to PDF Directly
 1: Download the software and Install it on your Windows 10, 8, and 7.

 2: After that, access Launch the software once done, look at the top left of the screen where you will get the 'Open' button. Hit that

 3: You will come across a list of options in front of you. From there, you need to select Email Data Files.
 4: Now, you need to tap on ' Required Data File' out of the many options available there.

 5: Later on, tap on 'Choose Folders' & 'Choose Files'
 6: Look for the source location where you stored all your Thunderbird data files. Choose them all and then hit 'open.' Then, you need to click on 'Selected Data Files'. Here, you will get all the required files that you wanted to export.

 7: Once you are done with the process, you will find an 'Export' option given on the top of the screen. Hit that and out of the multiple options available, click on PDF.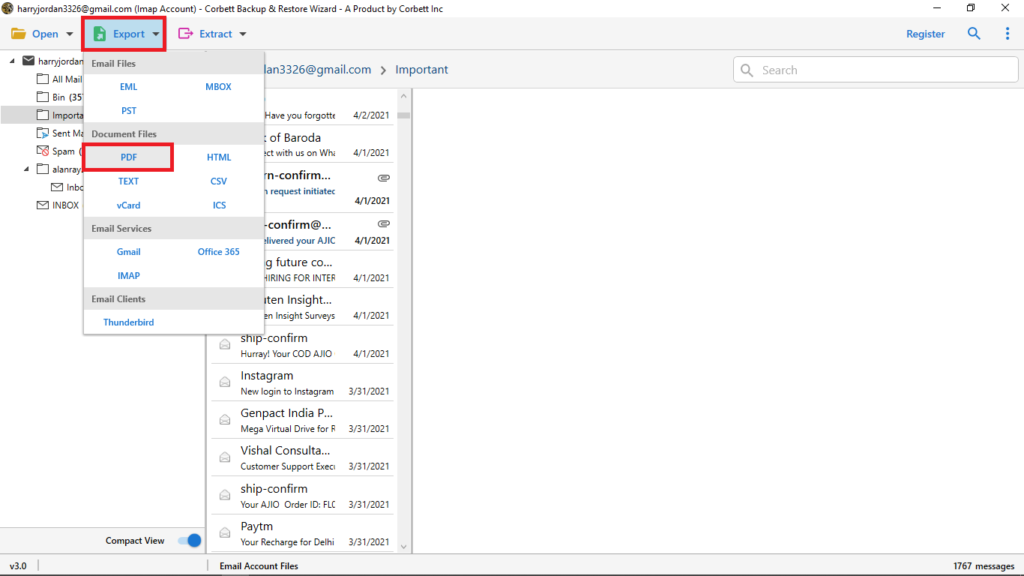 Using this tool is the least complex thing you can do when you want to export multiple emails from Thunderbird to PDF. Furthermore, you can also use this tool to
export Thunderbird archive folder
as well.
Thunderbird to PDF Converter | Guide Explained
These were the two ways using which you can get done with the process of conversion. Although both of the methods are equally effective, there are certain limitations to the manual process. So, go for the Automated method to make sure you smoothly export emails from Thunderbird to PDF directly without any hassle.