Import MBOX to Outlook 2016, 2010, 2013, 2007, 2011
In this complete article, you will learn How to import MBOX to Outlook with complete data security. If you are looking for a windows-based MBOX to Outlook Converter then don't worry. In this blog, you will get all your answers.
Hence, We are going to explain how to import MBOX files to Outlook using MBOX Converter. But, before starting let's understand the requirement of MBOX files for Outlook 2016, 2010, 2013, 2007, 2011, and so on versions.
Reasons for Importing MBOX to Outlook
Microsoft Outlook supports PST as a default email format. Henceforth, we can't access the mbox file in the Outlook application. So, there we need to convert Mbox files to MS Outlook supported PST files. There are multiple ways through which MBOX can be converted and imported into Outlook 2016, 2010, 2013, 2007, and 2011. Which we discuss in this blog.
User Query
Read the below-mentioned queries. Why do users want to migrate .mbox to .pst Outlook? Only automatic .mbox to .pst Converter Tool solution can convert your .mbox files into Outlook PST file format.


Import MBOX to Outlook Using Manual Method
To manually import MBOX to Thunderbird you have multiple options. Either you can choose the manual method [Use the manual method if you have the technical knowledge to handle technicalities in the manual procedure] or can choose an automatic solution to import MBOX to Thunderbird in a single go.
Start the manual procedure by following the below steps.
Convert MBOX File to Outlook Using Thunderbird
To perform this procedure you need to create a Gmail account and then configure your Gmail account into Thunderbird by enabling the IMAP settings.
After creating a Gmail account enable the IMAP setting and configure your Gmail into Thunderbird.
1. Open your Thunderbird application.
2. Configure your Gmail account into the Thunderbird
3. After that Install ImportExportTools NG
4. Then, create a new folder to import MBOX files
5. And right-click on the new folder and select "ImportExportTools NG"
6. Then, select "Import Mbox file" and select the options in the next pop-up window.
7. After that, browse the MBOX files and restart the Thunderbird
After that go to your Gmail account and check that all your Mbox files are uploaded into the Gmail account. Then, configure your Gmail account into Outlook.
Export MBOX to Outlook Via Gmail
1. Start Outlook
2. Go to the File option and select Add Account option
3. Enter your email, password, retype the password, and then select the next button
4. After verifying the account select the Finish button
5. Select the Close button and check your emails.
Using this method you can import Mbox into Outlook for free. Within this manual method, you will face some of the limitations that we mentioned below.
Limitations of Manual Method
There are only a few methods available to import MBOX to Outlook using free of cost. But the manual method not only provides you free of cost way but also these manual methods enable online attackers a way to hack your data during the process.
In this Mbox to Outlook conversion, Users only know the Thunderbird method by using the ImportExportTools NG. But, this method is no longer available for you because. Thunderbird add-ons no longer support new versions of Thunderbird.
Using the Manual method you can not import a large number of MBOX data to an Outlook account in a single go. Without technical knowledge, you may permanently lose your data.
So, to remove all these insecurities we designed this MBOX File Converter Tool to convert multiple MBOX files to Outlook and other email clients directly.
Import MBOX File to Microsoft Outlook Using Safe and Secure Solution
Download this MBOX to Outlook Converter Tool to export bulk MBOX files to Microsoft Outlook 2016, 2010, 2013, 2007, and 2011. With attachments, Users don't need to worry about data security and safety. Plus, this tool can be used for Email item extraction and export procedure.
However, if you are worried about your MBOX File size limitation then don't worry. Use can import MBOX to Outlook without any worrisome of file size.
Use MBOX to Outlook Converter Tool to Import MBOX Files in Bulk
1. Without wasting any time on the tool's interface select Open on the first window's top left side.

2. Then go with the Email Data Files option and then select MBOX Files from the drop-down options.

3. Continue with the uploading of MBOX files from your system. And Read MBOX Files in the tool's preview modes.

4. Then, select Export after previewing emails and click IMAP [If you want to import MBOX in Outlook 2016, 2010, 2013, 2007, 2011, and all below versions].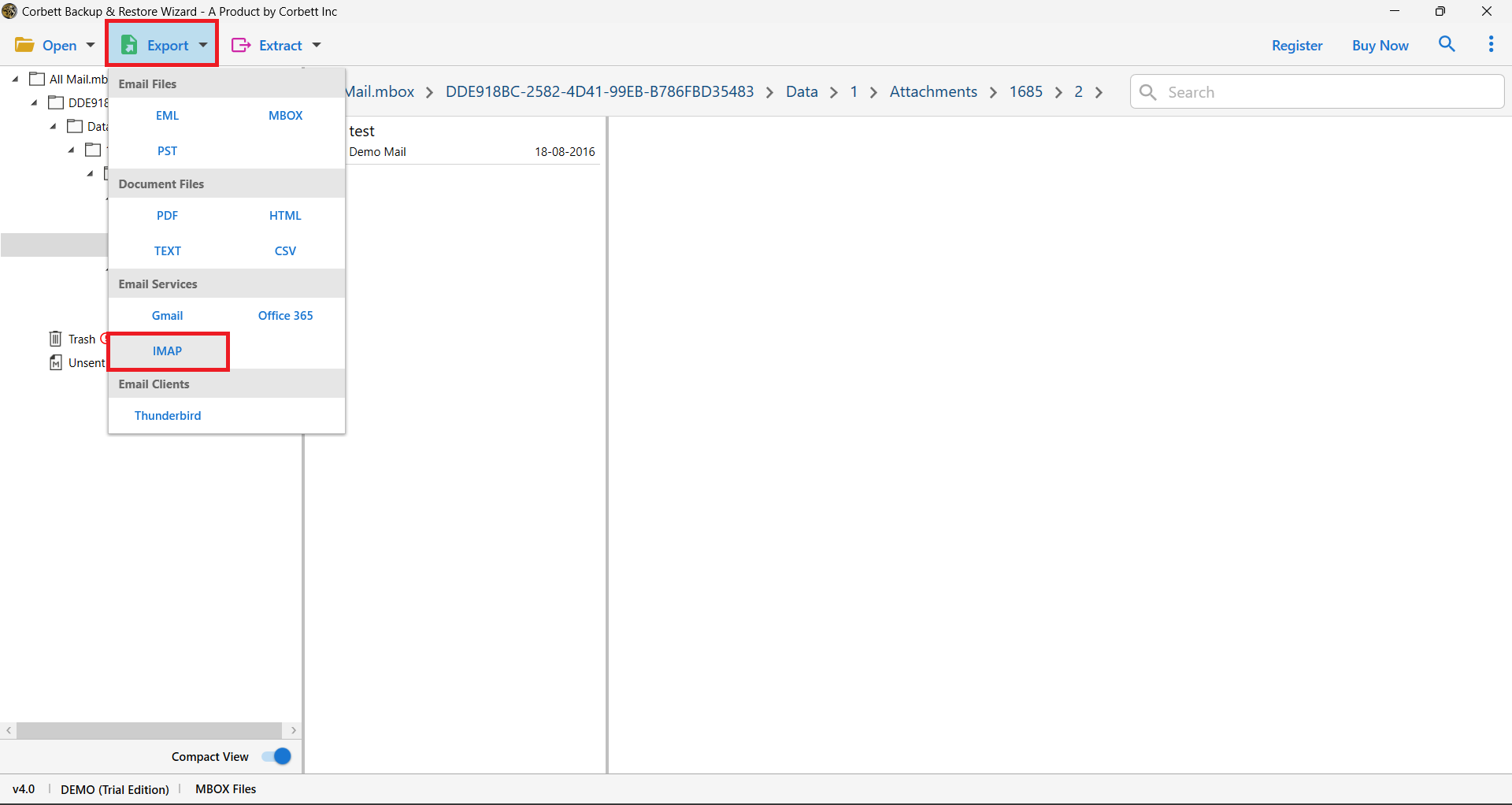 5. In the end, Click Save in the IMAP Export Option Windows.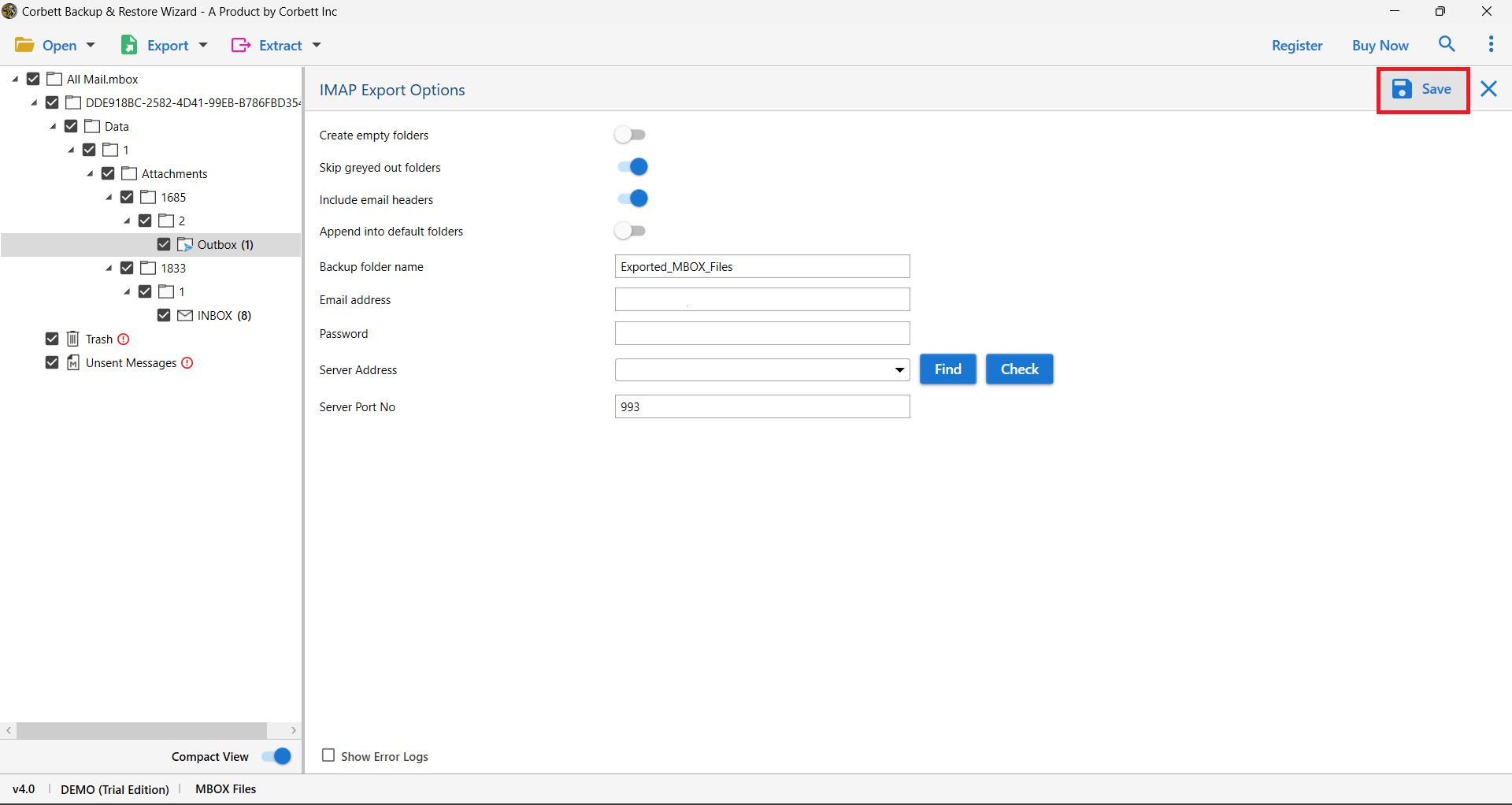 As soon as you select the Save option you Import MBOX to Outlook with complete Mailbox file structure and folder hierarchy.
Benefits and Advantages of this Expert Utility
This tool provides you with multiple options in the Outlook export window. You can choose all the options as per your requirements and need.
Create empty folders in the import mbox to the Outlook procedure.
Skip greyed out folders from the uploaded MBOX files and folder.
Include email headers in the exported MBOX file
Append into default folders, in case you created the same folders in the Outlook account.
File naming option for changing backup folder name
Export MBOX Files into Multiple IMAP supported Email accounts
It provides an Advanced and Quick email search option
This tool Offers 100% data security and safety
Author's Suggestion
In this guide, we describe the best manual and automatic method to import MBOX to Outlook using the best MBOX to Outlook converter tool. Import MBOX files to multiple Outlook accounts and manage all the email accounts in a single tool.