Import MBOX to Thunderbird Account – Easily & Efficiently
Seeking ways to import MBOX to Thunderbird? You're at the right post. In this article, we are going to provide you with well-needed guidance and some of the easiest methods to import MBOX file into Thunderbird. So, go over this article till the end to gain the best solutions on the topic.
An MBOX file is an archive of emails. It is supported by numerous email clients and platforms including Thunderbird. For instance, when you export your data from Google Takeout, you get it in an MBOX file.
On the other hand, Thunderbird is an open-source email client available for free of cost. This is a major reason why Thunderbird as an email client is a great deal for many individual and group users. Its upgraded features are what fascinate users to use it as their default email client. So, even if users have MBOX files from other programs, they want to transfer those MBOX to Thunderbird. Moreover, here are some of the other common reasons why you or other users want to import their MBOX files to Thunderbird account:
You are wanting to change your email client to Thunderbird.
You are switching from Gmail to Thunderbird account, and with the Google Takeout, you have MBOX files which you want to import to Thunderbird.
Or you want to merge multiple Thunderbird accounts into a single account.
There are plenty of reasons to import MBOX files to the Thunderbird account with complete mail account data. Now, let's move on and see what are the preferred techniques to accomplish the said task. 
In this article, we have provided both manual approaches as well as an expert-recommended automated solution. We have shared the steps to conduct all of these methods. You can go through it and figure out which one best fits your requirements. 
Manual Approach to Import MBOX File to Thunderbird
Here, we have shared two of the most commonly used manual techniques. One uses the Copy/Paste command while the other one involves the Thunderbird addon, ImportExportTools NG to accomplish the task. Let's see the steps to conduct both of these manual techniques.
Method 1: Import MBOX to Thunderbird Using Copy/Paste
Follow the given steps to conduct this manual method:
Open Mozilla Thunderbird in your system

Select, then right-click on the "Local Folders" option then select "Account Settings"
In account settings, browse "Local Directory"
Copy your MBOX file folders in the Local directory location
At last, restart Thunderbird application
Method 2: Add MBOX to Thunderbird Using ImportExportTools NG
Follow the given steps to conduct this manual method:
Start

Thunderbird

Right-click on the

"Local Folders"

option and select

ImportExportTools NG

After that select

"Import MBOX file"

Next Files mbox import window will open and select the option as per your requirement and hit

OK

In the next step,

browse

the save MBOX file to import into Thunderbird
So these are both of the commonly followed manual procedures to import MBOX to Thunderbird. However, these methods come along with some drawbacks that make these methods unworthwhile to use. We have mentioned some of them here.
Drawbacks of the Manual Methods
You have to install the ImportExport addon first in order to use the method
Newer Thunderbird versions do not support add-ons
These methods do not ensure full security of your data during the process
Due to open sourcing, your vital data is prone to hacking or data loss
Moreover, below is a screenshot image of a user's review where the manual method didn't work for them.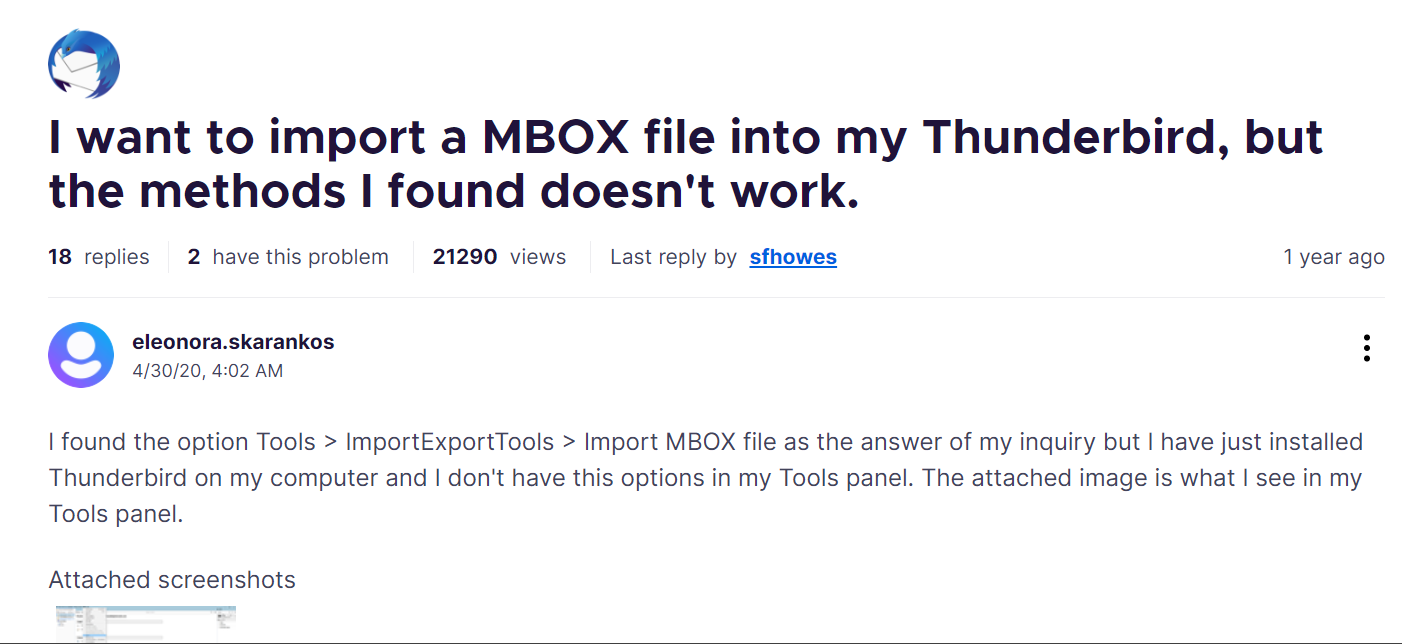 This screenshot is a major example of why experts and most users stay away from manual methods. Therefore, to overcome these gaps and hurdles, we have brought you an automated solution to resolve the issue.
Expert Approach to Import MBOX to Thunderbird
Our data is vital, so, whenever it comes to migrating data from one place to another, it is always the best choice to go for a professional solution. Even so, numerous technical experts advise users to opt for an automated solution. This is because a professional tool is 100% reliable and is specially designed to resolve the issue. A great expert recommendation is this Corbett MBOX Converter Tool. This splendid software offers many great features to its users which ensures that the whole process is smooth and hassle-free.
Moreover, This MBOX to Thunderbird Converter provides complete security and safety to your data. Thus, your data is fully protected from harmful attacks and viruses. In addition, it also doesn't store your information and doesn't share your information with any other third party.
Splendid Features of the Software
Provides complete safety and security to your data.
Maintains complete file structure and folder hierarchy.
Provides quick and advanced search options to find MBOX email.
Multiple email preview modes with data forensic modes.

Extract options for Mbox to

extract Mbox attachments

and

email addresses

.

Save MBOX contacts, and calendars, into ICS and CSV files.
Import MBOX files with complete Email Attachments.
Directly export MBOX into Mozilla Thunderbird, Gmail, Outlook, and more than 100+ IMAP Accounts.
These are some of the benefits and exceptional features that come with this software. Now, let's see how to use this tool to import MBOX to Thunderbird.
Steps to Export MBOX Files and Folders to Thunderbird
1. Start the software after installation. Then, select Open

2. Then select "Email Data Files" >> "MBOX Files"

3. Choose MBOX files or Folders as per your requirements and preview them in the software's panel.

4. After that, select "Export" >> "Thunderbird" from the drop-down choice.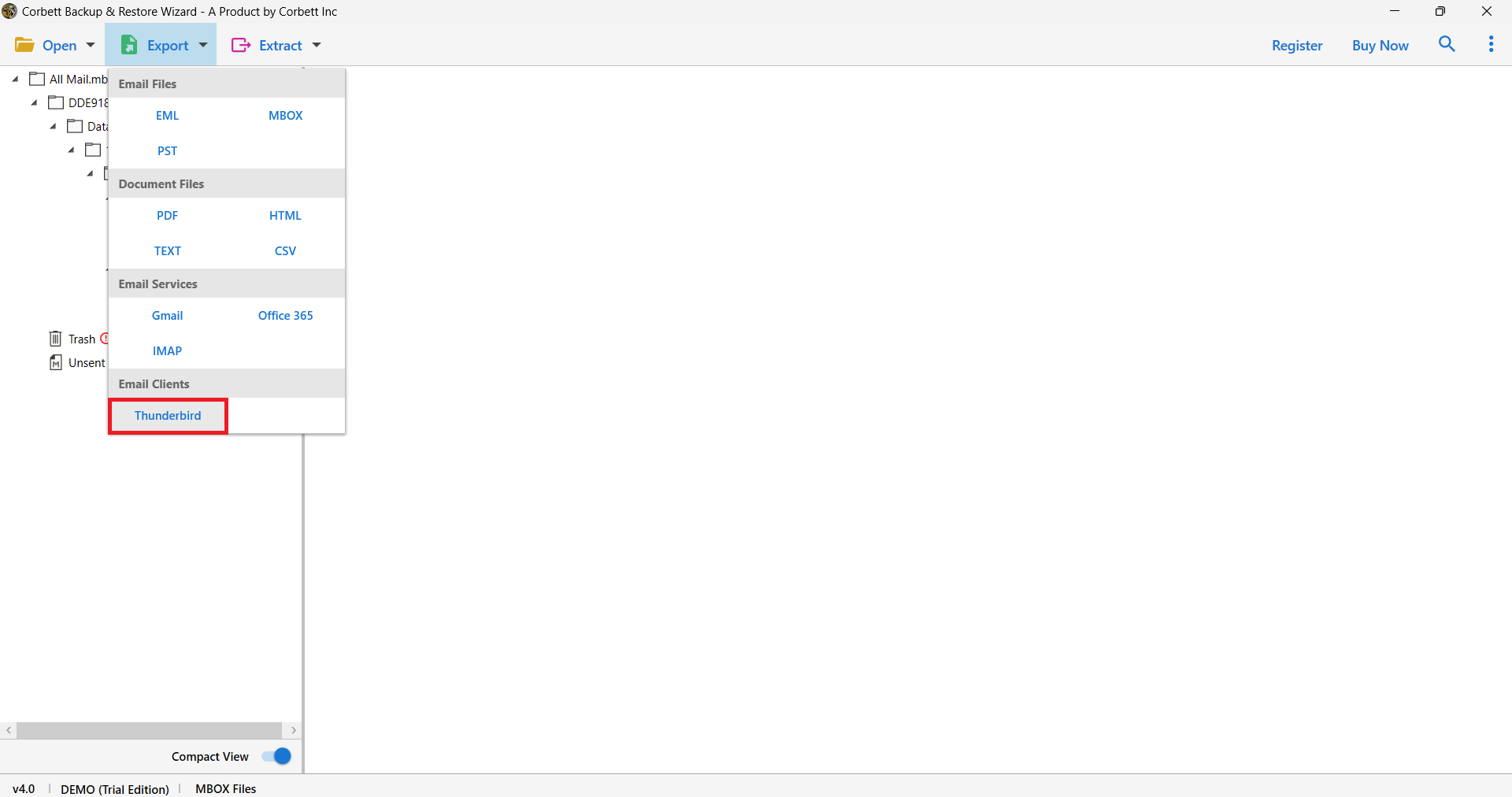 5. In the next step, The Thunderbird Export Options window will open. Then select "Save" to start the Mbox to Thunderbird process.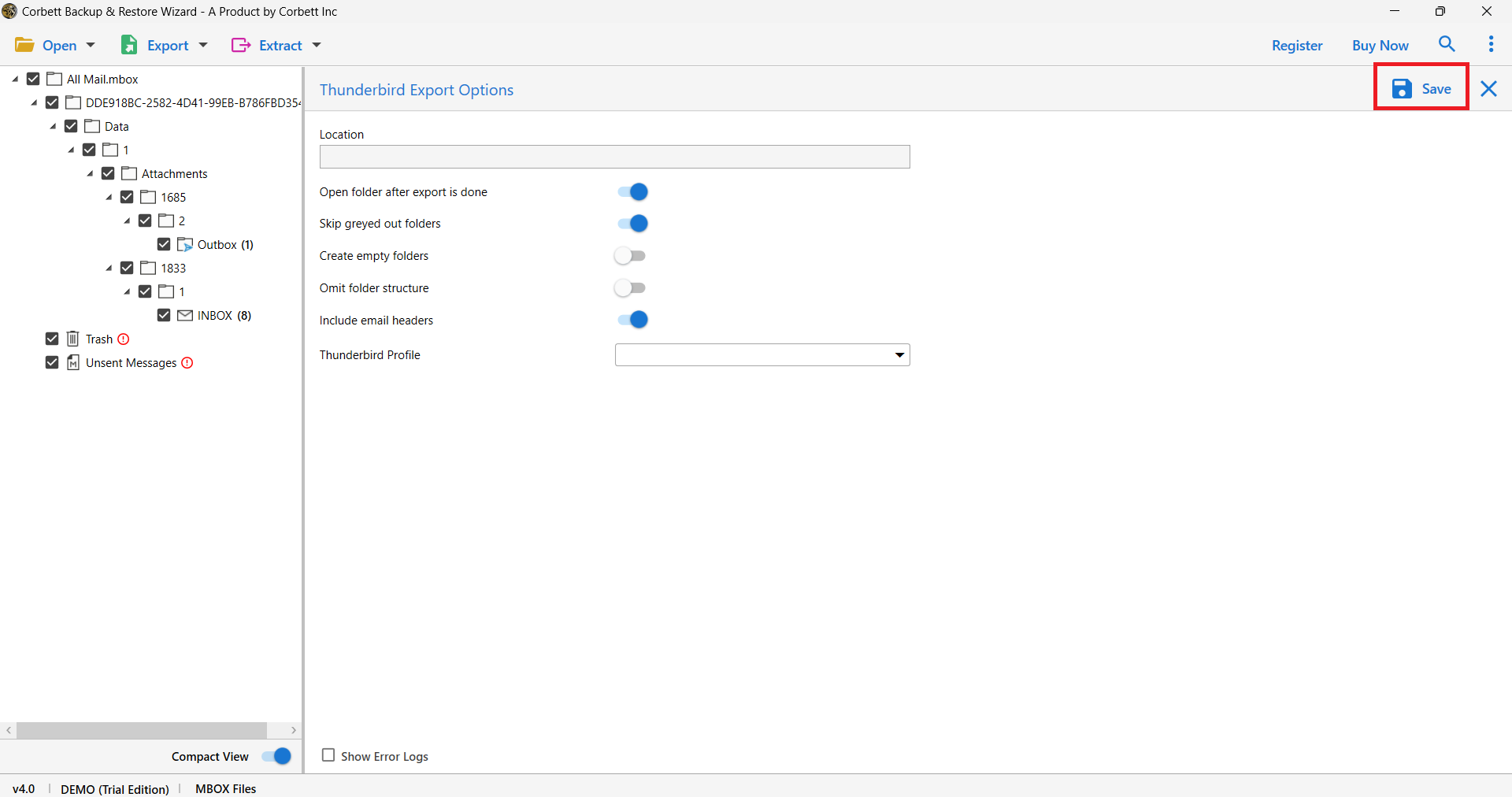 Upon selecting the Save option, your data will start importing into Mozilla Thunderbird. After that, the MBOX to Thunderbird Converter application shows you the Open Thunderbird option to view the resultant files.
Final Verdict
In this article, we discussed various ways of importing MBOX to Thunderbird; both manual and automated. However, there are some limitations that come along with manual procedures. Hence, technical experts recommend using a professional tool to ensure a smooth and hassle-free process.