How to Migrate Yahoo Emails to Outlook 2019? Free and Paid Solutions
Summary: So, are you looking to migrate Yahoo emails to Outlook 2019? Maybe you've gone tired of the low number of features offered by Yahoo mails, or Maybe it's the unnecessary ads, or maybe even the unexpected data loss that can occur with Yahoo emails. whatever the reason, if you're indeed looking to export Yahoo Mail folders to Outlook 2016, you've come to the right platform. In this guide, we tell you the exact step-by-step procedure to move emails from Yahoo to Outlook for Windows.
First things first, Yahoo emails are stored in the MBOX format, whereas Outlook mails are stored in the PST format. So, how would you migrate the mails from one account to another?
One way is that you can convert the Yahoo mail into Outlook supporting format using an online converter available on the web. But if the files are in bulk then there are some other possible ways to convert them into the specified format.
Manual Approach to Transfer Yahoo Mail to Outlook 2016
In the manual method, there is a requirement to configure the yahoo account in Outlook. This is essential in order to initiate the process to migrate Yahoo emails to Outlook. To allow configuration, you need to go to the settings page of the yahoo mail account to allow access for Less Secure Apps and disable two-factor authentication.
Launch Microsoft Outlook (any version)
Then, go to File menu, move to the Info tab and click on Add Account option.
After this, select Manual setup or additional server types option. Click on Next to move on.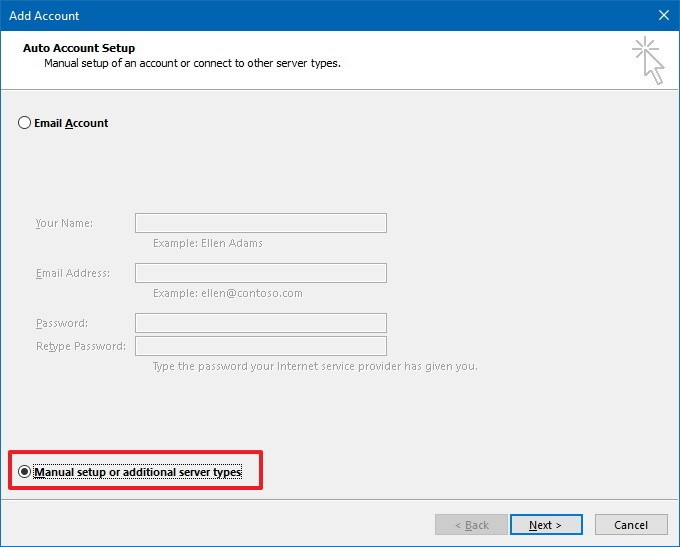 Select POP or IMAP radio button and proceed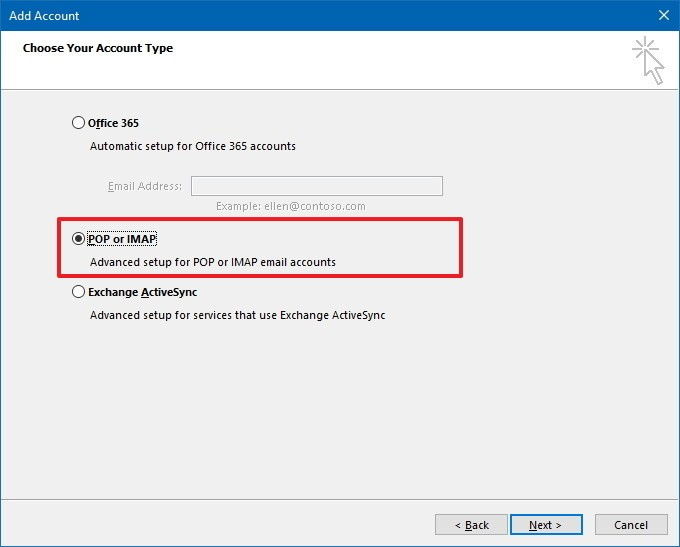 Under user & server information section, detail the following (main Yahoo to Outlook Configuration)
Mention your Name and Email ID
Choose Account Type to IMAP
Enter imap.mail.yahoo.com as Incoming mail server
Enter smtp.mail.yahoo.com as Outgoing mail server
Provide your Yahoo account credentials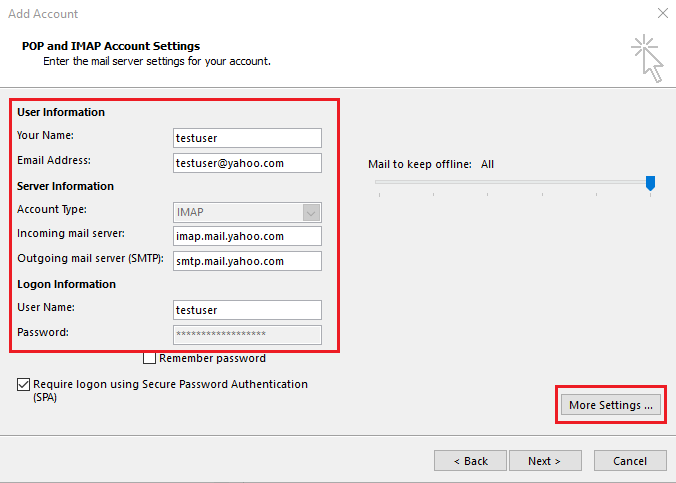 Go to Outgoing Server tab.
Check for my Outgoing server (SMTP) requires authentication option
Select Use same settings as my incoming mail server option.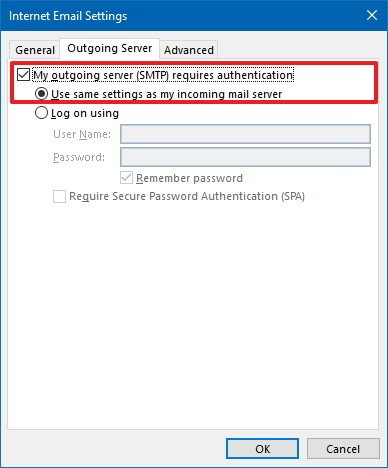 Enter  993 port number for Incoming server (IMAP). Also, select SSL encryption
Enter 465 port number for Outgoing server ( SMTP). Select SSL encryption mode.
Click on OK button.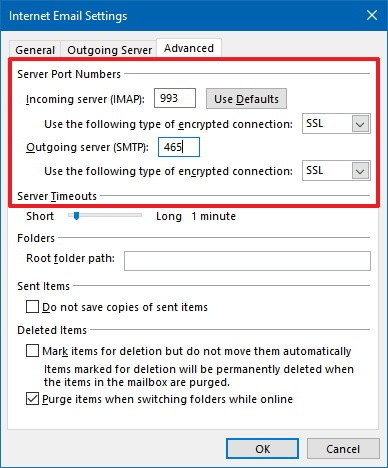 Click on Next button
On the appeared window, click on Close option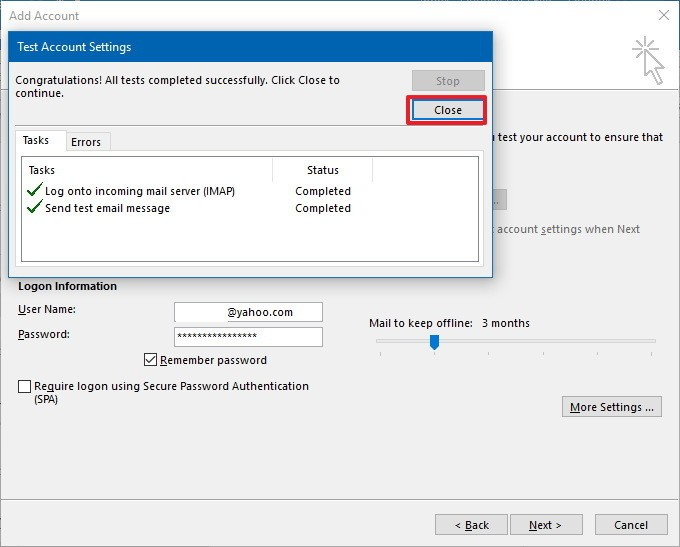 Click on Next button, then click on Finish button to exit the Window.
Restart Outlook application.
The Yahoo mail folders will be displayed on the Outlook folder panel. This might take some time to preview all the Yahoo emails in Outlook if the sync of yahoo mail to Outlook is not completed, then you might face some technical challenges, and your process to migrate Yahoo emails to Outlook 2019 will shut down.
Also, there are some other drawbacks in manual procedure as it is very tedious and time-consuming procedure. If you are not a technical user, this procedure will become much difficult for you. There are high chances of data loss during the migration process. If you want to perform this process effectively, then next section of the blog will be use full for you.
Alternative Solution to Transfer Yahoo Mail to Outlook 2019
The Corbett Yahoo Migration Tool is the perfect solution in order to migrate Yahoo emails to Outlook 2016, 2019. The data migration process takes place in a hassles free manner and save users time. It is the most trusted and reliable solution to export Yahoo mail folders to Outlook 2019. In addition, the software has capability to maintain 100% data integrity.
This automated solution also allows to users to transfer Yahoo mail data to across 100 platforms. Additionally, the software is compatible with Windows 11, 10, 8, 7 etc. Let's checkout the working of Automated Toolkit.
Step By Step Instruction to Migrate Yahoo Emails to Outlook 2016
Follow all steps mentioned below to complete the process to migrate Yahoo mail to Outlook.
1) Download and launch and Run this software into your device.
2) Then go to Open and Add account.
3) Enter Yahoo email credentials, you need to generate an app password from Yahoo's account settings.
4) Next, the software will analyse your email account and display all the mailbox data stored in it.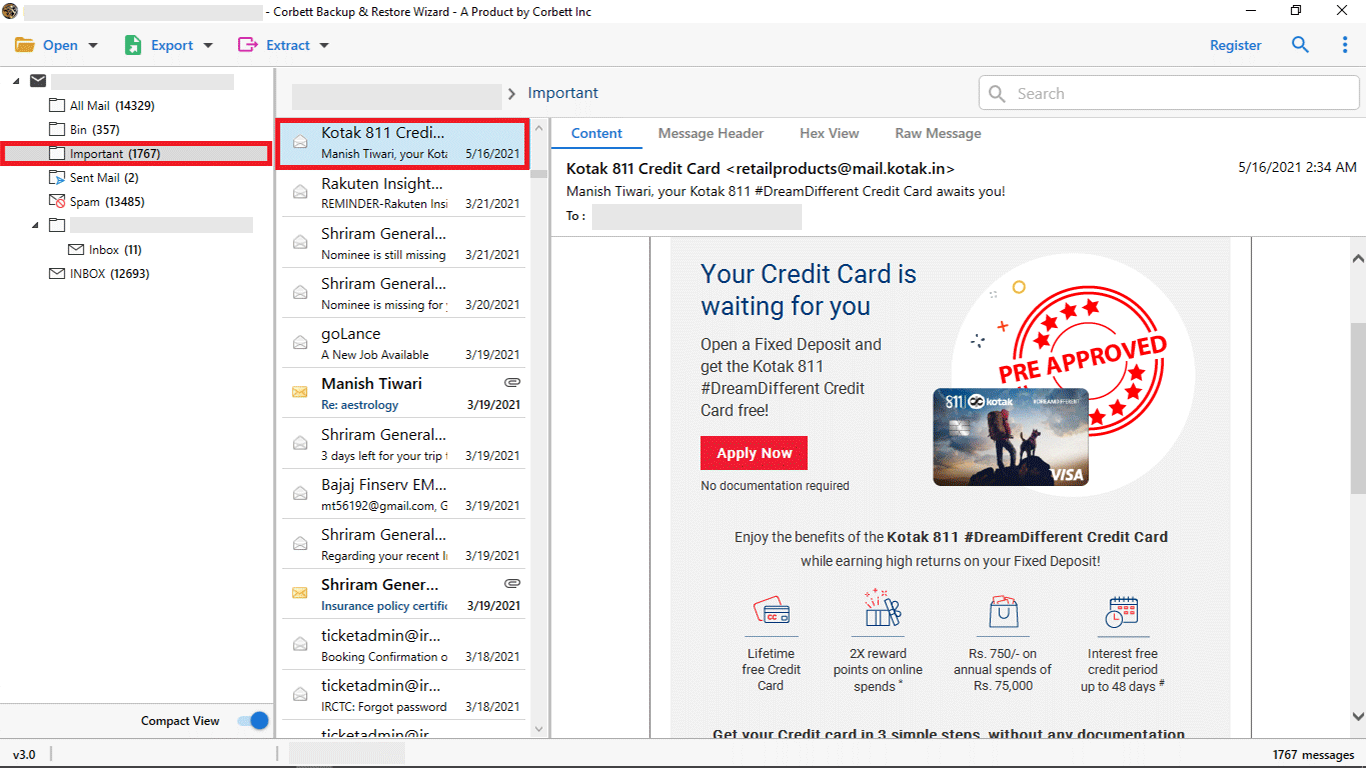 5) Then, click on export and choose PST file format.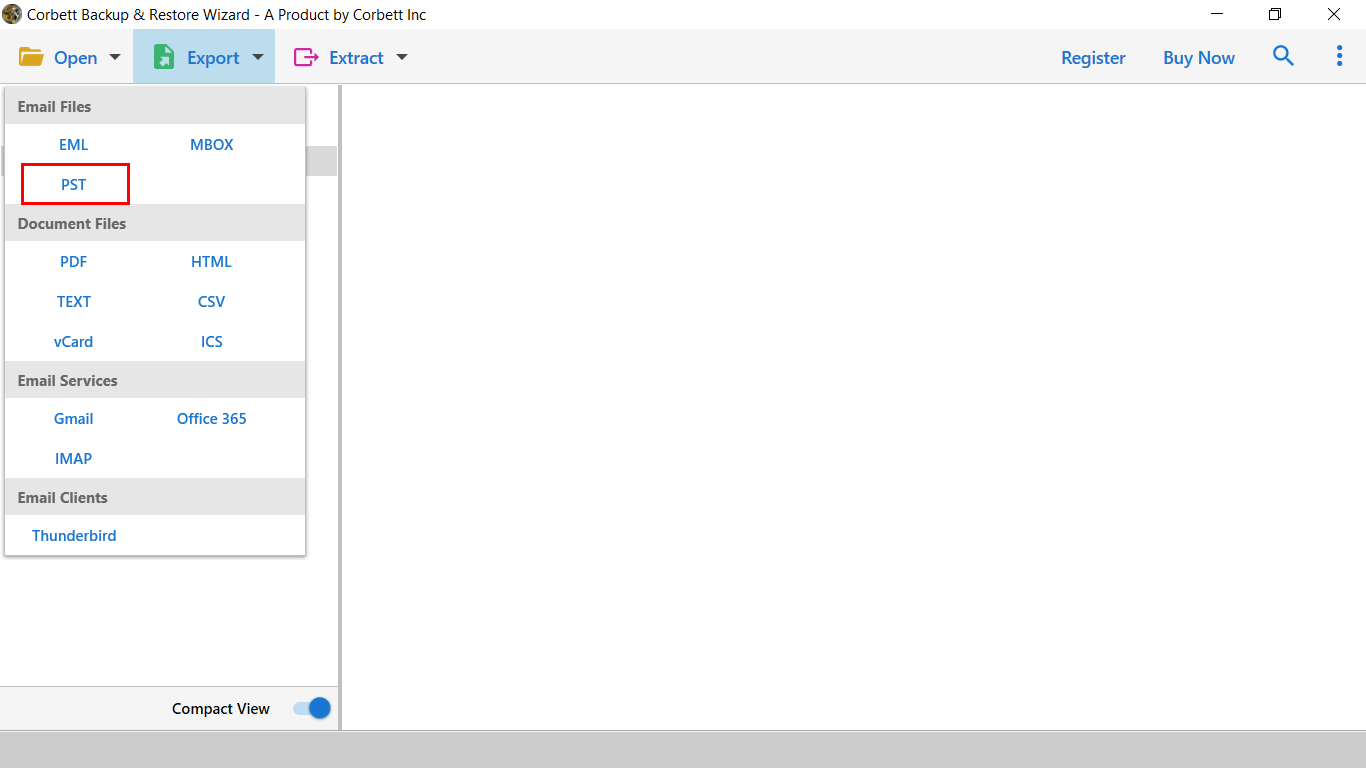 6) Apply the "Advance Data Filters" and click on "Save" button.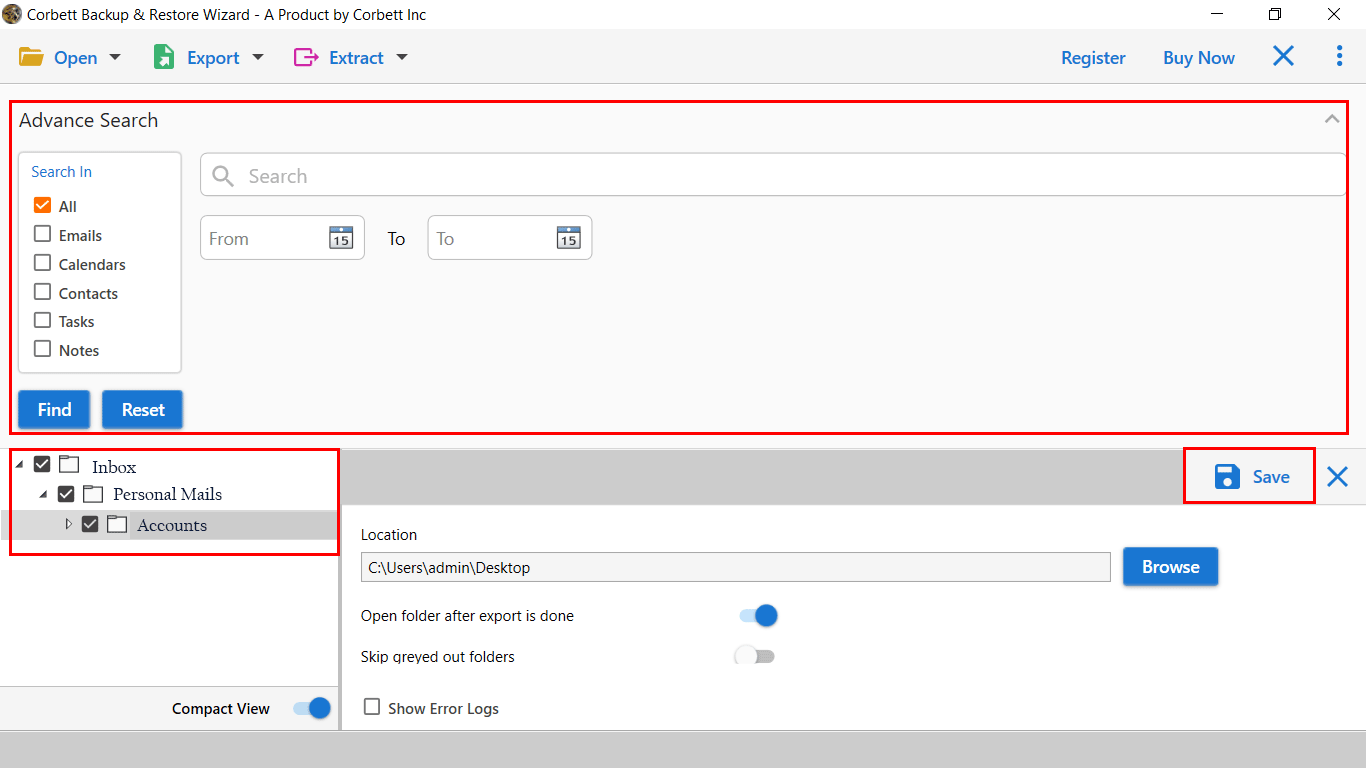 Note: To Import PST file to Outlook Read the mentioned blog for good.
Final Words
In the above blog, we have discussed both the manual and the professional method to migrate Yahoo emails to Outlook PST. User can select any of the solution as per requirements . If you've have some concern about the software feel free to contacts us via live chat or mail. It's recommend to go with the automated solution to export Yahoo mail folders to Outlook 2019, 2016 in an effortless way.
Also Read: