Postbox to PST Converter – Export Emails from Postbox to Outlook
In case you have got tired of finding the perfect way to convert Postbox to Outlook, you will like this blog given here. Do not go here and there as you have got the perfect solution. The process of converting from Postbox to Outlook is a little exhausting and can drain even the most technical expert. In addition to this, there must be some anxiety in your head regarding the data loss and misplacement.
When it comes to Postbox, it was one of the most recognized email services available in the market. But nowadays, a better platform is available to save all your email data and information in the best possible way. Yes, here we are talking about Microsoft Outlook 2019, 2016, 2013, 2010.
Why Should You go from Postbox to Outlook Conversion?
While you plan for migrating from Postbox email to outlook, there must be something going on in your mind. Let's take a look at some major causes why most users are deciding to export emails from Postbox to Outlook:
Today, Microsoft Outlook is one of the most famous email services and is growing a lot with each passing day. When you will compare it with Postbox, you will understand that Outlook is more popular and most users are going for it.
Irrespective of whether you have to export emails or contacts, Outlook saves all your data properly.
With the availability of enhanced and upgraded features, Outlook is playing a wonderful role in the market. These were just a few reasons why it is important to export emails from Postbox to Outlook. Other reasons are also there but it will take a lot of time. So let's get straight to the point that how can we export emails from Postbox to Outlook:
How to Migrate Postbox Emails to Outlook Step by Step?
Migrate Postbox emails to Outlook is a very difficult task if you do not know the correct solution, but MBOX Converter Tool is a tool that does wonders in making the process extremely easy to complete. Are you tensed that the MBOX to PST Converter might not support your operating system? Well, the amazing part about this tool is that it works with both, Old and New versions of Windows.
With the great user-friendly interface, this tool allows people to enjoy the process of exporting emails from Postbox to outlook. Corbett Wizard Tool is too simple to use even for those users who are not much technical. So, you need to leave all your worries aside regarding the efficiency of the software. With a range of mesmerizing features.
A Quick Steps to Export Postbox Emails to Outlook
The software can be a perfect fit for transferring Postbox emails to outlook. Let's go through the process:
Step 1: First of all, you will be required to go to your internet browser and download and install it in your system

Step 2: After you are done with the installation, open the tool and look at the 'Open' button you can see on the screen.

Step 3: There will be some options that you can see, out of which select 'Email Accounts' and then hit 'Add Account.'

Step 4: Thereafter, you have to provide your Postbox email id as well as password. Then, you will be required to go to 'Advanced Settings'.

Step 5: And then fill your IMAP server in the required field.
Step 6: This software will browse the IMAP files.
Step 7: Tap on 'IMAP' and then click on 'Export' to get done with the process of migration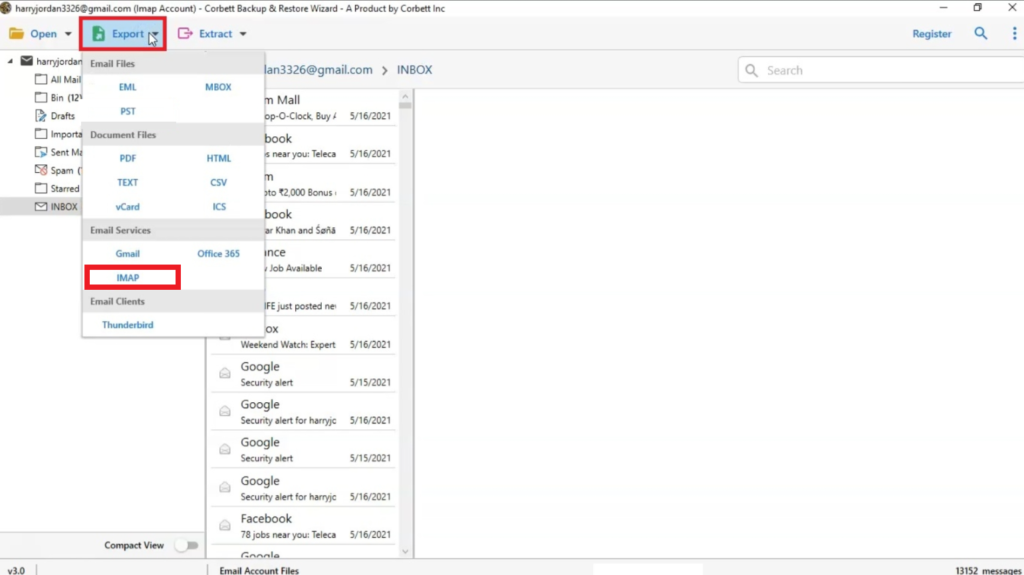 When you correctly execute all the steps mentioned above, you will be sorted with the process of transferring Postbox emails to outlook completely. You can also read How to Migrate COX Email to Outlook
How to Convert from Postbox to PST File Format
Well, you have one more option to complete the process of Postbox to PST converter. You can do the file conversion first, i.e. convert from Mbox to PST file format.
Let's see how can we do the process of Postbox to PST converter with the help of Corbett Wizard:
Step 1: Open the software and tap on the 'Open' button which is there
Step 2: Then, go to 'Email data files'.
Step 3: And click on 'MBOX Files' Option
Step 4:  This software provides two choices 'Choose Folders' and 'Choose Files'. Select one of them.  
Step 5: 'Choose folders' and then select the required folders. And tap on 'Open'. Once done, browse the place where you previously stored your MBOX folder
Step 6: Select them all or one by one depending upon your needs. Then, hit 'Open'
Author's Suggestion
In this blog, You will learn how to export emails from postbox to Outlook 2019, 2016, 2013, 2010, and Postbox to PST Converter. These were two processes that you can follow to migrate Postbox emails to Outlook in the most effective manner. Follow them properly to get done with the process without hassle.