Migrate Mailbird to Office 365 with Attachments – A Quick Guide
We will show you how to convert your Mailbird account to an Office 365 one in this article. You should keep reading this blog if you want to import Mailbird emails to Microsoft 365. You can easily convert Mailbird files to Office 365 accounts without losing any information by using this solution.
An Overview of MailBird Email Client
Mailbird is a desktop email client (email management program) that runs on Windows 7, 8, and 10. It allows users to send and receive emails, manage calendar events and contacts from different email providers, including Outlook, Gmail, Yahoo Mail, and more. There are also integrations with social media, task management, file sharing, and video-conferencing.
Users Use Microsoft Office 365 for a Variety of Reasons
There are plenty of users who want to Migrate Mailbird to Office 365 with email, contacts, calendars, tasks, journals, and attachments.
Due to Microsoft Office 365 features and facilities, users wanted to transfer their emails to Office 365 from Mailbird.
As we know Office 365 is an unlimited pack of Microsoft applications. which provides Outlook, Excel, Powerpoint, Word, Onedrive, Teams, OneNote, To Do, Calendar, and many more.
Office 365 helps users to work easily with there easy to use functionalities and features along with a very user-friendly interface
For Business use, Microsoft provides you with some more advanced facilities with an admin center authority.
It helps you to Communicate with Co-Workers, Power Map in Excel, Real-Time Co-Authoring, Real-Time Co-Authoring, Self- Decluttering Smart Inbox, Resume Reading features, Send Links, Not Files, Lync 2010, and so on.
A Simple Way to Export Mailbird Email to Office 365
To transfer Mailbird email to Office 365 with complete data use this IMAP Migration Utility. which is developed by Corbett Software, It helps users to complete their process without any hesitation. Corbett also provides Email Backup Tool for their users for their concerns regarding their data.
With this automatic utility, you can easily migrate Mailbird to Office 365 with attachments. Any non-technical user can perform the process without any additional skills required. Only Windows-based users can download this tool in their system.
Let's begin the process of exporting MailBird to Office 365 in the given below steps:
Instructions for Transferring MailBird Over to Office 365
To begin the migration process. Firstly, download and open to start the steps with screenshots for better understanding.
1: Click the Open option in the first window that appears after starting the utility

 2: Then hit Desktop Email Clients and select MailBird account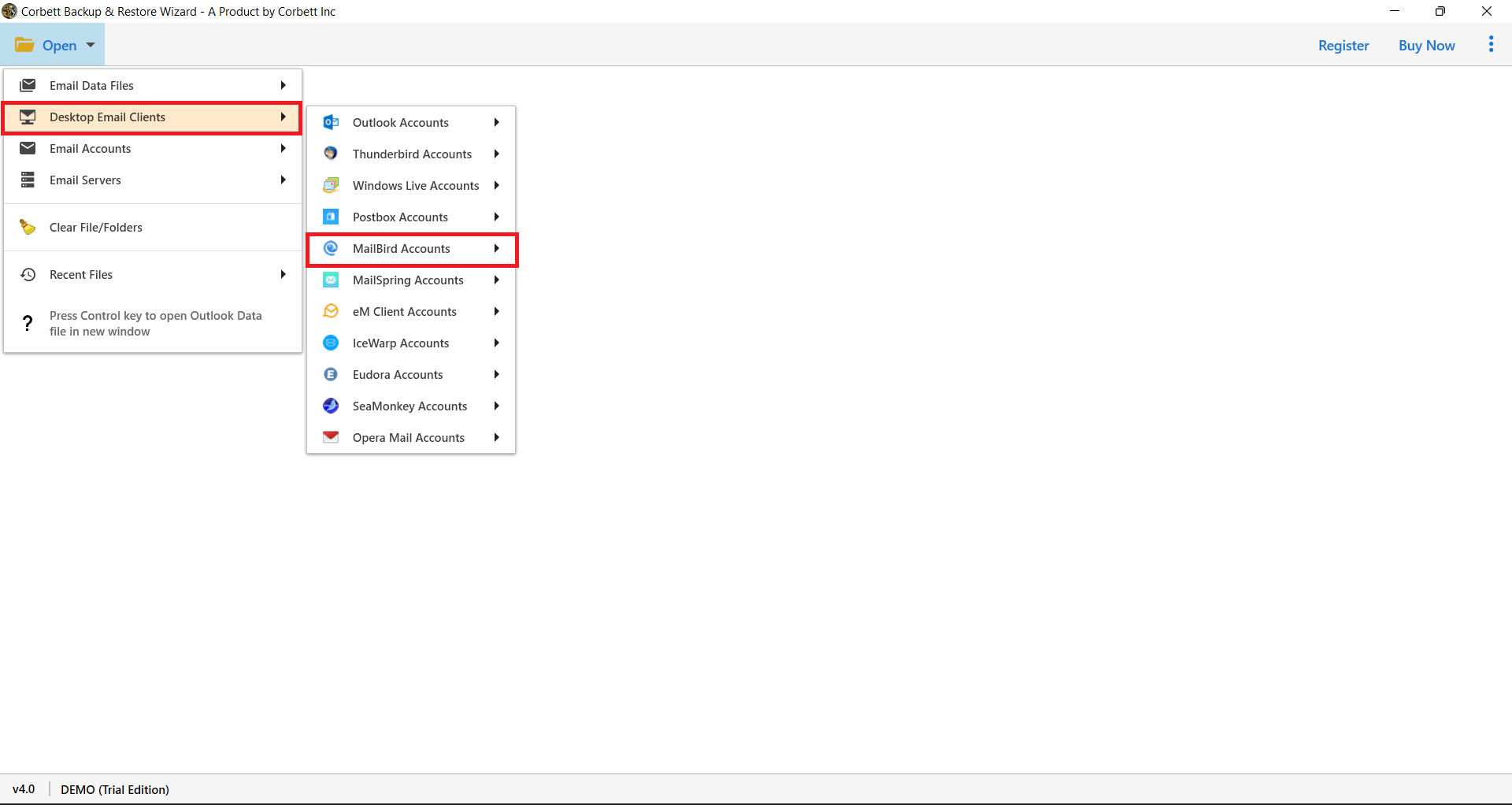 3: After selecting the Mailbird accounts option the tool provides you two options: first is to configure directly or second to choose a folder from your system.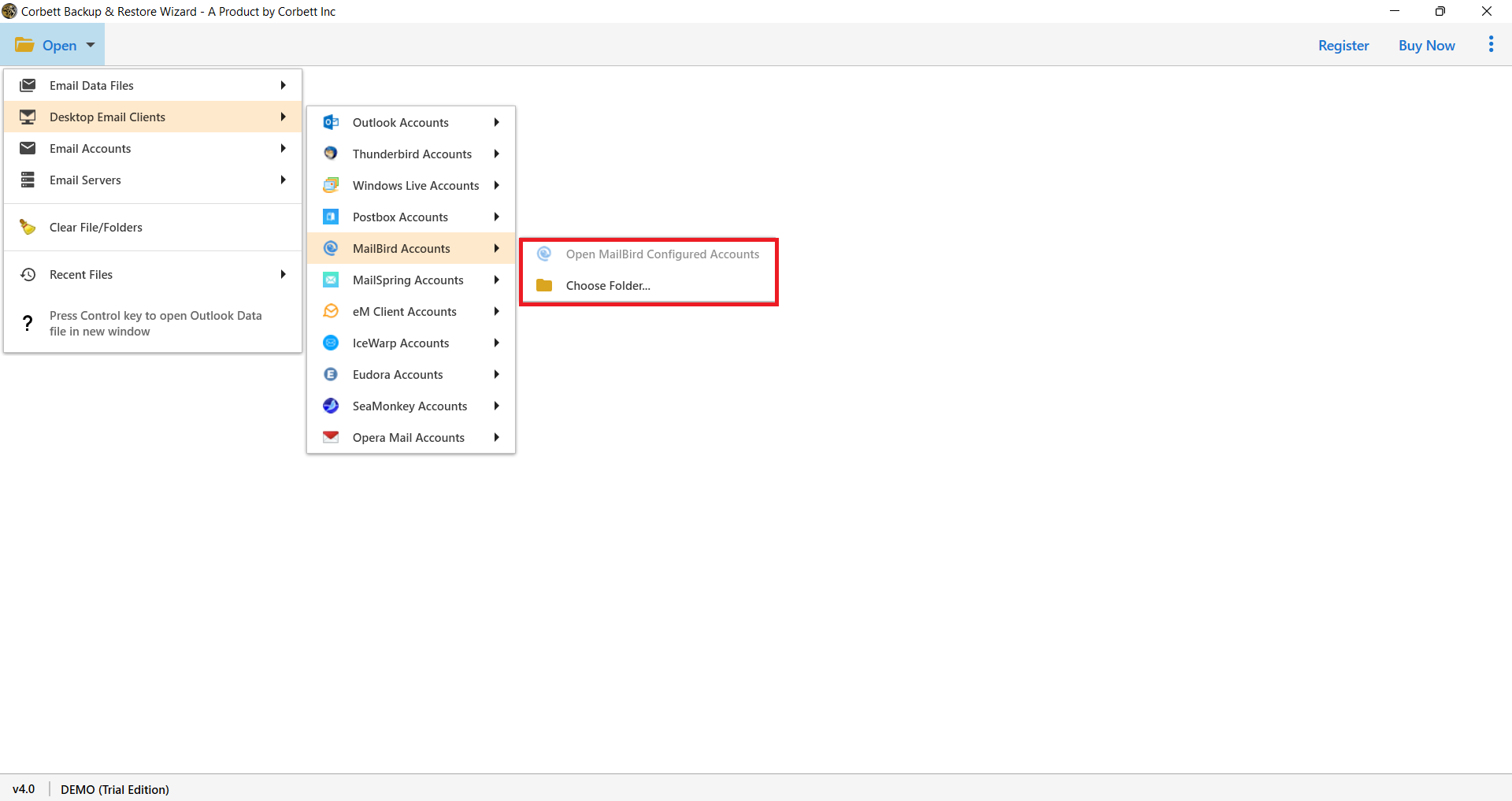 4: Next, select Export, and then select Office 365

 5: After that Office 365 export options window will appear. Hit the Save option to start the process and then finish.
The Migration Tool has Some Amazing Features
Users can convert Mailbird emails to Office 365 accounts in bulk with this software. This program allows you to export many Mailbird emails at once.
Emails with Attachments Can Be Imported: The utility successfully imports Mailbird emails, including all attachments, to Office 365.
Conversion in its entirety: An email migration is a useful tool for converting whole Mailbird account data easily. It allows you to effortlessly export Mailbird emails, attachments, contacts, and other information.
Maintains Email Properties: The utility preserves all email properties when exporting Mailbird files to an Office 365 account. The users will receive an exact and precise conversion.
It is a Windows-based application that is compatible with all versions of Windows. All editions of the Windows operating system are supported by the utility. On Windows 10, 8.1, 8, 7, and older editions, users can effortlessly import Mailbird files into Microsoft 365.
It is the safest and most secure solution for converting emails without losing data. This software is completely risk-free.
Simple User Interface: The application has a very straightforward user interface. This software can effortlessly migrate Mailbird to Microsoft 365 accounts for both technical and non-technical users.
Conclusion
Migrate MailBird to Office 365 in a single go without any worry of data loss. This tool is tested and verified by 1000 times. An easy-to-understand interface helps you to complete the process just on time. Without wasting any more time download the utility and start the migration.